If you're new to Jaguar's SUV offering then the line-up consists of the E-PACE, the F-PACE and the I-PACE.
The E-PACE is classed as the compact performance SUV, the F-PACE as the performance SUV, while the I-PACE is the all-electric performance SUV. 
Now though, the E-PACE has been updated, some 4 years since its launch in 2017, and the car is now offered with two hybrid powertrain options. 
You can go for a model with Mild Hybrid Electric Vehicle (MHEV) technology added to it. Or you can go for a completely new three-cylinder petrol engine with Plug-in Hybrid Electric Vehicle (PHEV) technology.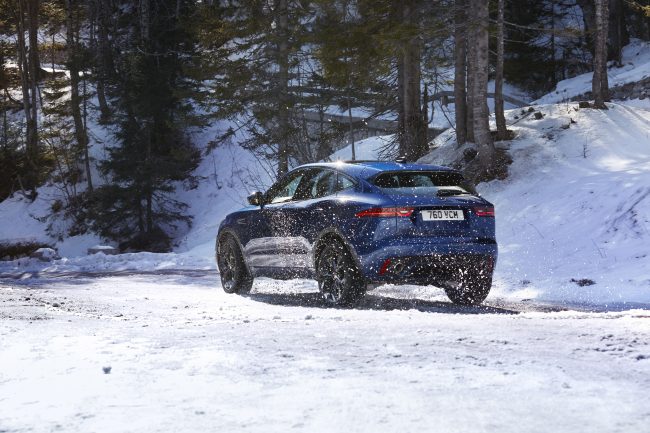 Even back in 2017, there was some talk about whether the E-PACE could go through an electrification process. Interestingly, the existing all-electric I-PACE (which went on sale in June 2018) won the 2019 World Car of the Year putting Jaguar right at the forefront of the electric vehicle revolution. It needs to get ahead too, as SUV products don't lend themselves to being lightweight. With electric powertrains, a reduced mass of the car becomes even more vital in order to get the most mileage out of the batteries. This is something that Jaguar is currently looking at in the Tucana Project, where they are investigating lightweight composites, namely glass fibre and carbon fibre. Aluminium and steel structures will be replaced by composites that are capable of handling the increased torque generated by high-performance electric motors.
PHEV & MHEV EXPLAINED
The PHEV (plug-in) option consists of a new 3-cylinder petrol engine (P300e PHEV) in the usual place with the addition an electric drive on the rear axle and a 15kWh lithium-ion battery located under the floor. That electric motor will let you drive up to 34 miles (55km), allowing you to complete the average UK daily commute, to and from work, of 18.8 miles (30.2km) in EV mode without requiring a recharge. Get home, plug in and re-charge that lithium battery up, just like you'd do with a mobile phone.
The MHEV (mild) option let you go for the new 1.5-litre 3-cylinder petrol engine or the existing 2.0-litre 4-cylinder petrol/diesel Ingenium engines. The MHEV doesn't need plugging in to charge; instead there's a Belt integrated Starter Generator (BiSG) in the engine bay that harvests the energy that's usually lost when slowing and braking, which is then converted and stored in a 48V lithium-ion battery located beneath the rear loadspace. It is able to redeploy the stored electricity to assist the engine when accelerating. The key thing to remember with a MHEV system are the words mild hybrid; it's just a mild electrification to give small benefits. That said, the the 160PS 2.0-litre three-cylinder Ingenium petrol engine version (FWD only) achieves CO2 emissions from 181 g/km and fuel economy up to 35.2 mpg.
OPTIONS
You can choose from S, SE and HSE trim levels and all are available in R-Dynamic specification. You can now also opt for a new 300 SPORT specification too.
Here's the new engine line-up to make things clearer.
Diesel
163PS 2.0-litre four-cylinder turbo, six-speed manual, FWD
163PS MHEV 2.0-litre four-cylinder turbo, nine-speed automatic, AWD
204PS MHEV 2.0-litre four-cylinder turbo, nine-speed automatic, AWD
Petrol
160PS MHEV 1.5-litre three-cylinder turbo, eight-speed automatic, FWD
200PS MHEV 2.0-litre four-cylinder turbo, nine-speed automatic, AWD
249PS MHEV 2.0-litre four-cylinder turbo, nine-speed automatic, AWD
300PS MHEV 2.0-litre four-cylinder turbo, nine-speed automatic, AWD
309PS PHEV 1.5-litre three-cylinder turbo, eight-speed automatic, AWD
Dirk Lorenz, the Chief Product Engineer says: "The new Jaguar E-PACE is available with a comprehensive choice of powertrains to suit any requirement while the new Premium Transverse Architecture ensures the exceptional performance, ride, handling and comfort expected from a Jaguar."
OTHER CHANGES
The body architecture of the E-PACE is improved too, so there are new engine mounts, improved front suspension attachment points and reduced vibration and noise in the cabin.
All E-PACE models have Jaguar Drive Control featuring Comfort, Eco, Rain-Ice-Snow (on FWD models) and Dynamic modes, which can be chosen manually by the driver.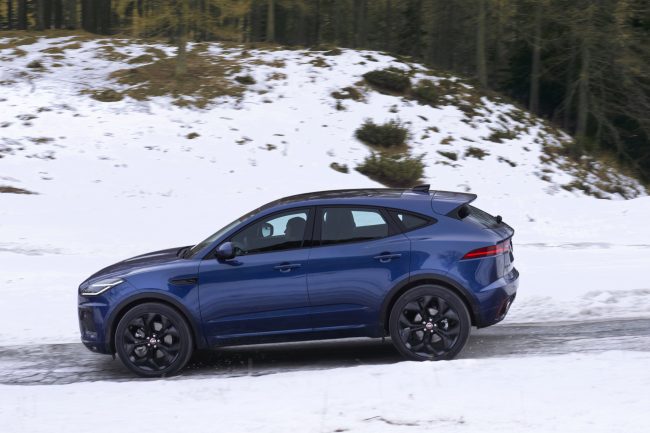 Additionally, the Rain-Ice-Snow mode on all AWD models has been replaced with a new Adaptive Surface Response, which automatically determines the most appropriate of three separate settings by monitoring the surface conditions every tenth-of-a-second and reacting within half a second.
Price from £32,575.
See more at www.jaguar.co.uk