HERE'S the GoPro HERO3+ – a plussed up version of the HERO3.
While the Hero 3 is a great camera it came under fire for its low battery life so the Hero3+ addresses this with at least 30 minutes more shooting time. The Hero3+ is also 20% smaller than the Hero3 but although it's smaller, the lens has been given a boost and will give a 33% increase in image sharpness. It also has a 4-times-faster-than-the-HERO3 Wi-Fi for quicker transfer and playback of photos and videos from your HERO3+ camera to your mobile device when using the GoPro App.
The key addition that adventurers will really like though, is the new SuperView video mode which gives wide-angle video footage over a 1080 line of sight. There is also a new auto-light mode and much better audio electronics so the sound is clearer too. Nicholas Woodman is the Founder and CEO of GoPro and says these new features in the HERO3+ are "features that we as passionate GoPro users want for ourselves".
The GoPro HERO3+ price is £399.95 for the Black Edition and £279.95 for the Silver Edition. The former HERO3 now costs £199.99. One of our favourite pages on the GoPro website is the 'shop by activity' page here.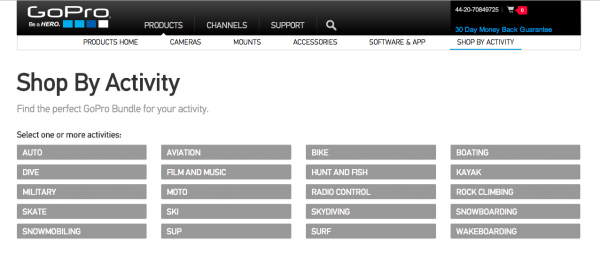 Several new mountings have come on sale at the same time too. There's now a chest harness for kids aged 3+, a new QuickClip to mount to objects that are 3mm to 10mm thick (like a baseball cap) and finally, there's a new Jaws clamp which grips on irregular shapes and super slim objects.
You want to see what the footage is like don't you? Well then GoPro's promo video of the new HERO3+ will blow you away.