Back in the day, mountaineers and sailors would wear string vests as they would keep them warm in the cold, and cool in the heat.
Now in 2023, outdoor brand Houdini has taken a look at the classic string vest for inspiration in its new Pace Flow Houdi.
Working with Polartec, the two brands have created a clever 'net-mesh' weave of recycled Polartec Power Dry for the Pace Flow Houdi due to come out this spring/summer.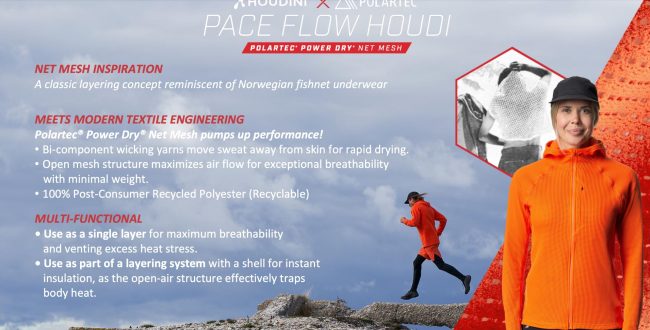 The open-mesh fabric allows air to flow through and vent out any excess heat or moisture. It has a bi-component knit, which means they've used yarns with different surface areas to encourage moisture to be wicked from the skin outwards to atmosphere.
One of the interesting things is you can wear this by itself, especially in hot conditions to allow maximum venting, or you can wear a layer over it and the net-mesh traps an insulating layer of air to keep your body heat trapped.
When you wear something over the top of it, it also helps encapsulate a powerful layer of warm air.
Houdini is well known for its sustainability credentials and was one of the first to adopt Polartec Power Air, a fabric created to reduce microfibre shedding by more than five times that of traditional mid-layer fabrics.
Houdini's founder, Lotta, first came across Polartec Power Stretch Pro fabric on a climbing trip in New Zealand. She saw an opportunity to apply the Houdini design philosophy to mid-layers unlike anything on the market at the time. In 2003 Houdini's Power Houdi launched and  twenty years later the piece remains a significant element of the range today. Recently Houdini also released the news that one of its other products, the Power Houdi, is worn 100 times more than the average garment.
See more at www.houdinisportswear.com and www.polartec.com