An updated Gulfmaster GWN-Q1000-1AER with a brand new water depth sensor goes on sale today for £700.
In addition, the watch has a barometer, thermometer and electronic compass, making this a 'Quad sensor' watch.
G-SHOCK says the watch has been developed with maritime professionals in mind who spend their time on or beneath the water.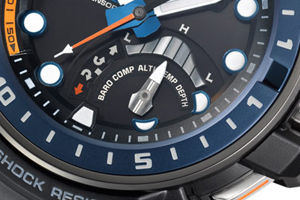 Wearers can keep an eye on sudden atmospheric changes and a tide graph showing low and high tide. This information is shown on the inset dial at the 5 o'clock position.
The watch case is made from carbon fibre and the sapphire crystal glass features a non-reflective coating to reduce glare.
Additionally, the shock-absorbent back cover and watchband are made of soft urethane.
The QUAD SENSOR technology isn't just a gimmick; one of G-SHOCK's 'sea' ambassadors is Andrew Cotton (also a JEEP ambassador). Andrew regularly travels all over Europe to where the waves are big and relies on seeing high and low tides and pressure changes to plan when he should head to the coastline. He has just been on a 'Mission at Sea' near Portugal, so expect the brand to share some incredible photos and video of his trip on social media with the hashtag #earnthemoment