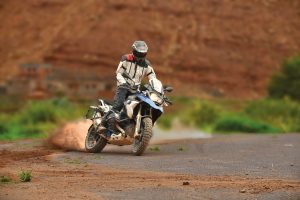 T.ur is a new apparel and accessories brand from the same people behind Tucano Urbano – and it's aimed at the adventure/touring motorcyclists among us. 
It's pronounced as 'Tur', with the 'T' and 'u' in the name being a nod to Tucano Urbano, and the word T.ur itself sounding like 'tour' as in motorcycling touring. 
From an initial look at the range, there will be two jackets, a pair of trousers, three pairs of gloves and two bags going on sale in the new year.
The J-ONE and the J-TWO jackets (with 'J' standing for jacket) have an outer, an internal thermal jacket (that can be worn separately) and a packable rainproof outer to cover over the main jacket. Both can be combined with the P-ONE trousers (also made in a three-stage manner and the 'P' standing for Pants).
There are three models of gloves on offer and all are moto CE certified and available in different colours to match the jackets range. The G-ONE (with 'G' standing for Glove) is a waterproof glove perfect for touring all year round; G-TWO is a highly ventilated summer glove and can be used both on and off road. Last but not least, G-THREE is a CE certified enduro racing glove.
Two "adventouring" bags complete the range: B-ONE (yep, you can guess what 'B' stands for) a 6.5-litre tail bag with detachable waterproof lining to be fixed at the rear of the saddle or on the baggage rack and B-TWO, a 1.7-litre handlebar bag with touchscreen smartphone pocket and a main space to place all the things for which you need a quick access during your rides.
The designers of T.ur say that each product is the result of months spent wearing the kit on test bike and experimentation with new materials.
"We changed every little detail until we reached the result we were looking for; to create high quality products for the most demanding motorcyclists," says Diego Sgorbati, Tucano Urbano's CEO. "Every journey starts with meticulous preparation, everything must be set and in perfect order to make it amazing. This is why the T.ur products have been studied in every little detail and tested thoroughly on and off road, over thousands of kilometres to ensure the most advanced performance: Thermal comfort and perfect fitting are key when you go for long rides so that you can keep focused. To reach this goal the choice of materials has been led by excellence so we have used Cordura® fabrics, Thermore® padding, YKK zippers and above all the new D3O® LP2 ventilated protections, a world premiere. Safety on any T.ur product is moto CE certified; EN13594 standard for gloves and the new prEN17902 AA Class standard for jackets."