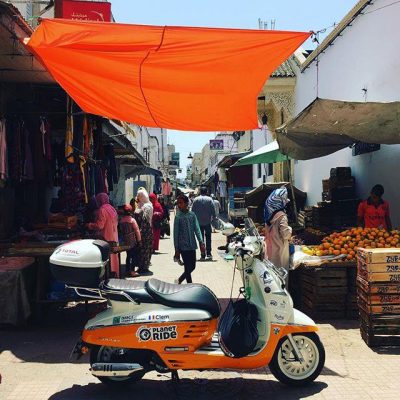 Fair play to French adventure bloggers Lisa and Clemence.
They completed their Django Adventure a few weeks ago – riding 3,665km on 125cc Django scooters (made by Peugeot).
The pair set off from Paris and arrived in Casablanca after 50 days on the road.
Their route took them initially through the brandy-producing region of Cognac and the vineyards of Bordeaux in the South of France, then through Arcachon, Mimizan and Biarritz and across the Pyrenees mountains into Spain.
In Spain they rode to Madrid and then to the beautiful cities of Manzanares, La Carolina, Jaen, Motril and Grenada, under the Andalusian sun.
After a short stop in Malaga, the ladies arrived in Algeciras, where they crossed the Mediterranean Sea to Morocco.
Following a pit stop for mint tea in Tangier, they started the last leg of their journey, riding along the Atlantic coast to Rabat and finally Casablanca, where they visited the Hassan II mosque, with the highest minaret in Morocco, to mark the end of their journey (pictured below).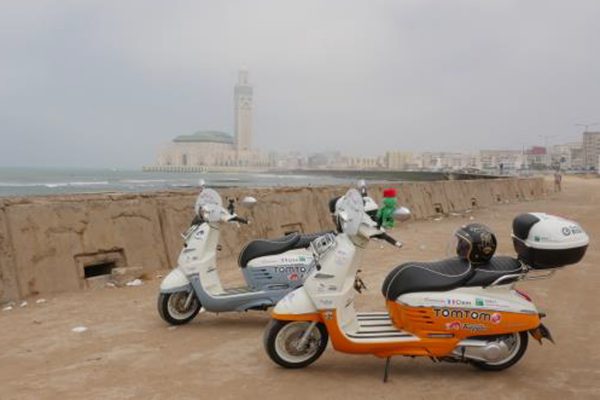 They were greeted by the Miss Moto Moroccan Association – a group of women bikers, who rode with them for several miles.
Having reached their destination within the target of 50 days, Clemence and Lisa decided to continue their adventures and headed for Marrakech, where they arrived on 28th of June.