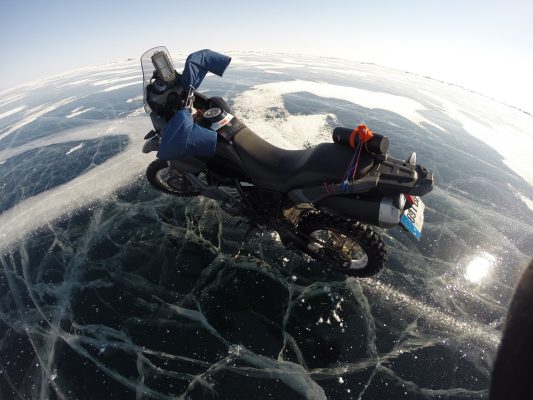 "So I rode across Lake Baikal in the first weeks of March this year," writes Karolis Mieliauskas, a Lithuanian adventure motorcyclist, in an email to Adventure 52.
"It was a solo travel, I had no support truck behind me, no people waiting for my emergency call, no satellite phone, not even a tent. It was me, my motorcycle, water, hot tea, snacks, extra fuel, basic tools and some clothes."
If you've not heard of Lake Baikal, then its the largest freshwater lake by volume in the world, containing 22–23% of the world's fresh surface water. It's also 1.6km deep (5,387 ft), making it the world's deepest lake.
Here's a bit more to the story and why this 35-year-old Lithuanian from Vilnius set out on such a challenging ride.
Adventure 52: Why did you do this trip Karolis?
Karolis: "Because I like riding long distances. A few times I did 1,000+km per day. This trip was around 2,000km in two days. A few years ago I rode from Vilnius to Vladivostok (the far east end of Russia). This was 11,000km in 15 days including 2 days off. Basically it was 1,000km a day. But this wasn't in the winter."
Adventure 52: What was it like riding in such cold temperatures and on the frozen lake?
Karolis: "I had some very small experience in riding on ice before. I've got studded tyres and went out for a ride in local woods here in Lithuania. Big fun, lots of fun, but the quantity of snow is not the same. Temperatures change and not every ice lake allows to secure rides. But the biggest fun is on ice. We have many lakes in Lithuania, but they are not good to ride on. I wanted to have a several days ride on ice. There are few places I could get to, but Baikal in Siberia is 'close' to me (more then 6,500km) from my home. I know Russian, so that helps. The energy of Baikal is magic. I noticed it last summer; on the way to Vladivostok I stopped on the shore of Baikal for a 24hr break. In fact, I like my state of mind when riding tough. My style tough. It is extremely meditative."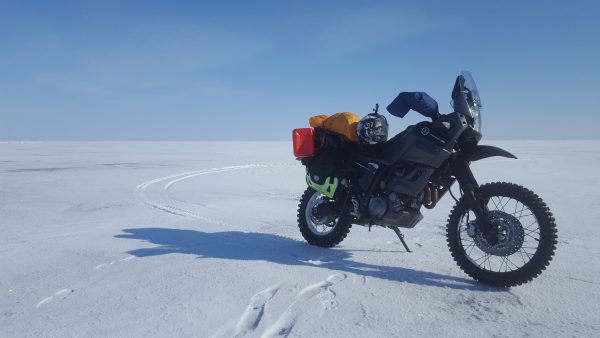 Adventure 52: What motorcycle did you do this on?
Karolis: "It was my everyday bike, a 2008 Yamaha XT660Z Tenere. It is extremely reliable. Secondly, it is very comfortable (I do not use any kind of seat corrections) for long trips. Relatively light, which makes it easy to use off road and comfortably on the road. Not many bikes have such fantastic fuel range – up to 530km per tank. On the other hand I have packed more or less the same stuff as on any rides, i.e. some basic tools, duct tape, plastic straps. I am not a mechanic and do not believe in big repairs of the, let's say, modern bikes, on the ice and in the wind and extreme cold."
Adventure 52: Was March the best time to go there?
Karolis: "I researched and found that Baikal freezes completely at the end of January only. February is the biggest winter (extreme snow, cold and wind)and in March the sun appears and makes more mild weather. In April the ice starts to melt and it completely melts down by the end of May.
Adventure 52: What route did you take over the lake?
Karolis: "I started in the southernmost point of Baikal town Slyudyanka and came up to the top of Olkhon island with the finish line in a town called SakhYurta. It was 765km and seven days of ice riding."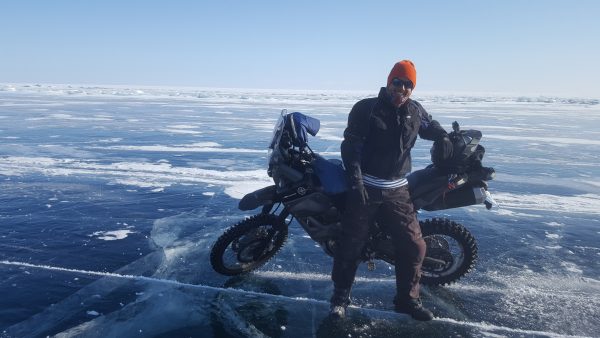 Adventure 52: Tell me a bit more about what it was like riding over ice like that for so long?
Karolis: "Basically the ice is 1.5 to 2.0 metres thick there in March. But there are many, many ice cracks with open water. Sometimes every 500 metres. Ice cracks can span in size up to 3 metre. Sometimes the ice just before or after a crack was very thin. Usually I had to stop to check before "jumping". My heel was a tool. It resulted in a ride with wet legs for the first three days. A metal stick would have been the right tool to check with really."
Adventure 52: Sounds fairly dangerous?
Karolis: "There were many dangers if you thought too much about it. I was riding up to 20km from the shore at times. From that distance the shore can be seen but there aren't any houses on it. It was a lot of snow for the first days. It was completely not standard for this part of the season. Sometimes snowing made very low visibility. Snow covers ice cracks… nobody was driving on those days which resulted in no tyre tracks to follow. So being alone, far from shore on the ice of the deepest lake in the world, in some extreme cold, theoretically might be dangerous. But there is no room for the thoughts like this while riding as it may result some losing control – too dangerous, too cold, too far away, too whatever. I am not thinking these things!"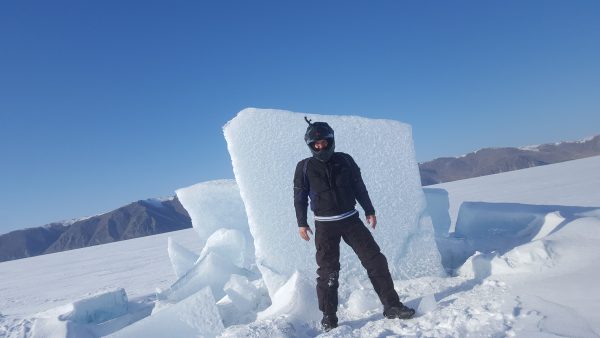 Adventure 52: How cold did it get?
Karolis: "The most extreme thermometer view I had was -29.5 Celsius one early morning. During the day it was between -10 to -15 Celsius. Most of the days was sunny with very bright reflection from snow. Similar to what we see in the mountains. Sun glasses, hot tea and some woollen clothes are a must."
Adventure 52: What other kind of challenges did you face along the way?
Karolis: "Ice cracks – passing/jumping/over them was the biggest challenge. It required a lot of physical energy, but once you have two heavy crashes in a first hour of driving in a morning, it also uses a lot of mental resource. The first day's snow quantity sometimes reached nearly my knees. I had to ride in first/second gear; I looked like a drunk. It was not possible to stay straight. My Tenere is not a snowmobile, hahahaha. Besides all this, the ice is cracking constantly. I could feel and hear it all the time. Maybe not a challenge in general but a lot of space for thoughts.Other thing is constantly changing ice and snow condition. In the evening you think you know ice already and may imagine tomorrows ride. But once started in a morning you see that ice is different again. Every day like this. Snow became harder, ice rougher and vice versa."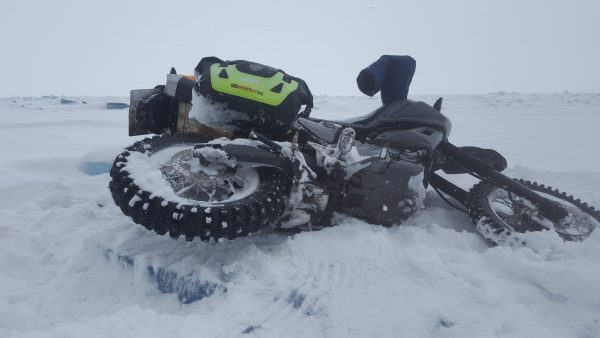 Adventure 52: What was the most difficult part of the ride?
Karolis: "The most difficult was to realise that one trip is not enough to make a good friendship with Magic Baikal."
Adventure 52: Your most memorable experience?
Karolis: "In extremely low visibility, deep deep snow, and the snow storm I lost any kind of track on my first day of riding. I tried not to stop as restarting became very difficult due to the deep snow. I was approaching the outfall of Angara (330 rivers inflows Baikal and Angara is the only river outflows) which was waiting for me as extreme size of unfrozen water in front. When it begins? It was hard to know how to recognise that the ice was already thin. And the visibility was so low. Suddenly I noticed a human trace and saw two silhouettes in the distance. Approaching them, they were on foot with backpacks. Moving slowly and looking at me. I stopped, started to speak, and guess what, they were Lithuanians, the same as me 🙂 The World has become very small."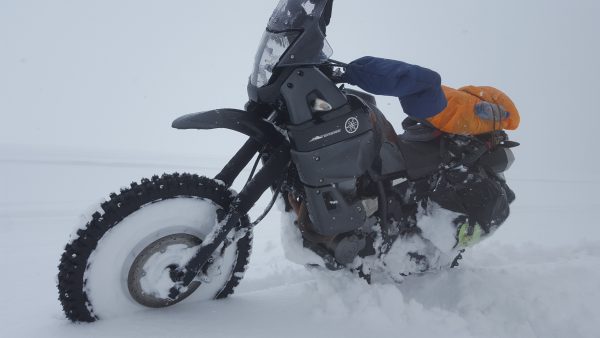 Adventure 52: What is your next adventure?
Karolis: "I will go for the Kalindikhal Trek (Himalayas) with nearly 6,000m altitude with no ropes and other professional equipment in September, but it will be on foot. There are plans for winter 2018 on motorcycle, but it is a bit too early to talk about that…"