"It's the equivalent of swimming the English Channel every day. But I know my body can take it. I know I can be the first person in history to achieve it," says adventurer Ross Edgley.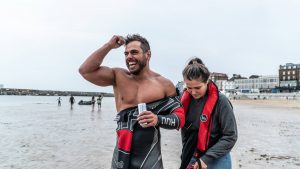 As you read this Ross is already a good 10 days in to his adventure and is swimming in six hour stints in a clockwise direction and will not touch the shore until arriving at London's Tower Bridge in an estimated 100 days. There's a support boat that will follow Ross and allow him to clamber on board between stints to rest and recuperate between swims. "The captain of my boat is going to be my hero," Ross says. "He will plot everything – he has all the tidal maps and will be plotting where I am on a map every day to boost morale. When you're out at sea and all you can see is the bottom of the sea bed, it's very easy to lose track of where you are. So it'll be nice to clamber back on the boat and see that I've made progress. Ultimately, when you're fatigued you have the cognitive function of a 5-year-old, so I'll be like 'point me in the right direction and let me know when I've got to change'."
Sean Conway once swam the length of Great Britain in 135 days and Ross says he's "looking to do more than double that distance in less time".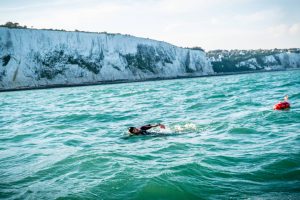 He stands a good chance too. Earlier this year, Ross attempted to swim from Martinique to St Lucia while pulling a huge log behind him. He says: "I'd aimed to swim 40km point to point but the current was totally against me and kept dragging me back. Even though I didn't reach the shore, I actually swam over 100km in the end. While the athlete in me was happy with that, the adventurer in me had unfinished business. So, I phoned up the Royal Marines when I returned to the UK and asked if I could swim for 48 hours straight, just to see what I've got in the locker. The swim went really well and I hit 126km. One of the Marines mentioned the idea of swimming around the entirety of Britain – something that's never been done before – and I thought, 'why not?'"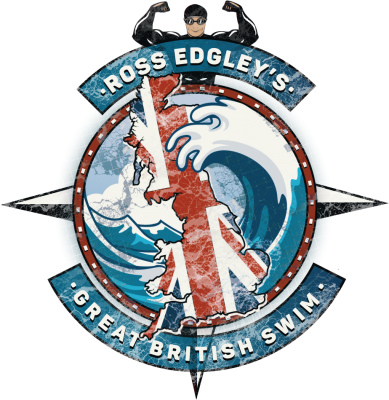 The entire attempt is being made in the spirit of open water swimming so Ross has no buoyancy aids and gloves will only be worn during cold periods. He at least does have a collection of wetsuits that have been pre-tailored for the inevitable weight loss he'll experience. "My legs will probably atrophy first," Ross explains. "I won't be using them, they'll probably shrivel – kicking your legs account for only 10 per cent overall propulsion, even with Olympic swimmers."
Photos by Harvey Gibson / Red Bull Content Pool