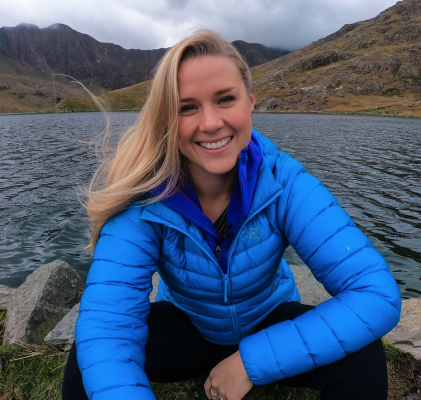 All of us here at Adventure 52 absolutely love Sophie Radcliffe so we're excited to follow her over the next 72 hours as she drives to 10 volcanic landscapes in the UK and Ireland.
The challenge is called the 'KONA 10' because she's visiting 10 volcanoes and driving between them in Hyundai's new KONA car.
"I can't believe I'm going to be the first person ever to attempt the KONA 10," she says. "To make it up 10 iconic volcanic passes in 72 hours will be a real challenge, but I love pushing myself physically and mentally, – so for me it's all part of the adventure. Although I've completed extreme challenges all over the world, this is my first involving a car and volcanoes!"
The 72 hours will be non-stop, with Sophie sleeping on ferries and in the back of the car.
When she can't go any further in the car she'll be running, walking, climbing or cycling to each volcanic location.
The 10 locations were selected by Dr. Michael Scott who says:  "There is the most incredible yet surprising volcanic history in the UK. The KONA 10 is going to shine a light on our volcanic heritage – from Snowdon to the Isle of Skye. This never before attempted route across the length and breadth of the UK and Ireland will take people on a journey through a rich and incredible tapestry of human history and achievement – from the ancient past, to the modern day."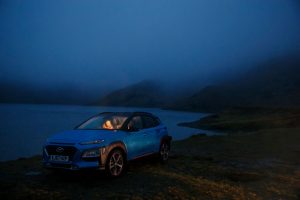 The route starts at Mount Snowdon in Wales, before heading across the sea to the Giant's Causeway in Northern Ireland, via a trip to Croghan Hill, termed 'the navel of Ireland'.
It then crosses to Scafell Pike, England's highest elevation, and then on to Scotland to take in the stunning surroundings of North Berwick Law in East Lothian.
From there it's to Edinburgh – and both Castle Rock and Arthur's Seat.
Glen Coe is next, whose volcanic history dates back 420 million years, before reaching the impressive Ben Nevis, confirmed by Ordnance Survey as the highest mountain in Britain and Ireland.
Sophie then heads to Ardnamurchan before finally, the wilds of Skye and the inaccessible Cuillin Ridge, the site of the last clan battle in the Isle of Skye, signal the end.
The all-new KONA is a compact, has full-LED twin headlamps perfect for driving at night, comes in 10 exterior colours, has four-wheel drive, head-up display, a high-end sound system by Krell and complete connectivity allowing passengers to use Apple CarPlay and Android Auto on the seven-inch screen – hope those tunes keep you going Sophie!
Lots of luck and love from us.