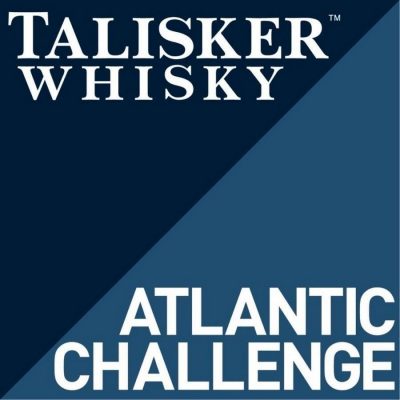 Here's the full run down of the teams in this years Atlantic Challenge. 
SOLOISTS
THE BLUE ROWER – NEW ZEALAND – ISAAC GIESEN (26). Isaac is looking to be the first New Zealander to row across the Atlantic as a soloist, and to be the first person to row the Atlantic twice in one year. He is rowing for Black Dog, Brave Hearts, and Victim Support.
ROW TO RAISE – GB – KELDA WOOD (45). This inspiring former Paralympian is continuing her action packed life by taking on another adventure to add to her list of accomplishments. She is rowing for Climbing Out, a charity she set up herself after her own life changing injury.
DIFFERENT WORLDS – AUSTRALIA – MICHELLE LEE (46). She is looking to break the current record of the fastest female soloist to row the Atlantic, to add to her list of rowing World Records that she already holds.
THE WILD OARSMAN – AUSTRIA/ITALY/GB – LUKAS HAITZMANN (18). This young adventurer is no stranger to endurance races, and is looking to set new race and world records despite his young age.
TAME THE KRAKEN – USA – TIM CROCKETT (47). Soloist Tim is passionate about raising money and awareness for those suffering or effected by mental health issues. He is rowing for Give an Hour and Combat Stress.
PAIRS
WOLFPACK – DENMARK – LASSE HANSEN (31), MADS VANGSO (47). The dynamic duo and fitness enthusiasts are adding another adventure to their list as they attempt the Atlantic row. They are rowing for Unicef.
WHALE OF A TIME – GB – LAUREN WOODWISS (29) JEMMA RIX (29). The duo are aiming to break the current record for the fastest female pair to row the Atlantic. They are also planning on making as much of their own food for the crossing as possible. They are rowing for FareShare, The Mintridge Foundation and Cancer Research UK.
ATLANTIC ALBATROSS – GB – ELISABETH GILL (43), MARK AGNEW (27). The pair are supported by a class of Elizabeth's pupils, who are creating all of their campaign assets ahead of the race. They are rowing for Eikon, The RAF Benevolent Fund, Dyslexia Scotland and Whale and Dolphin Conservation.
GRANDADS ACROSS THE ATLANTIC – GB – NEIL YOUNG (61), PETER KETLEY (62). Ex-military men, the duo have been friends for nearly 40 years having both been in the Parachute regiment together as young men. They are rowing for Dreams come True and are attempting to be the oldest pair to ever cross the Atlantic.
AU LARGE – L'ATLANTIQUE EN SOLIDAIRE – FRANCE – NICOLAS SAINT-BRIS (33), GUILLAUME BARRAGE (27). Having competed in the French University Rowing Championship together, the firm friends are looking to make more memories on this adventure of a lifetime. They are rowing for L'École À L'Hopital.
TRIOS
STATUS ROW – GB/BERMUDA – SUSAN RONALDSON (42), CAROLINE WILSON (32), JESSICA REGO (29). Made up of three women with no prior rowing experience, they are powered by a belief that ordinary people can do extraordinary things, and want to break the current record set for the fastest female trio crossing. They are rowing for The Marine Conservation Society.
TRANSATLANTIC TRAFFORDS – GB – HUGO TRAFFORD (22), JAMES TRAFFORD (59), JOE TRAFFORD (18). The team is made up of a father and his two sons who are looking to break a world record upon completing the race. They are rowing for St Christopher's Hospice.
FOURS
ROW FOR THE OCEAN – GB – KIRSTY BARKER (28), KATE SALMON (31), ROSALIND WEST (36), LAURA TRY (36). The team are campaigning to make Exeter a plastic free city and are picking up plastic and rubbish during their training sessions. They are rowing for Surfers Against Sewage.
OAR INSPIRING – GB – GEORGE BLANDFORD (26), JUSTIN EVELEGH (32), TOBY THORP (25), CASPAR THORP (27). The team, which includes two brothers and two cousins, are planning on leaving a legacy for future teams by donating their boat to a team after the race, who otherwise would not be able to take part. They are rowing for Starlight Children's Foundation.
DUTCH ATLANTIC 4 – NETHERLANDS – MARCEL ATES (58), ERIK KONING (51), DAVID DE BRUIJN (33), BART ADEMA (34). These experienced rowers have taken on challenges together before, and want to break the record for the fastest Dutchmen to row the Atlantic. They are rowing for Kika and Precious Plastic.
MAD 4 WAVES – SOUTH AFRICA – GRANT SOLL (22), COLE BERNARD (22), LEE GORDON (22), MATTHEW BOYNTON (22). These sport loving friends attended school and university together, and are looking to push themselves both mentally and physically in the race. They are rowing for Mad Leadership Foundation.
FIGHT OAR DIE – USA – ALEX EVANS (36), BEAU MAIER (36), BRYANT KNIGHT (49), CHRIS KUNTZ (50). These American army veterans want to prove to other ex-military people that anything is possible. They are rowing for Fight Oar Die Charity.
TEAM TYNE INNOVATION – GB – PHIL KITE (57), STEVE SIDAWAY (50), ALLAN HUNTLY (50), CLAIRE HUGHES (38). Based in the North East, the team want to raise awareness of the innovation generated in the region. They are rowing for Daft as a Brush and The Stroke Association.
ROW 4 VICTORY – GB – FRASER MOWLEM (41) GLYN SADLER (37) DUNCAN ROY (28), WILL QUARMBY (35). The team brings together a serving Royal Engineer, an ex-Royal Marine, a civilian and a serving Chief Technician in the Royal Air Force, as they row in the centenarian year of the end of WW1. They are rowing for The Royal British Legion and Soldier On!
ATLANTIC DISCOVERY – GB – JACK HOPKINS (25), BENJAMIN AJAYI-OBE (25), ISAAC KENYON (25), CAMERON PARKER (51). These seasoned adventurers already hold amongst them several rowing records, and are determined to break some race records. They are rowing for The MS Society and The Berkshire MS Therapy Centre.
ATLANTIC SEAMEN – GB – JONATHON DAVIES (43), ANDREW BERRY (49), ANDY GRANT (41), ALEX FAWCETT (40). The Cornish friends have a shared interest in taking on extraordinary challenges, with several endurance races and adventures already under their belts. They are rowing for The Urology Foundation and Children's Hospice Southwest.
HEADS TOGETHER AND ROW – GB – TOBY GOULD (39), ALISON WANELL (40), JEZ REYNOLDS (41), JUSTIN COLEMAN (53). Having all been effected by mental health in a range of different ways, the team are passionate about raising money and are rowing for Combat Stress and MIND.
ASTRO TO ATLANTIC – GB – HELEN SYMONS (33), CHLOE HARVEY (27), EMILY READ (21), LOUISE READ (50). After years of friendship on the hockey field as team mates, the foursome are taking on a challenge of a different kind. They are rowing for The Devon Air Ambulance.
ROW ROW ROW OUR BOAT – GB – ANDREW WILLIAMS (58), NICK WRIGHT (45), ANDY BURNS (33), JONNY BAYLEY (32). They are rowing for Over the Wall and Bosom Buddies Charities.
TEAM ANTIGUA ISLAND GIRLS – ANTIGUA – Kevinia Francis (40), Christal Clashing (29), Samara Emmanuel (32), Elvira Bell (37). They will be the first all-female team from Antigua to do the race, and will be rowing back home to Antigua. They will also be the first all-black team to complete the race. They are rowing for Cottage of Hope.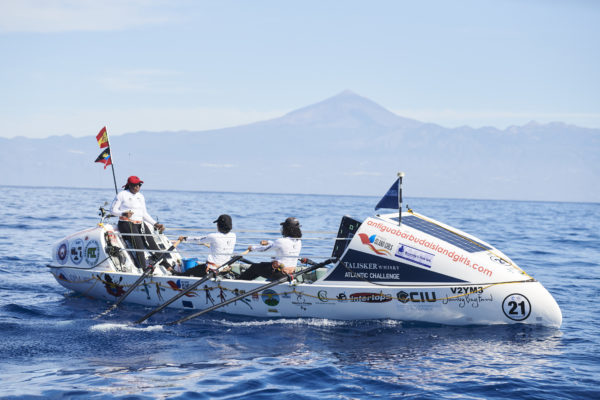 FIVES
ROW 4 ALS – USA – TIM RYAN (52), ALAN ALDERMAN (57), TEDDY WALDO (30), DALE SMITH (62), BRIAN ARMSTRONG (36). Alan, who has been diagnosed with ALS, is taking on this adventure of a lifetime with four teammates and is rowing for Crowdcare, ALS Association, and ALS Clinic at the University of Utah.
NAUTI BUOYS – GB – MATTHIEU POUDEVIGNE (28), HECTOR STRICKLAND (27), NICHOLAS ROKOWSKI (28), PAUL HEEREMA (27), RORY ORMISTON (27). With a doctor, naval architect and ex-navy officer within the team, these sea-lovers are excited for the journey ahead. They are rowing for Cancer Research UK.
MEN OF OAR – GB/BELGIUM – ROBIN DRYSDALE (36), WILLIAM THEAKSTON (33), DAVID WALLIS (32), SAM BOLT-LAWRENCE (32) GUILLAUME VANDERWINDEN (29). Cancer survivor Robin is captaining this group of friends as they row to raise money for Bowel Cancer UK and Combat Stress.
Follow the race on the Atlantic Campaigns Facebook Page. #MadeByTheSea #TWAC2018