Land Rover fans have been waiting to see if they'd be a V8 engined version of the new Defender for well over a year now, and here it is.
It uses the same 5.0-litre supercharged V8 engine that's in the Range Rover Sport and the Jaguar F-Type – giving the Defender 518bhp and 461lb ft of torque.
You can get the V8 in both the Defender 90 and the Defender 110 and you'll be able to spot them out visually by the blue front brake callipers, the grey 22-inch alloys and the quad-exit exhaust system. If you choose a grey or white Defender V8, then you'll get a contrasting black roof.
Prices will be from £98,505 for the Defender 90 and £101,150 for Defender 110.
Land Rover usually does a limited-run First Edition, but with the Defender V8 it is offering an XS Edition, which has a colour-coded lower trim (so if you order a black version the lower trim will also be black. This XS Edition also has LED headlights, air suspension, heated front seats and khaki leather upholstery.
There's also a special Carpathian Edition on offer, that has a contrasting roof, bonnet and tailgate, along with a matt-effect body wrap that protects against scratches and chips.
So that's covered the looks, what about the performance? Well the Defender V8 gains a new Dynamic setting, which sharpens the throttle response and firms up the continuously variable dampers for a more "playful" character, both on and off the road.
The suspension bushes are stiffer and there are thicker anti-roll bars so that it doesn't have excessive body roll while cornering. An additional yaw controller in the rear differential also varies the torque in the rear axle so that it has maximum grip at any given moment.
Inside the touchscreen is 60% larger than the one in the standard Defender, coming in at 11.4in and there is wireless phone charging and a signal booster, particularly useful if you're heading to regions of the UK with weaker coverage.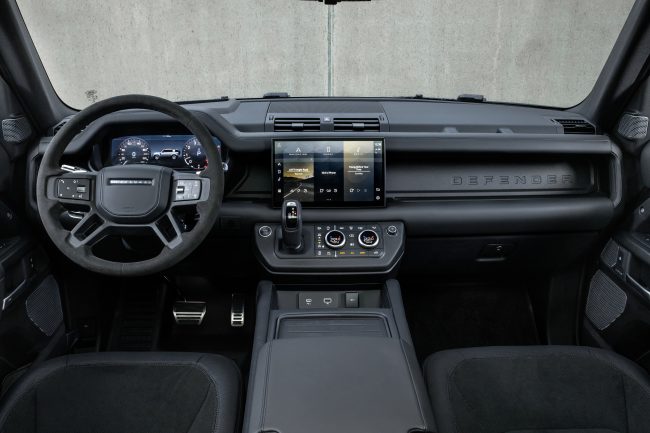 See more at www.landrover.co.uk