Here's the world's first smartwatch especially designed to wear during adventure sports.
It's called the Nixon Mission and it's the first ever smartwatch to have 100 metres of water-resistance.
It operates on the Android Wear platform and has two apps called Surfline and Snocountry pre-installed. The apps give real-time updates on the size of surf waves and snow fall in the round dials on the watchface (see right).
The case is made from polycarbonate and stainless steel. The display is a round AMOLED type and is protected by a stainless steel bezel that acts as a roll cage.
It has a GPS, thermometer, altimeter, barometer, compass, gyro, accelerometer and humidity sensor.
It has Bluetooth and the battery life in normal use is about a day.
You have to use the watch in conjunction with a smartphone that has Android 4.3 or higher or an iPhone (5 or later) with iOS 8.2.
Versions in black and silver are also available.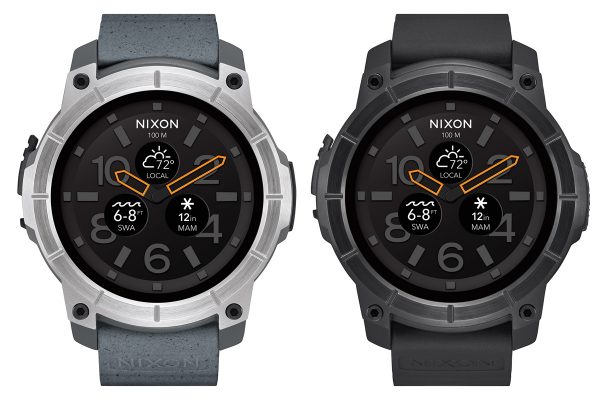 Buy online http://www.watchshop.com/search.php?q=Nixon+Mission