OBSTACLE course races (OCR) are commonplace these days but there are very few that take place in city centres.
Adrenaline Rush aims to change this, giving runners who live in London, Bristol, Manchester and Glasgow the chance to take part in an OCR without the travel fuss and expense. I went along for teaser race this month to get a feel for what's on offer. It kicked off with a booming explosion and a smoke screen. Starting off a race without even being able to see where I'm placing my feet was a new one for me.  "Is this the first obstacle?" I said to myself.
The race is based on a 5km or 10km trail run. I was only doing the 5km and I certainly didn't expect to be plunging through deep water pits 10 minutes into the run. Nor did the group of charity workers from Macmillan Cancer Support who were running alongside me…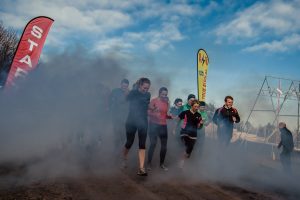 The cold water sucked out the power from our legs. On the hill run back up to the obstacles I was huffing, puffing and spitting. I wasn't expecting it to be this hard. Without that cold water, the obstacles would actually be pretty straightforward to climb over. The toughest one was a set of wooden-planked walls that increase in size, but the rest were made up of a cargo net, a spider-web maze, a plank run through huge swinging sailing buoys, barbed wire (that's me in the main picture above), a tight rope and finally a good-old rope swing.
Organiser Graham Anderson said that what I tried out was just 15 per cent of the final offering and that there'd be 25 to 30 obstacles at each race. Obstacle names such as 'Trapeze' and 'Electric Shock' have been mentioned. Gulp. Not sure I like the sound of the electric shock…
Macmillan Cancer Support is the supported charity and a quarter of our entry fee goes direct to Macmillan – so you can take part and help out a charity without having to beg your friends to sponsor you for yet-another-charity-event (unless you want to raise more money of course).
I ran part of the course with some of the Macmillan girls and asked them, in between breaths, what they made of it.
"I feel like a soldier," one told me.
Another added: "The mud's probably more dangerous than the obstacles."
And another squeaked: "My trousers are all clingy. Eugh."
At the end of Adrenaline Rush I was wet, I was muddy and I was satisfied – it can't get any better than that at the end of an OCR eh?
Sure, this series doesn't have any of the prestige of existing OCRs just yet, but give it time and Adrenaline Rush will become a fun and worthy addition to the calendar.
Entrants can take part as an individual or as part of a team of four. Each event is capped at 3,000 places. Entry fee starts from £35 (5km) and £42 (10km). Minimum age for entry is 17 years.
Adrenaline Rush will take place in London (Queen Elizabeth Olympic Park 30th May), Glasgow (Pollock Country Park 18th July), Manchester (Heaton Park 1st August) and Bristol (Ashton Court Estate 15th August).