ALDI motorcycling gear went on sale last year, but its new batch for 2015 meets European Level 2 standards for impact abrasion and impact cut resistance.
The range goes on sale on Sunday March 8th and you should probably try and go in to your Aldi store on the Sunday to make sure you stand a chance of getting the sizes you want as it's expected to sell out pretty fast.
The Men's Motorcycle Jacket and Men's Motorcycle Trousers both meet EN13595-1 at Level 2 but not just in the 'highest injury risk' areas, but across all parts of the clothing.
The minimum requirement for impact abrasion is seven seconds but the jacket and trousers gave 13 seconds of abrasion resistance and across all zones.
They're not super-cheap to buy (the jacket costs £79.99 and the trousers cost £59.99) but it at least means you can get a jacket and trouser set for £140.
Add Touring Boots for £29.99, Gloves for £19.99 and a High-Vis jacket for £12.99 and you can fit yourself out with a basic riding set up for about £200.
I have been sent the full-range and the kit reminds me of the old Frank Thomas kit. That's not a bad thing as the Frank Thomas jacket I had is still going strong albeit with some D30 armour retro-fitted to it.
The jacket has a touring look to it with velcro waist straps so you can tighten it round your middle. There's a few bits of Scotchlite piping for reflection too. They sent me an M and it fits extremely well. There's fleece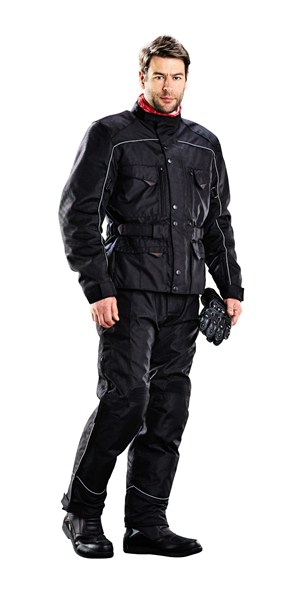 material around the neck to stop it scratching you but it's shame there isn't any on the ends of the cuffs as they dig in to my wrists. There's armour in the elbows and shoulders as well as a built-in back protector (removable). The CE label is clearly stitched on to the inside of the jacket showing that it meets Level 2 and there's a single inside pocket for a mobile phone and wallet as well as a zip tab so you can zip the jacket to the trousers.
The trousers match up well to the jacket and are equally thick and chunky. They have foot loops and a long-zips up to the knee so that you can pull them on easily and also unzip for ventilation. There's no flap behind the zip so you might get the rain seeping in through here. There are two zipped pockets at the top of the legs but they're awkward to get a hand in and out of. There's a very nice stretchy belt though, so you can tighten them up around your waist.
I can't quite make my mind up about the Touring Boots. Yes they're just £29.99 but the size 10s are a little too baggy for my narrow feet. Maybe I'm fussy but I really like boots to fit well for when I'm riding on the bike, so my advice would be to try them on, walk around and imagine yourself wearing them when you're riding.
The top and bottom base layers each cost £9.99. The top comes in a box but the bottoms come in a plastic wallet (why?). The top is made of PerEffect, a quick drying yarn, and it also has 'air ribs' which are raised patches of material to keep different parts of your torso worn. I expected the bottoms to be made out of PerEffect too, but they're not, instead they're made of a soft-shell fabric with wind-resistant areas. The sizing seems a bit out of kilter. I am an M but I was sent an XL top – I'm glad Aldi did send me the XL as it fits me perfectly. It's actually a really lovely item of clothing but please Aldi, can you address this for next year?
The hi-vis vest is a must-buy. It has a lovely cut so it fits well over a jacket unlike some high-vis vests that will flap in the wind and move out of position. It's waterproof, breathable and mesh-lined so it feels quite thick and substantial to wear, it also has a decent YKK zip and even comes with a parkway pouch. Well worth the £12.99 price tag.
The gloves are only £19.99 yet they are made from real leather, have carbon-fibre protection and Thinsulate insulation made by 3M. The stitching is excellent, so is the fit, but if you normally wear an M then you'll need to take a size up and go for an L.
The neck wind guard does the job nicely for just £2.99 and the socks at £3.59 are certainly very affordable (and made with 4% elastane and padded areas) but I personally prefer socks that are a bit thicker. They'd be great to wear in the summer but perhaps not for winter riding.
I was sent a rain jacket but not the trousers. Each cost £17.99 so another £36 for the pair. I prefer a one-piece rain suit to jump into so I think I'd prefer to spend a bit more elsewhere.
There's also a tank bag (£12.99), cover (£8.99) and lock (£8.99). The tank bag has a main compartment with a 2-way zipped opening, an anti-slip bottom and strong magnets to keep it secure to your bike.
All in all, it's great range of kit at a good price with a reasonable level of safety. This is backed up the Director of Public Affairs for the Fédération Internationale de Motocyclisme (FIM), John Chatterton-Ross.
He said: "This is the first time I've seen a UK retailer selling a motorcycling jacket and trousers of this high standard at such low prices."
"The protection offered by Aldi's products exceeds the requirements for impact abrasion and impact cut resistance demanded by the EN13595-1:2002 European standard for zones 1 and 2 in ALL zones. Few products on the market can match this. Often, even in premium brands, it is only the protectors that are certified, not the rest of the garment."
"FIM worked with CEN, the European standards organisation over the many years it took to establish these standards for rider safety. It is great to see that with Aldi's motorcycling jacket and trousers, safety does not have to come with a high price tag."
This batch of Aldi motorcycle gear will do well. Just a shame there's not a ladies range. Maybe next year Aldi?
Full range and prices:
Men's Motorcycle Jacket – £79.99
Men's Motorcycle Trousers – £59.99
Touring Boots – £29.99
Motorcycle Compression Top Base Layer – £9.99
Motorcycle Wind Protection Base Layer bottoms  – £9.99
Motorcycle Gloves – £19.99
Motorcycle Hi-Vis Vest – £12.99
Motorcycle Socks – £3.59
Multi-Functional Neck Wind Guard- £2.99
Motorcycle Rain Jacket/Trousers – £17.99 each
Motorcycle Tank Bag – £12.99
Motorcycle Cover – £8.99
Motorcycle Lock – £8.99