Powertraveller says it is working on new products that develop electricity using wind, water and steam.
The company has released an R&D road map (below) of how it thinks its products will develop over the next few years, clearly showing how the elements can be harnessed to generate electricity.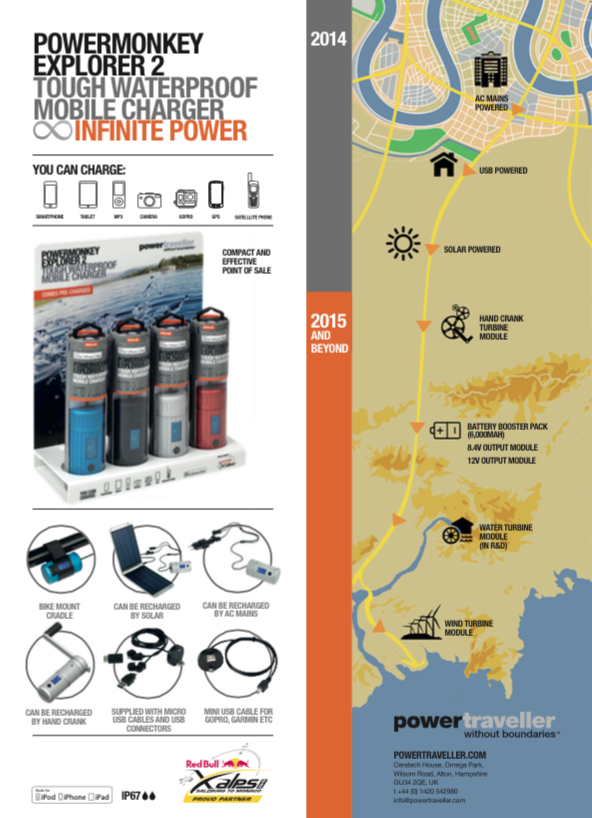 The news comes after the firm won an ISPO Gold Award at the world's leading tradeshow for its 'powermonkey explorer 2' device that's ideal for adventurers, travellers and outdoor professionals.
Powertraveller says it is also developing a hand-crank attachment for the explorer 2, which will soon be launched. You can even buy a bike mount cradle.
Jerry Ranger, founder and CEO of Powertraveller, said: "At Powertraveller we are all about creating durable products that won't let the user down, whether that's a busy commuter trying to phone home, or a mountaineer setting up at Everest Base Camp, and with its strength lying in its versatility, the powermonkey explorer 2 perfectly embodies this ethos."
This year's ISPO Gold Award marks the third award in as many years for Powertraveller.
In 2014 it won an award for its 'powermonkey expedition' device. This is a heavy-duty AC mains generator, complete with solar panel, wind and water functionality.
In 2013 it won one for its 'solarmonkey adventurer', a slim-line 2-panel solar charger with integrated battery.
"To have one of our products receive this award is an amazing honour, but three in a row is just incredible," said Jenny. "This is testament to the dedication of the whole team."
Powertraveller is also supplying its devices to athletes taking part in this year's Red Bull X-Alps paragliding race.