It's popular for all kinds of brands, not just motorcycling ones, to add letters on to the end of an existing model to jazz things up a little.
But with the V-Strom 1000 XT, and the XT standing for Cross (X) Terrain, it's fair to say the additions really have adventurised the mighty V-Strom, and for the better.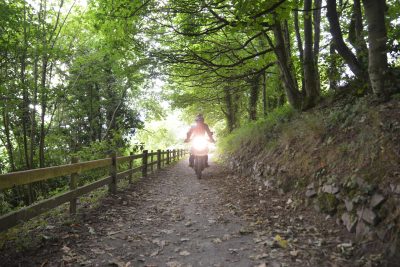 You get wire-spoked wheels, a bashplate and handlebars that are tapered to give more comfort and controllability over different types of terrain.
These items don't seem like a lot, but knowing you have some engine protection underneath (the bashplate) and wheels that can cope with more abuse (those wire spokes and tubeless tyres) and you'll have a bike that gets that bit closer to being a proper off-road machine.
How motorcycles look these days, especially in the adventure category, has become more important than ever. Nearly every manufacturer now has a decent adventure bike offering with some of them very good-looking while able to actually really perform well on roads, trails and tracks. The V-Strom 1000 XT will do the job nicely too, and at a price of just £10,499.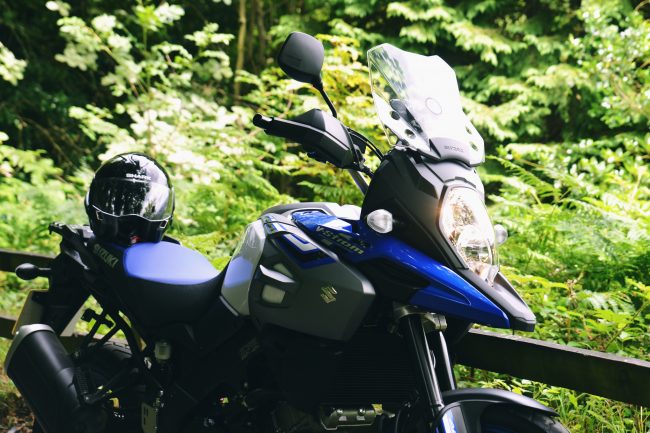 V-STROM MEMORIES
I first swung a leg over a V-Strom back in 2004, some 15 years ago now. The bike I rode was actually the 650cc version (called the DL650) which launched in 2004. I was on the news desk at MCN back then and the road test team let me take it home for a few days. The 1000cc version of the V-Strom was launched two years before the 650cc one, in 2002, and this DL1000 V-Strom continued until 2009 when it stopped production. Three years later, after some time at the drawing board, Suzuki showed a concept bike of what a new V-Strom could look like and in 2013 it then showed the new-look V-Strom that we all know and recognise today.
I remember how much I enjoyed riding that V-Strom on country roads and how easy it was to handle despite it looking like a big bike and having that distinctive large fairing up front, which people either loved or hated, so I had high hopes for the what the V-Strom would feel like.
I had the bike for an evening and a day, so decided to take it on a route to the Malvern Hills, a lovely little place to ride to for some great views. I covered around 180 miles, exactly the kind of ride that you might do on a weekend. This wasn't going to be a full-on adventure test, just a day of riding to get a feel for this XT version and it's potential for doing more adventurous rides.
On pick up, I thought it's a very nice-looking machine, particularly in this blue and white paint scheme. The white Suzuki on the black seat gives it an off-road feel from it's line-up of motocross bikes. You can also go for a yellow/black scheme and a gold/black one (my favourite).



I spotted the 12V plug socket straight away, just below the speedo, that'll let you plug in your own GPS or USB power system. Next, I played with the screen which can be pushed back and forth in to three different positions (using a ratchet system) and you can adjust this while moving. You can also adjust the screen height, but this needs to be done with tools and is the kind of adjustment you make once for your own seating height.
One thing you'll notice from the off is the easy going nature of the engine. The V-twin in this has been honed to perfection over nearly 20 years, and is set up nicely to give you ideal RPM settings and gears for each of the different speed limits. Third gear for 30mph and you'll see 3,500rpm. Fourth gear for 40mph, and fifth (or sixth) for 60mph. In each of these gears it just takes a small twist to pop the revs up to 4,000rpm and 6,000rpm, the exact area where the torque is highest. It's this throttle and engine response that makes it so fun and easy to ride. Granted, other makes of adventure bikes have more power than the 101bhp in this, but it's all useable and plenty for what you need. There is however traction control, an impressive addition for a bike at this price, and you can even turn it off or set to level 1 (dry road) or level 2 (wet road) all done with a simple press of a button on the left hand grip. There's even a nice LCD display to show you what level you're running in.
Suspension wise is where the V-Strom 1000 XT really impresses. On bumpy B roads following a coffee stop at Caffeine & Machine near Stratford-upon-Avon, I could really feel it reacting quickly and keeping the bike stable. It eats up bumps and undulations in the road very nicely. The seat is comfortable too, also being big enough to let you move around and stretch out on long rides.
X-COUNTRY TO MALVERN
I remember the first time I saw the Malvern Hills. It comes as quite a surprise as the countryside in this area is very flat until you spot the mound of the hills towering up on the horizon. You can come here and hike to the 'beacon' at the top and it's a great way to get mountain-type views without having to go to the Peaks, the Lakes or Wales. When the winds are from the west you might also see paraglider pilots launching from here on cross country trips.
There's a road that loops around the hills too with plenty of places to stop off, plus you can find a great coffee and snack in Malvern itself. I managed to find a few places to try the bike out on some tracks and trails and the bike certainly felt fine riding it on loose gravel and sand.
Fuel tank size is a biggie when it comes to an adventure bike and this has 20-litres. After a day of fairly swift riding, I saw an average of 54.4mpg on the display, which is excellent. I'd like to think you'd get around the mid-forties if you were loaded up with panniers or a pillion on the back.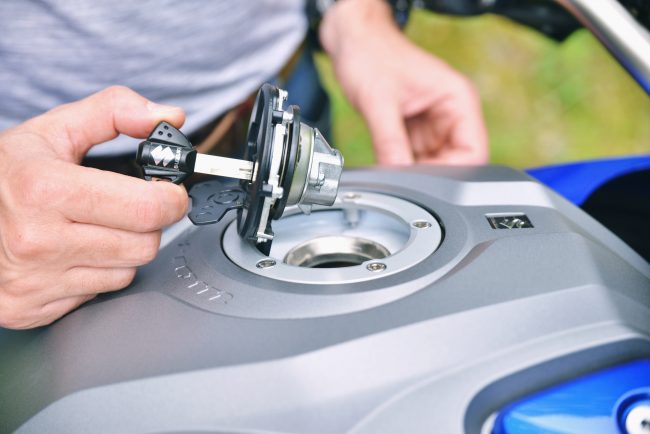 Another cool feature is that when you pull in the clutch, the bike automatically raises the engine speed a little, making it easy to avoid stalling. This would really help when loaded up and stopped on an incline.
Panniers and a top box can be added easily too, with the mounting points already present. You can go for after market brands or Suzuki's own accessories which includes two side panniers and a 35-litre top box. You can also get a 55-litre top box, but you can't use that one with side panniers. You can also add fog lights, heated grips, a centre stand, chain guard and accessory bars on the sides that allow you to strap on extra items of kit.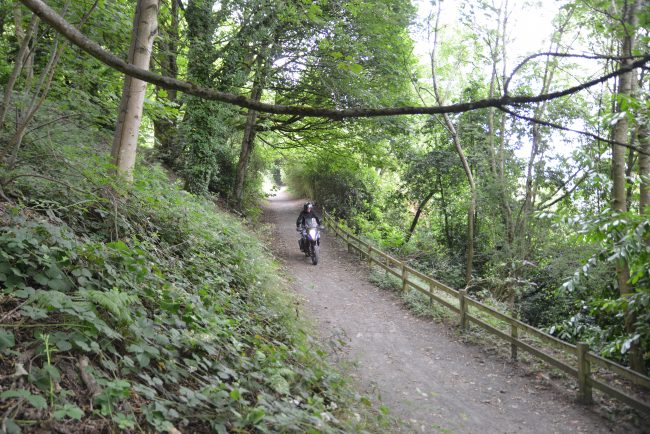 After a day of riding on everything from dusty tracks to B-roads, A-roads and the M40 motorway, the V-Strom 1000 XT took it all in its stride. What's great about this bike is that it'll let you do a bit of everything. It's spirited enough when you want it to be, yet it can also get you around in comfort with kit on board. Maybe the Gold & Black scheme can tempt you? I know that it's tempting me…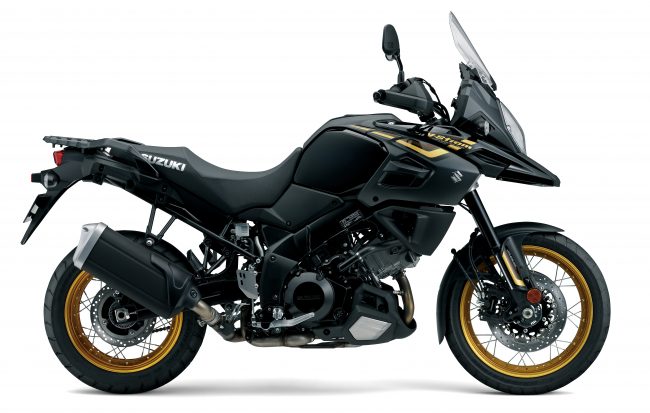 A really well-equipped adventure motorcycle priced very competitively.