The Dolomites in Italy is a mountain region I've seen photos of for years and dreamt of going to. If you've seen the film Cliffhangar, starring Sly Stallone, many of the rock sequences were filmed here and the mountain peaks are spectacularly beautiful. So what better way to mark my first experience of the Dolomites than with a couple of days at Camp Jeep, the Jeep Owners Group's annual get-together. Previous editions of this event have been held in Austria, Germany, Spain and France but this year Jeep wanted a really spectacular backdrop to launch two new models; the Wrangler 1941 and the all-new Gladiator pick-up truck.
The Dolomites region is easy to get to; fly in to Venice, hire a car for a two hour drive north or take the train. I stayed in the beautiful San Martino di Castrozza, a ski resort in the winter, and a haven for hiking and mountain biking in the summer, with Camp Jeep itself based at the bottom of one of the ski runs just outside the town.
My car from the airport to Camp Jeep was pretty spectacular too – I was handed the keys to a Grand Cherokee. But it was no standard model, it was the Trackhawk version. Purring under the bonnet was a 6.2-litre 710-bhp supercharged HEMI V8 engine. We're talking around £87,000 of car here and it soon showed its performance. For reference, the standard version of the Grand Cherokee has a 250bhp V6 engine and costs around £54,000, coming in three trim levels of Trailhawk, Overland and Summit, yours for around £589 a month.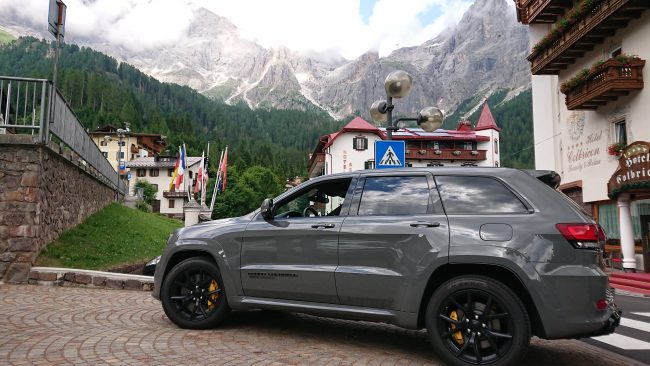 With the Trackhawk, the most powerful production SUV in the world, you literally just have to rest your foot on the throttle and you get a surge of power and noise. It even has a launch control button, something my driving partner, Petrol Ped, was keen and clever enough to show how it works. The acceleration pins you back in your seat and there's even a read-out that tells you how fast you got to  60mph (we did it in 4.2 seconds).
It's when we got to the mountains that the real fun began with the windows wound down every time we went through one of the many tunnels so we could hear the engine roar. And while the Grand Cherokee is chunky, the way it cut around those switchback corners with very little body roll and the lightest of steering inputs really showed that Jeep has engineering prowess to rival other manufacturers.
ARRIVAL IN SAN MARTINO
Seeing the spiky peaks of the Dolomites for the first time was one of those pinch-yourself moments and my excitement grew with every miles we drove up the winding mountain road to San Martino. In the town itself, those same spiky peaks I'd see at a distance now towered over me and were so close it felt like you could reach out and climb them. The town is full of alpine chalet-style hotels, and no surprises, lots of Jeep cars.
I checked in to Hotel Savoia and was given room 309 which had a balcony at the front of the hotel and wonderful views of the surrounding peaks. With just enough time for a shower and a lay down after the adrenaline of driving the Grand Cherokee Trackhawk, I then jumped in the back of a Jeep Wrangler for a shuttle run up to Camp Jeep for the big press conference. I had an idea of what to expect, but actually seeing the Camp Jeep setup was eye-opening; a huge stage and video wall was set up with the mountain peaks as a backdrop, there was a Ferris wheel with a big Jeep logo in the centre, a heritage tent full of old-school Jeep models, another tent full of the Jeep Authentic Accessories made by Mopar and an Official Jeep merchandise shop. Nearby were also off-road trails with different levels of difficulty as well as a technical area with logs and obstacles overseen by expert Jeep Academy drivers to give you driving tips on how to tackle it.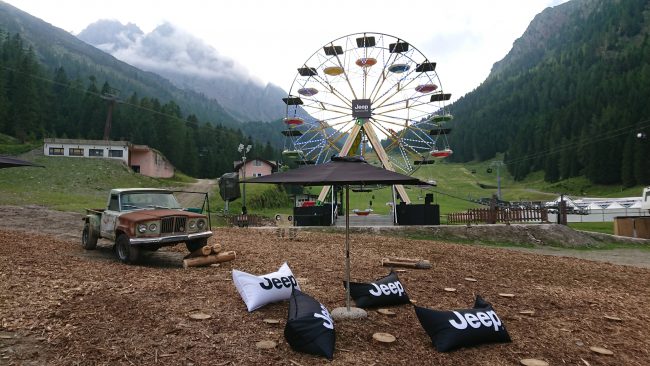 The area itself was covered in 250 tonnes of woodchips and the stage was decorated with cuttings from tree trunks, all taken from trees destroyed by a storm last October. These downed trees are known as 'schianti' and needed to be removed and disposed of to allow for the reforestation of the area. It certainly gave the Camp Jeep a rugged and adventurous look and as the Jeep brand video played on the huge TV screen with the sound blasting out I felt goosebumps on my arm.
The guy in charge of Jeep in the Europe, Middle East and Africa region, Jeff Hines, then came on stage to explain how Jeep, this American brand, has become so popular in Europe: "Each year Camp Jeep just gets, bigger, better and a whole lot more fun than the year before," he said. "Last year, the star of the show was Wrangler, and like any excellent product, like all true icons, Wrangler has the capacity to be for all ages because it embodies the spirit of Jeep all day everyday. Because it's what a UV should be, so with that vehicle we left no stone unturned. To me, in my humble opinion, arguably, my opinion it is, the only true off road vehicle on the market today. Yet at the same time, all of the efficiency, all the comfort and all the technology with the coolness of contemporary UV. So, the most capable UV on the planet today and also just as capable on the road and to make this possible we made the Wrangler with what we call worldproof features."
Jeff's words at the time didn't echo with me until the following day when I actually got to drive the Wrangler for the first time and was when I started to fully understand the "ability and the freedom to go anywhere" that he'd talked about, but more on that in a moment.
In the past year Jeff explained how sales of the new Wrangler had jumped up by 73 per cent, showing there is clearly an appetite for this car. This was a perfect moment then for Jeff to announce a new edition of the car, called the Wrangler 1941 which has been designed with Mopar accessories.  You might not have heard of Mopar (MOtor' and 'PARts' is where the name comes from), but like Jeep it's part of Fiat Chrysler Automobiles.
In true cinematic style, a hidden door underneath the stage opened up to smoke and flashing lights as a bright yellow Wrangler 1941 was driven out. In short, the car has been fitted out with Jeep Performance Parts capable of enhancing its off-road capability even further while remaining street legal. It has a two-inch suspension lift kit, an optional snorkel (first time in Europe for this car), performance rock rails, black door sill guards, a black fuel cap and all-weather mats add to the specific configuration of this model. This particular model will be recognisable by the 1941 decal on the bonnet. It will be available after this summer on all Wrangler 2.2-litre diesel models, and on all trims, including Sport, Sahara and Rubicon. As well as the 2-door yellow version, there was a blue 4-door Sahara trim version on show with a 2.2-litre 200-hp diesel engine. And on the wall behind these two cars was a selection of the Mopar accessories that will be available for the car.
GLADIATORS…READY!
The Wrangler 1941 certainly warmed up the world's press for the unveiling of the Jeep Gladiator. This new pick-up was first revealed to the world at the Los Angeles Motor Show in late 2018 and marks Jeep's return to the pick-up truck segment after 27 years.
Interestingly, Jeep actually had the first car to ever have the Gladiator name on display in one of the tents – this is a 1967 Jeep J3000 "Gladiator Thriftside" and it was great to actually see the old with the new and understand the heritage of this new model. Two Gladiators were driven out from underneath the stage, a white and a black one, to a round of applause and cheering. This was followed by video and presentation by Jeff on what we can expect from this new pick-up.
The Gladiator will available in three different trim levels: Sport, Overland and Rubicon and only with a 3.0-litre, 260-hp EcoDiesel V-6. Customers in the Middle East will get their hands on it during the first half of 2020, while Europe will get it by the end of 2020.
Looks wise, it's very similar to the Wrangler but it has that extended trunk out the back. It's off-road prowess comes from its Command-Trac and Rock-Trac 4×4 systems, third-generation Dana 44 axles, Tru-Lock electric front and rear-axle lockers, sway-bar disconnect and 32-inch off-road tyres. And even more exciting is a forward-facing off-road camera (only on the Rubicon variant) that sits behind the middle slot of the Gladiator's seven-slot grille and is brought up on screen by selecting the Off-road Pages. This is the first time a forward-camera has ever been fitted on a Jeep model and it even cleans itself if it gets dirty. After some time spent oogling the interior of the new Gladiator my attention was drawn by a live female vocalist singing from the ferris wheel, which made me laugh. Thundery showers started falling and Jeep then whisked us all back into San Martino for dinner and eventually to bed, and I fell asleep feeling excited about the next day's off-road driving.
WRANGLING OFF ROAD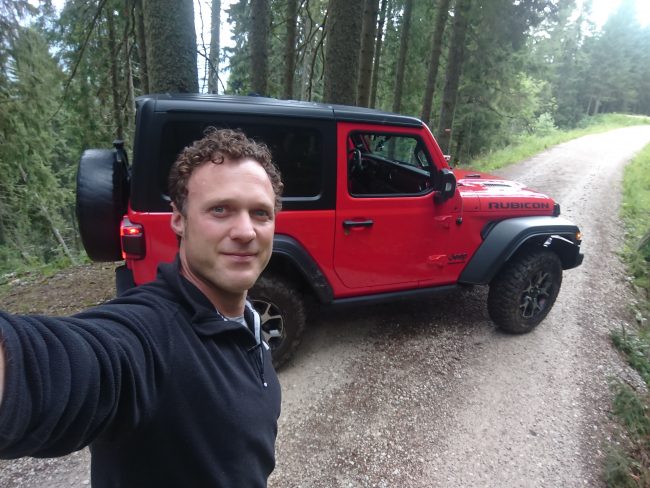 Over the past day I'd heard so many people talk about the Wrangler Rubicon, so I knew I had to try it out for myself. So I was thrilled when I got the keys to a 2-door version in red and black. I'd be sharing the drive with Petrol Ped and we followed the satnav down the road for a few miles until we spotted the start of the trail; a narrow uphill track that looked ominously steep right from the start. We were told to put the car into neutral and then select 4L (which means 4-wheel-drive and low range mode). The two Jeep staff just grinned at us as we set off up the mountainside. Immediately you could see – and feel – the performance of this car. We selected the OFF Road Pages to display in the centre console which lets you keep track of the angle you're pitching up and down and rolling left and right.
We saw it hit 27 degrees nose up at one point, and peered out of the windows to see those chunky tyres effortlessly gripping into soft mud and pulling us every upwards on a very narrow switchback trail up through the pine forest. Both us of gawped at each other in disbelief and wonder at just what we were able to drive up.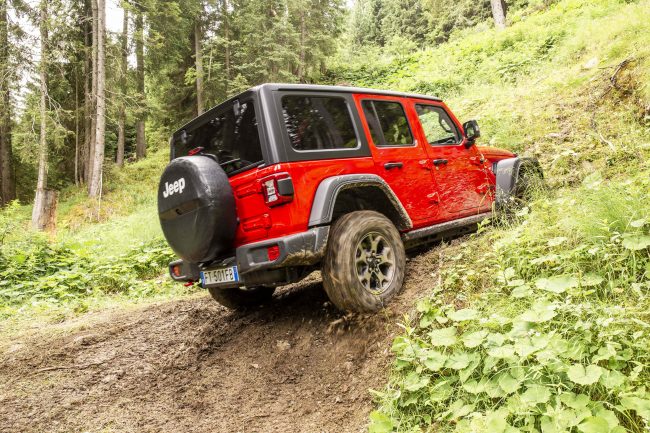 At the top we were treated to a flat and fast mountain track, the same route that Camp Jeep visitors would get to drive too, until we came to a descent which was equally impressive and thrilling to go down. We took turns to drive but I think both of us wanted to hog the wheel for ourselves, because it was so much fun. I now knew why Jeff Hines had said the things he said at the press conference.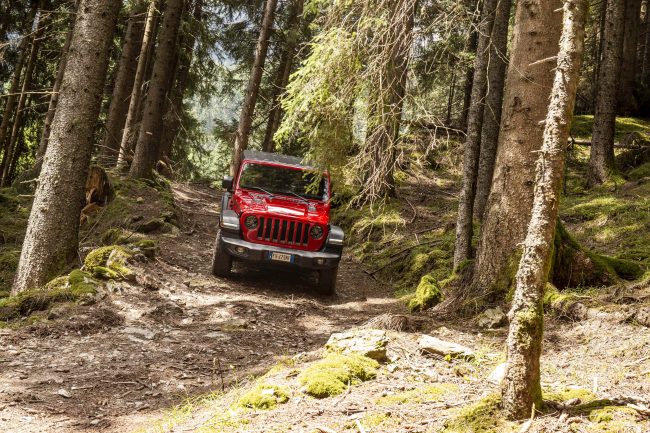 After the forest trails we continued to follow the satnav to an open space that had wooden obstacles built from the same logs knocked down by the storm. Here some the of expert driving instructors from the Jeep academy talked you through how to drive over each obstacle, from a straightforward double rail to traverse, to another rail that let you drive along at a near 45 degree angle. Then there was a steep climb and descent over a tall bridge followed by the most difficult section; a collection of odd-shaped tree trunks laid flat that you had to approach at an angle and get the speed control just right to get the front wheels up one at a time followed by both rear wheels. This obstacle took me five attempts to get right with oodles of frustration but then real joy at when I finally managed to do it. I only wished I'd had more time to go around and do it all over again by myself.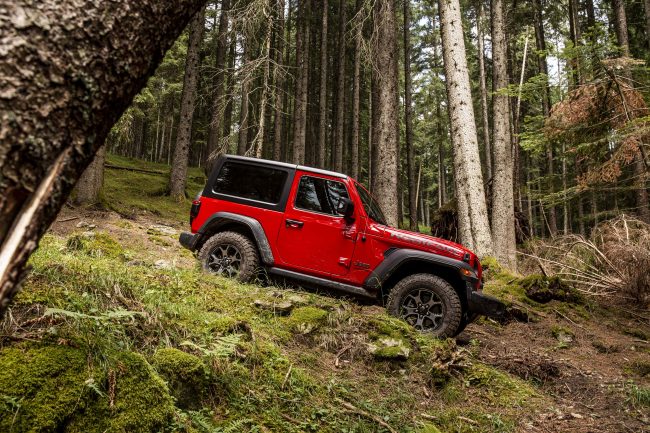 Jeep had proven its point though; the Wrangler really can drive smoothly on road and then climb and get up terrain you'd think would be undriveable. It looks so good on the inside and the outside. In the days after my trip I found myself imagining what it'd look like decked out in Adventure 52 decals and colours (finance deals around £435 a month in case you're tempted)…once you drive one you really can start to understand the appeal. What's more, Jeff Hines confirmed that we'd be seeing even more models of Jeep coming out in new segments in the coming years; it's an exciting time for the brand.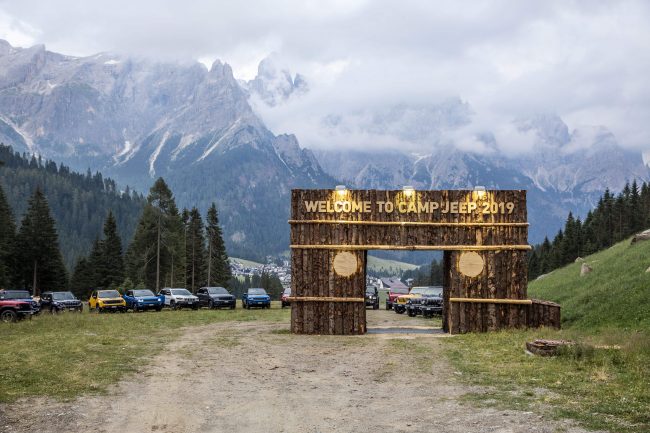 And what of Camp Jeep 2019? Well, Jeep told me the three-day extravaganza was a huge success and it attracted more than 1,200 enthusiasts and over 700 cars to San Martino. Maybe you can join them in your own Jeep for next year's gathering? I know that I hope to be there for it.