You might already be familiar with Arc'teryx's Atom jacket.
It's become an iconic piece in the brand's collection over the past 10 years, loved by so many, but for 2020 it's had a refresh and I've got to wear one on test up a couple of Scottish Munros to see how it fares.
It can still be worn as a standalone item or as a mid-layer. I wore this over the top of a merino base layer with the temperature at sea level around 8 degrees and 2 degrees at the summits of An Caisteal and Beinn a'Chroin near Crianlarlich.
Remember, the LT designation in Arc'teryx gear means 'lightweight' and this certainly feels thin for a jacket that has insulation inside. I was surprised at just how warm I was getting in it. Arc'teryx has changed the fabrics, so the revised Atom has a new face fabric called Tyono 20 (which is 100% nylon). This is light, wind- resistant, and offers exceptional abrasion resistance for its weight. In fact, when you look closely at it you can see the grid lines that give it is abrasion resistance (see below).
The inner liner is made from breathable Aequora AirPerm fabric and the 'filling' is Coreloft Compact insulation. The amount used is 60 grams per square metre (compared to 120 grams per square metre in the Arc'teryx Atom AR).
One of the major reasons for why this retains the heat so well is because of the clever stretchy material used around the cuffs that stops air getting in and out. It means you don't lose all that crucial warm air that you're generating on the inside. The jacket also zips all the way up to the neckline (see main photo above).
I set a pretty fast pace up with a heavy daysack, so it was easy to work up a sweat. You can probably see the sweat marks on my grey base layer from my rucsac straps in the photo below, and at this height it was nice to put the jacket on and lose the chill instantly. This is exactly the kind of comfort you want from an insulating layer like this, and what I liked was the amount it warmth it gave for being so light and thin. I also really liked that the side pockets are lined with microfleece and it's a real pleasure sliding your hands inside and feeling that small bit of luxury.
You can pack this down in on itself in a pocket, or fold it inside a sleeve or the hood to put in your pack. The two side pockets have high quality zips; there's a clever piece of rubber material instead of fabric to make it easier to pull on them. There's no vertical zip pocket on the outside of the jacket, but there is an inner zip pocket on the left hand side of the main zip for essentials/valuables.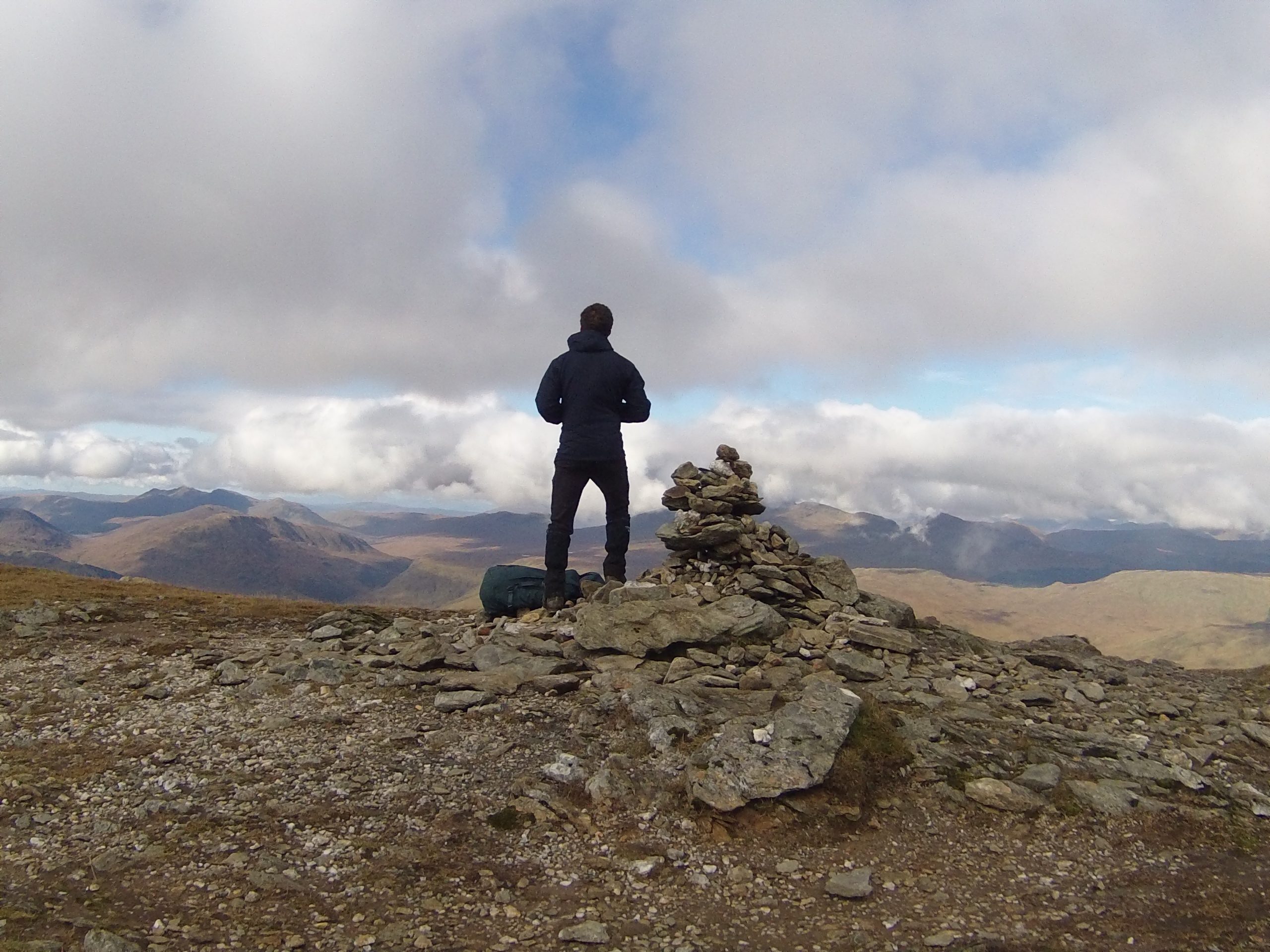 The Atom has side panels that are made from a stretchy fleece fabric. These help give the jacket a great fit and Arc'teryx says the material they've used for this will resist piling over time.
The colour worn here is called Kingfisher Blue, but there is a large choice on offer (11 colours for men and 8 for women) so if you like co-ordinating your hiking kit, then there's a high chance you'll be able to find a colour that will work for your existing outfits.
The adjustable hood is also worth a mention as it's such a great shape and fit. Often brands get this part of their design wrong, but Arc'teryx have got this so right. An adjustable cord lock at the back of the head pulls in the front of the hood very nicely.
Overall this is a great investment for the coming season and a jacket you will wear casually as well.
Priced at £250. Buy from Amazon.