THOSE of us after an affordable camera to take on adventures this year should consider buying the Fujifilm FinePix XP60.
The XP60 is this year's update to the existing XP50. It's still waterproof and shockproof but the updated XP60 has better image quality and a brilliant zoom lens to let you snap sharper-looking images of objects at a distance. You won't believe how much that lens extends out of such a small body.
The XP60 is sandproof too and although I've not tested that out I've most certainly tested the freezeproofness, by riding my motorcycle in sub-zero temperatures with the XP60 kept in an outside pocket.
I used the XP60 to take press shots on a Mercedes-Benz driving day, a brand closely associated with adventure and with technology. All my shots came out crystal clear – and if you want to capture fast moving objects whether it's a Mercedes-Benz SLK driving by or a kitesurfer, then the XP60's 10 frame per second shoot mode is ideal. Even better is that this small camera also films in full HD. I loved the 5x zoom lens which even works underwater. The motion Panorama 360 is the best bit though; you can get a 360 degree shot simply by pressing the shutter button and then spinning round on the spot.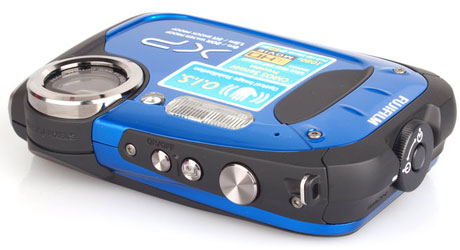 The Fujifilm FinePix XP60 is available for £179.99 which makes it extremely good value for money. Compared to other waterproof cameras of a similar spec, it's £55 less than the Olympus Tough TG-830. It's much, much cheaper than the Canon Powershot D20 though – £179 for the XP60 compared to the D20's £255. Don't forget the Panasonic Lumix FT4, it's kind of a halfway house at £212.
In our eyes though, £179.99 for a waterproof, shockproof and freezeproof camera that shoots HD video and comes in blue, black, green, red or yellow, is amazing value – and is well worth buying for a summer of adventure.
 VERDICT
"It's an outdoor camera suitable for everyone."
http://www.fujifilm.eu/uk/