There's a bedazzling amount of smartwatches to choose from on the market.
Garmin is a trusted brand and the new Garmin Instinct 2 (and 2S) is a great starting point for adventure lovers looking to track a hike, see how high they've climbed, or how far they've cycled.
Indeed, the Instinct 2 appeals to me as it has similar looks to the Casio G-SHOCK I've been wearing for years, yet with way more adventure features on offer. It's worth mentioning the Garmin Fenix 7 at this point, as if you're in the market for a smartwatch, it's likely you've seen the beautiful colour screen on that watch as well as the detailed maps it can show. Bear in mind, you won't get that kind of map display on the Instinct 2, but then that's why the Fenix 7 is priced twice as much.




Compared to the first Instinct watch, there's a slight price increase, but the Instinct 2 gives a higher resolution screen, access to Garmin apps for the first time with Connect IQ, a huge choice of adventure sports, better battery life and the potential for unlimited battery life with the Solar power option.
Garmin Instinct 2 – the basics
At the time of writing, I've been using the watch for the past four weeks and I'm discovering something new each day. You will need to invest time learning the button presses to really get the most out of it. You can read about the models in our original news story, but this review focuses on the Instinct 2 Solar, which I'd recommend for those of you in to adventure.
First of all, the Instinct 2 has three buttons on the left (CTRL, MENU, ABC) and two buttons on the right (GPS and SET). The text on the outer edge of the dial are accessed by pressing and holding the associated button. I'll start with  holding down CTRL gives you access to the control menu which gives you a rotating series of icons. Pressing and holding MENU gives you gets you access to most of the settings pages. For the first two weeks I couldn't work out what ABC meant; then I realised it stands for Altimeter Barometer Compass, and pressing and holding ABC gives you a very neat display that shows all three at once; a really nice touch for adventure lovers.
On the right handside, pressing and holding GPS brings up a page that acquires satellites, while holding down SET gives you access to alarms, timers, stopwatches and alerts. I was initially frustrated that when I wanted to select or 'set' an option I was pressing SET, but then worked out that a single press of the SET button actually does the action that is written on the inside of the dial (which is BACK in this case). A further read of the instructions helped me work out that you need to press the GPS button to tell the watch 'yes, enter'. Looking more at the inside dial then, and you'll see the words LIGHT, UP, DOWN on the left hand side, and single presses do exactly as it says on the can.
How does the Solar power work?
The entire screen generates solar electricity, but if you look closely you can see an outer rim that is darker, and this is the solar panel that generates most of the energy. Garmin says if you have three hours per day outside in 50K lux conditions (sunny), you'll get forever battery life. Competitor brands don't offer solar charging at the moment and going for the Solar version of the Instinct 2 means you won't have to worry about charging a watch as well as a phone when out on expeditions. There's actually a fun factor with finding ways to make sure it gets enough sunlight on it and I've enjoyed looking at the Solar Intensity graph at the end of the day. In this age of sustainability and looking for ways to reduce our energy dependence, it's fun to have a solar powered watch.
Of course, it'll keep on ticking along nicely (if not forever) in its smartwatch mode, but as soon as you start using a GPS tracking activity or continuous heart rate measurement, the battery life is going to take a hit, and solar power alone might not be enough to top it back up. There is a battery saver mode (under the CTRL menu) which turns off the phone connectivity, puts your watch face into a low power mode, turns off the backlight, and turns off PulseOx and the Heart Rate sensor. I found that if you're not fussed about continually tracking your  heart rate, this saves a lot of power.
Phone apps to download
Garmin recommends you download its 'Connect' app and I found this was actually really useful to see a colourful display of everything you track using the watch. You can also get a 'Connect IQ' app. Now, I kept seeing this mentioned, but knew little about it. In short, it's an app where individuals or companies can develop things to improve the functionality of your Garmin. I had a quick look and you can download different watch face designs, apps, data fields and widgets. Definitely something I need to look in to and as time goes on you'll be able to find more for your Instinct 2. One key upgrade that you might or not use is Garmin Pay, so you can use the watch for contactless payments which is pretty cool. To select your wallet just hold down CTRL and scroll around to the Garmin Pay icon. I can also see that you can se the watch up to show message notifications or an alerts when you're getting a phone call.
Scrolling through glances a new concept. There are well over a dozen widgets total built into the watch, so I found everything I'd expect from an outdoorsy smartwatch, with ample information built into each widget. Compared to the first Instinct, there's now support for HIIT workouts, run pacing, multisport activity tracking as well as Daily Suggested Workouts for inspiration on how to get moving.
Using the GPS button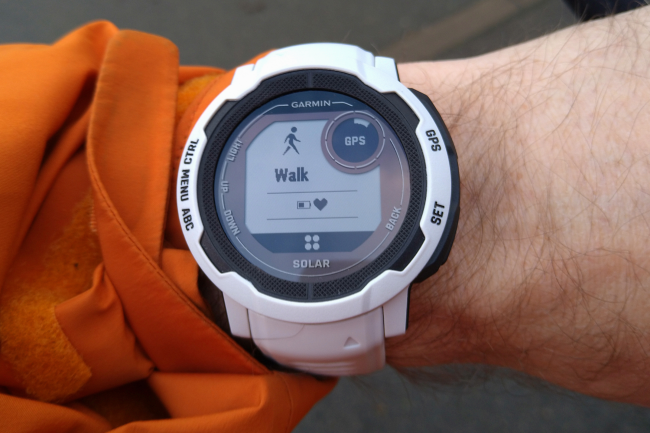 To track a hike or trail run or cycle ride, you just press the GPS button and it brings up a list of sports that you can scroll through using the UP and DOWN buttons. I was seriously impressed by all of the sports on offer. I started off just using the WALK option then progressed to HIKE and to TRAIL RUN. Depending on which sport you choose will depend on what display information you get and you can also edit what you do/don't want to see. While I was doing the activity it was easy to see at a glance how far, how fast and how long I'd been going for. If it's measuring you heart rate, you can also press the down or up buttons to see a display where it tells you which heart rate zone, you're in, and whether you're working aerobically. After an activity it also tells you your VO2 readings and whether your training is unproductive or productive. There's even a pulse oximeter for measuring blood oxygen (SpO2) levels, which you can set to monitor 24/7, though it'll cut down battery life.
Using the Altimeter, Compass, Barometer button
At any point you can hold down the ABC button to get your altitude, compass heading or to see what the pressure is doing (useful to see if the pressure is falling to let you make decisions on what the weather might be doing.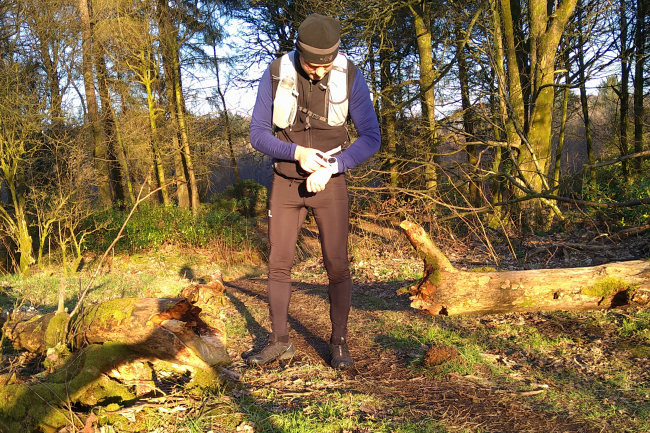 Please buy from Amazon through this link here Garmin Instinct 2 watch (which costs you no extra). I receive a small commission to help keep Adventure 52 going. Thank you.
VERDICT
"If you are looking for an adventure watch to do the basics then I can firmly recommend the Instinct 2. It will give you everything you need from a GPS watch, with a special mention to all of the adventure sports that it can now track. Having the Solar powered version is an extra bonus and it's a fun way to keep it charged instead of using mains electricity. Overall, this is a great first smartwatch for those looking to track adventure activities. "