He're's the new Garmin Instinct 2 smartwatch and it can now charge itself using solar power. 
The Instinct watch first came out in 2018, aimed at outdoorsy people, so four years on it's due an update (just as the InReach Mini 2 has had).
As you'd expect, there's plenty to talk about; notwithstanding that there are 20 variants to choose from. There is now a 2S variant as well, which has a 40mm diameter instead of the 45mm and is ideal for smaller wrists.
Instinct 2 and 2S versions
To really get a feel for what's on offer, I suggest you have a play on the website and choose between bezel sizes, whether you want solar charging and choose an edition (standard, surf, camo, tactical, truck) to see which colour schemes you can get with the features you want.
All variants have GPS, heart rate, barometric altimeter, compass, accelerometer and thermometer and blood oxygen monitoring.
There's additional training features compared to the original too, including recovery, training effect, VO2 max monitoring and performance condition. A new Multisport option now allows you to transition between activities and continue to view the total time and distance. Plus Garmin Pay lets you make payments from your watch.
Instinct 2 Solar colour options
Any of the 20 variants will be great for running, cycling, swimming, step tracking and sleep tracking, but then you can choose an 'Edition' model to give you access to different features. So the Surf edition gives you tide times for example.
The best feature in my opinion is the new solar charging option which means you might not even have to to re-charge from mains electric. Initial specs suggest you can get up to to four weeks of continuous use while using it in the basic smartwatch mode
Instinct 2S Solar colour options
Of course, the features you use affects the battery life you get. Ultimately if you go for a 45mm Instinct 2 Solar model then you're on track for unlimited battery life when it's being used in smartwatch mode, 'setting a new battery life standard for Garmin' the brand says. All battery life numbers for the solar models assume the wearer is spending 3 hours per day outside in 50,000 lux light conditions.
Surf Edition
Wear this for surfing, windsurfing and kitesurfing. There's a tides widget that keeps you up to date on ocean conditions. Review your activities later through Surfline Sessions™. Surf editions are available in Instinct 2 and Instinct 2S with or without solar.
Tactical Edition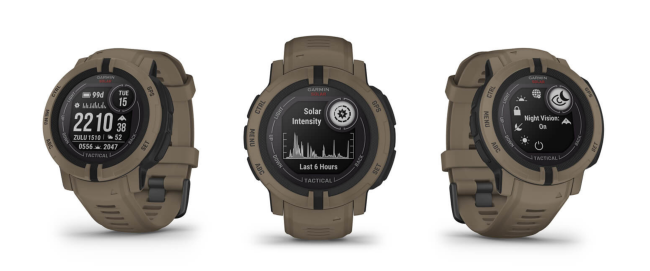 Popular with military personnel, the Instinct 2 Solar Tactical Edition has features such as a Kill Switch, Stealth Mode, Night Vision Goggle Compatibility, Dual Format Position Coordinates and Jumpmaster Activity mode. Available in Coyote Tan or Black.
Camo Edition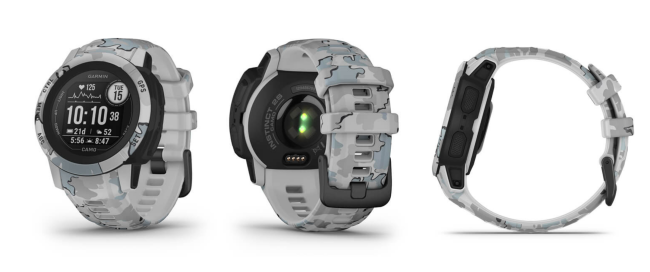 See more at www.garmin.com