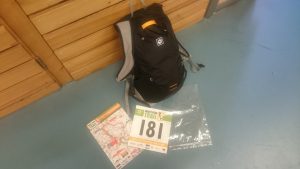 I've used the Rock Surfer 18.5 pack for just over a year now and not just mild use, it's been on my back for most of my days out.
More recently I wore it for a 26km trail run in the Peak District, where it felt firm on my back, didn't swing around and was large enough to carry the mandatory kit and a large hydration bladder.
For a small daypack, it's packed with features. While it's classed as a bike backpack, I've worn it for trail running and hiking.
Much of the comfort is thanks to its FLEX MOTION suspension system and there are padded cells right next to your back so it allows some air to circulate around and minimise sweating.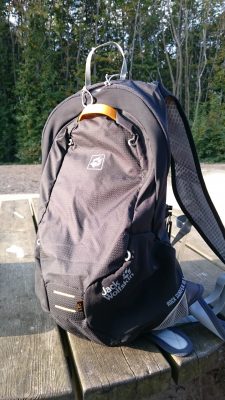 The temptation with a small pack like this is to try and squeeze in a lot and Jack Wolfskin have realised this and put in a line of stretchy fabric around the zip so it doesn't pull the seams apart when you do the zip up; a clever touch.
I really like the inner zipped pocket that I use to carry my wallet, headtorch and sunglasses in.
There's even a rain cover that unfurls from a zipped pocket hidden in the base, a clip on the back to attach a flashing light for visibility and a clip on attachment that lets you carry a bike helmet.
My only bugbear is the waist belt. I like the stretchy fabric, it's very comfortable and flexes with you, but over time the velcro has become less effective. I also find that the belt sits a touch too high above my hips.
There are also 25. -litre and 30.5 litre versions on sale, so I might consider one of those to use in the Rab Mountain Marathon next month – or Jack Wolfskin's Moab Jam 30 pack.
VERDICT
"A lovely little pack that'll do the job for odd days spent biking or trail running."
£75