I was happy to see the arrival of the Teva Arrowood trainers; I wanted something to replace my boots.
They had to have smart looks and the brown 'Cognac' colour suits my usual style down to the ground.
These are also available in mahogany or olive (for men) and for women they come in vintage blue and dusk.
The WP in the name stands for Water Proof and they performed wonderfully in the snow on a recent trip to Finland.
The 'Lux' versions are all leather while the non-Lux versions are more rugged with some fabric panels.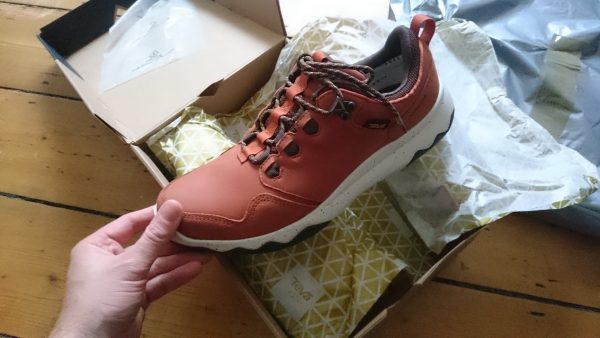 The Teva Arrowood trainers felt comfortable right from the off and they are seriously lightweight – partly down to the 'Float-Lite' sole which gives plenty of cushioning without plenty of added weight.
I really like the styling of the looped lacing system and there's a single texture across the whole trainer.
There isn't any deep grip in the outsole, so be mindful that you'll be buying these for light adventuring on trails, not for full on winter walking in the hills.
Teva describes the Arrowood range as: "A line of adventure-seeking sneakers featuring the featherweight comfort of FloatLite™ technology. These ultralight, durable hikers are must-haves for your camping checklist. On the road or on the trail, from hidden coves to magical mountain waterfalls, the Arrowood collection lets you explore in style."
VERDICT
The Teva Arrowood Lux WP trainers have FloatLite technology and are waterproof making them a great pair of everyday trainers. More suited to general kicking about in rather than a full-on hiking shoe."