I've worn two generations of Saucony Excursion trail shoes so I was interested to see what the Peregrines would be like.
I'd actually nearly bought a pair of Peregrine 11s last year, but the Peregrine 12s have had a major re-work, mainly with weight reduction and fit. Of course, with them being much lighter it means fatigue shouldn't kick in quite so soon on a long run and each stride should use less energy.
Saucony Peregrine 12 review in detail
The first thing I noticed when I put the Peregrine 12 on was the very thin tongue. Now this is a design feature that I'm not particularly keen on as I have discovered in my review of The North Face Ultra Endurance trainers a few years ago. It seems to be a trend in trail shoe design at the moment to have a thin tongue, and I can see why as it's an easy way to cut weight down. But for me, I want a bit more plushness around the top of my foot, especially for longer runs, and would much rather have a bit more weight.
One thing I'll say that mitigates the issue slightly is that Saucony has stitched an extra patch of fabric right at the top of the tongue for a logo and a tab to pull the tongue up, so I didn't feel as much lace bite as I perhaps thought I would. I do find that the reduced padding around the heel collar isn't to my taste but it may well be fine if you try them.
We covered the launch of the Peregrine 12 back in February so they've been on sale for a few months now. The recommended retail price is £135 and the mens version comes in three colourways – gold, orange and blue – which are a bit garish for my tastes, but the yellow is the best of the three.
As I said at the start, the main difference between the 12 and previous 11 is the weight. and they've shaved off around 30 to 35g (depending on the size) mainly down to the upper that's made from recycled materials. The shoes feel light and flexible, but I really like that they don't lose any underfoot protection as these have the PWRTRAC material on the bottom. The lug pattern has been updated too and Saucony says it's much better at shedding mud than before.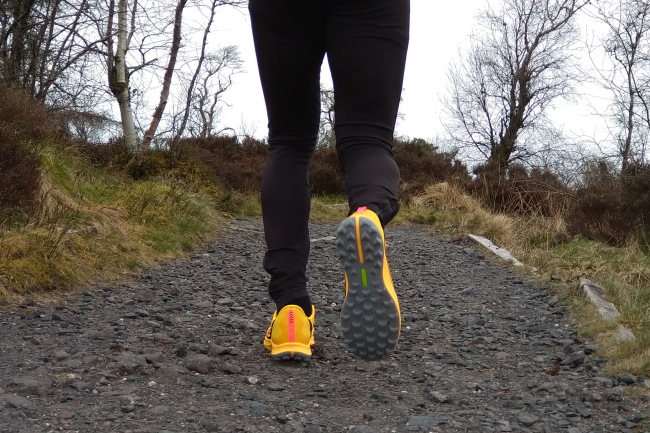 For me, the ride feels firm but not harsh, and I find the Peregrine 12 works well for short to medium runs (up to 10km). I personally need a bit more comfort and padding for longer distances (but they might be fine for you). I couldn't wear these all day long like I could with the Saucony Excursion I used to have, however that's down to the design of my feet and ankles rather than a problem with the shoes!
VERDICT
"It's worth saying from the outset that I prefer a much more padded trail shoe with a higher drop (6mm), however, I would recommend the Peregrine 12 for day-to-day trail running. I've read around some other reviews, and have found others get on a lot better with the reduced padding in the tongue and heel, so I'd say that's down to my narrow feet and thin ankles more than the design. What I can say though is that the ride feels very plush underfoot. If you're someone who likes a light and responsive trail shoe and you don't mind the bright colourways then Peregrine 12 is a good purchase."