SOME of you might remember that Kia showed a Track'ster concept car last year.
Well, surprise surprise, a lot of the looks of that concept are in this new 2014 Kia Soul, namely the same air intake and fog lights.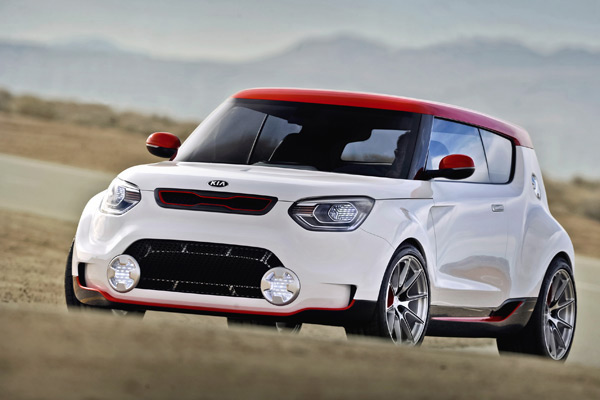 Track'ster concept inspired design tweaks on the new 2014 Soul.
Just as Skoda has improved the outside and interior of the Yeti, Kia has responded by doing the same kind of improvements to the Soul.
The main change is the Soul is built on the same platform as the new Kia Cee'd. And the ride of this new Soul will be a lot smoother than the outgoing model (and quieter in the cabin) as the front suspension is mounted on a subframe with four bushings (the first-generation Soul didn't have this). The rear shock absorbers are longer so that they can soak up more harsh terrain and bumps.
We'll be able to choose between a 1.6-litre GDi petrol or a CRDi diesel engine, as well as six-speed manual and six-speed automatic transmissions.
The tailgate opening is 6cm wider and the bootspace has been increased to 354-litres (plus additional underfloor storage).
One of the best things is that you can buy a Soul in a choice of 11 colours and there are three different roof colours – black, white and red.  There'll be eight different alloy wheel designs too – ranging from 16-inch to 18-inch in size.
www.kia.co.uk