The potential for a new crossover car from Jaguar in the next year or so is looking promising with the unveiling of this concept car.
The Jaguar C-X17 concept car has just been shown at the Frankfurt Motor Show and has an intelligent all-wheel drive system, 213mm of ground clearance and a heads-up display in the windscreen.
While sales of Land Rover's Evoque have been booming, the C-X17 is similar, but will be Jaguar's offering in the crossover market.
The C-X17's sporty looks, drawn from the firm's new F-Type, might be just what outdoor adventurers are looking for to take them quickly on motorways for weekends away.
The best 'adventure' feature are two leisure seats which are in the floor of the boot and can be swung out to sit on for a tea stop or for star gazing. The seats are made from milled aluminium and finished in leather and they swing out on a beautifully engineered hinge. It means we can park up, picnic in style and enjoy the views of wherever we've driven to.
The rest of the boot has been designed with active lifestyles in mind too as there are compartments outdoor kit. While Land Rover which is renowned for its four wheel drive, the C-X17 will offer an Intelligent All-Wheel Drive system. It's intelligent because in normal driving when the conditions are good, only the rear wheels give the drive. But the system is set up to pre-empt and react to skids or loss of grip and will kick into all-wheel drive to make sure we retain grip.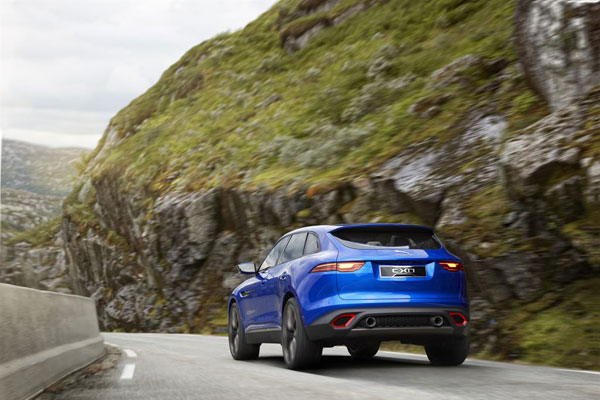 Inside, all your passengers get buckets seats and a lovely panoramic roof to stare out of. There's also a secure in-car Wi-Fi. But the best bit is a continuous panel of transparent acrylic glass with touchscreens underneath it – likely to be one of the best infotainment systems we've ever seen on a car. Called the Interactive Surface Console, it lets you upload pictures, video and sound files from your mobile and share them with passengers or on to Facebook, Twitter, Instagram and other social media channels. So we can go on an adventure, then share the pics and videos as we're on our way home.
The driver gets a twin-dial configurable TFT console with provision for a Head Up Display and the gearshift has a rotary dial, finished in ruthenium, which rises on activation and serves as the interface to toggle between driving modes of Road, Sport and All-Road. We can't wait to try these out.
Jaguar's Design Director, Ian Callum, says: "We designed the C-X17 from the ground up from a distinct set of principles, a deep sense of what makes a Jaguar: exciting proportions, clean lines, balance of form. Assertive and powerful, yet with a beautiful sensuality about it, the C-X17 is boldly, distinctively Jaguar."