THE Yeti has gained a huge outdoors enthusiast fanbase since its launch. 
While most of us might lust after a Defender or a CR-V, how many of us can actually afford one? And when a brand new Yeti starts at £16,990 then it's one of the most affordable adventure cars on the forecourts.
To date 263,200 Yetis have been sold (as of 30th June, 2013). In 2012 87,400 were bought and so far this year, 41,800 have been sold. It a hugely popular model and it's fulfilling the needs of many outdoorsy people who want a really practical car.
While SKODA is currently heavily advertising it's Yeti Adventure model on huge billboards, the company has announced that next year it will offer a Yeti for the town and a Yeti for outdoor enthusiasts.
The main difference is that the outdoorsy Yeti will keep black plastic trims but the city one will have body-coloured trims.
Both have a new look to the front and rear, which we can see from the squarer head and tail lights. And we can now have the option of Bi-Xenon headlights with integrated LED daytime running lights which are available for the first time on a Yeti. That'll make the car look brilliant.
There's some great new colours on offer too; Moon-White, Jungle-Green, Metal-Grey and Magnetic-Brown. And four new designs of alloy wheels to choose from.
One thing that Yeti owners will tell you is the large bootspace and flexible seating which make loading it up with camping or outdoor kit so much easier. The boot is 405 litres and if you take all the rear seats out it increases to 1,760 litres so it's almost like having a van. For 2014, the boot gets a double-sided floor covering so you can flip that floor over depending on what you've been loading on it. There's even a detachable LED light which we can use as a torch.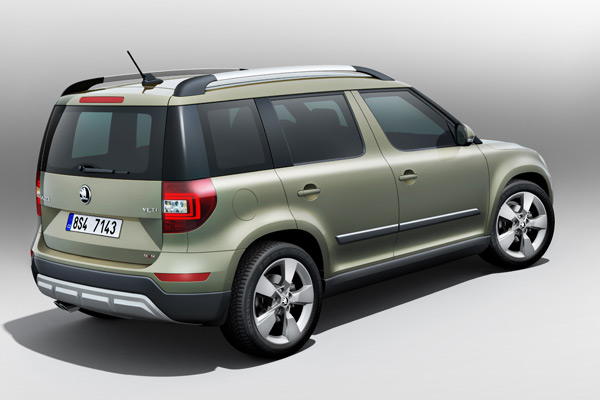 Square tailights and a re-designed tailgate on the new Yeti.
Another bonus of owning a Yeti is that the three rear seats can be individually folded down. You can even take out the middle seat completely and then slide the other two across so you can fit in kit like mountain bikes or kayaks.
Passengers have the most headroom you can get in a compact SUV and they also get to use tables which fold down from the back of the front seats.
Engine wise they're all turbocharged! And you can choose from four diesel and three petrol engines for the all-new ŠKODA Yeti. The performance spectrum ranges from a 1.2-litre TSI with 105hp to a 2.0-litre TDI with 170hp.
The all-wheel drive is fifth generation and comes fitted depending on the engine you go for.
The GreenLine version is a 1.6 TDI with front wheel drive and a manual gearbox and produces CO2 emissions of just 119 g/km. That corresponds to a consumption of 4.6 litres of diesel per 100 km or a very impressive 61mpg.
Additionally, there are three Green tec engine variants: a 1.4 TSI, a 2.0 TDI with manual six-speed gearbox and a 1.6 TDI with seven-speed DSG.
This Green tec package includes the Start-Stop System, brake energy recovery (recuperation) and low rolling resistance tyres.
If you're doing a lot of off-roading then there are electronic assists for up and down hill driving. We can even opt for an electronic tyre pressure monitoring system.
No news on price yet or an on sale date but for now you can still buy the Yeti Adventure model.