CHALET Husky costs €12 million Euros.
It was completed just a few months ago and is the largest newly built chalet available in Val d'Isere.
You'll be pleased to know it's for sale (just in case you were in the market) and it has 7 bedrooms. But while it's great to be able to sleep 7 of your friends and family in it, you can also practice your rock climbing – with a big poster of Spiderman on the wall behind you for inspiration. Judging from the photo here, it looks more for like it's for decoration than for any real practical way to boost your  climbing skills. And while the brochure says it has a shooting and archery range – what you're looking at is a long room with a target at the end of it. Still, it's a great little place for some apres ski fun, don't you think?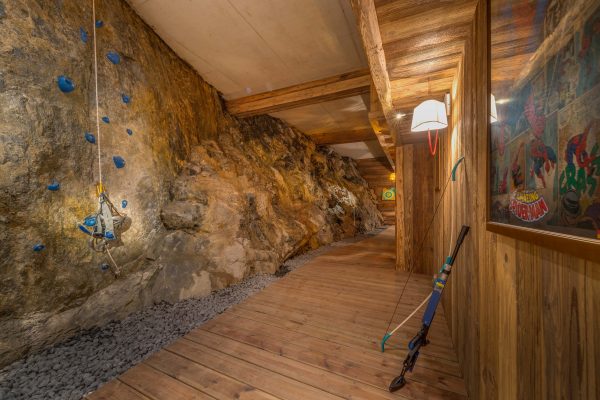 But as well as this, Chalet Husky also has:
• a swimming pool with glass walls and a waterfall
• an indoor atrium garden with a glass walkway that bridges this area to the 1st floor levels
• a separate sauna, a Hammam, a Jacuzzi, a wellness area for treatments, a relaxation area and a gym room.
• all habitable rooms have access to natural light (which, naturally, is very rare for 7 bed chalet this big).
• a private lift from the underground parking
• iPads in all rooms to control the lights and heating