There are B&Bs aplenty in the Lake District, but Haven Cottage offers something extra special.
Husband and wife Allie and Chris Hodgson will give you one of the warmest welcomes you've ever had. Before taking on Haven Cottage three years ago, they spent 11 years running ski chalets in France, and they've brought that same ski lodge hospitality with them to England.
Both were in corporate jobs in their mid-30s before they decided to leave that pace of life and buy a 200-year-old farm house in Morzine and run it as a ski chalet for five years. They then moved further south to open a chalet in Samoëns, where guests had access to cycling in the summer as well as skiing in the winter. Chris And Allie spent six years there and then came back to the UK. Chris was close to buying one of the bike shops in Ambleside, but then Haven Cottage came on the market. The pair haven't looked back and in 2019 they won Best B&B in the Cumbria Tourism Awards,
Some B&Bs can be tucked away in hard-to-reach-places with tricky car parking, but Haven Cottage is located on the main road out of Ambleside and has its own parking spaces so you can unload all your kit for right at the door.
I'd recommend you book direct, not only for a better price, but also for the friendly and efficient emails coming back from Chris.
The shuttered windows certainly the front of the building a ski lodge feeling to it, but with the English charm of the duck egg blue window frames and signage.




There's a large porch area with Lakeland slate floors, so you won't fret about bringing in too much mud and dirt. Sitting down on the wooden bench, you can tie up your boot laces and feel reassured by the various certificates on the wall that you're staying somewhere special – it has a certificate of excellence from Trip Advisor and an average score of 9.9 out of 10 on Booking.com! It also has a silver Green Tourism award. The couple also donate £1 from every direct booking to the Lake District Foundation.
Allie and Chris met me with beaming smiles and I followed them through the dining room and into a very cosy living room that has two large sofas, a bookcase full of guides, maps and DVDs. The woodburning stove in the corner was firing out some much needed heat and along with the twinkling candlelight, fresh flowers and gentle music playing in the background, I was already feeling very much at home.



Tea and the offer of either homemade ginger or lemon cake was most welcome, and in between gulps and bites, Allie and Chris were keen to find out what I'd been doing that day and my plans for the next few days. Giving advice on walks and where to go is part of the service here (free of charge). There's also a drying room and secure storage for bicycles.
Chris says: "We get a lot of walkers staying here, the majority do Grasmere and Loughrigg and some the Wansfell Loop to Troutbeck. These are what I call half-day walks that have a café or a pub along the way or at the end. But then we also get some serious walkers, who want a full day, so they can do walks like the Fairfield Horseshoe, right from the front door. A large part of what we do is help them plan their day."
Guests are welcome to look at the maps and guide books that are in the bookcase, you can choose to spend a night in the lounge too, and watch a DVD or listen to music through the Sonos speaker while you have one of the alcoholic drinks from the honesty bar – again things that you'd usually find at a hosted ski chalet and not in an English B&B. As Chris explains: "We used to create itineraries for our ski guests, or tell them about the best runs or nice places to have lunch, so I think it was natural that we'd start doing something similar with our guests here at Haven Cottage."
There are five bedrooms in total over three floors. Three of the rooms are 'compact and cosy' and then there are two larger rooms that have free standing baths in them. One even has a lounge. Every one of the them has a power shower with thick towels and luxury toiletries.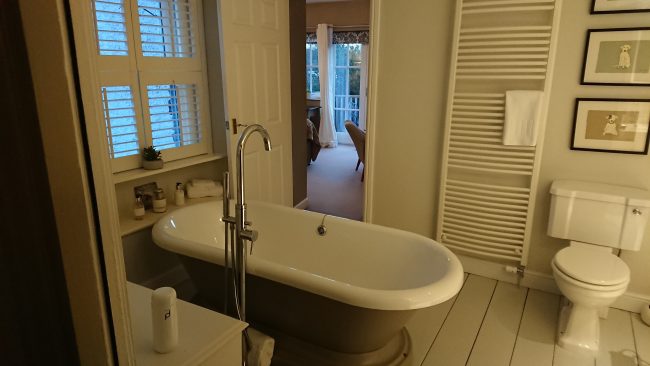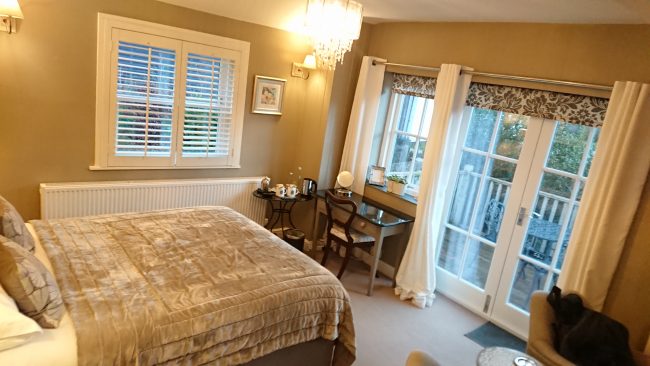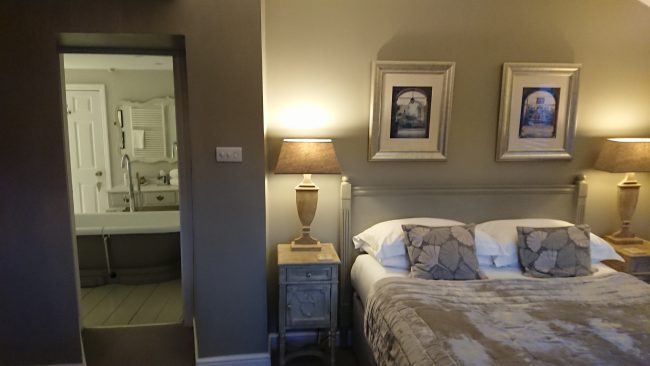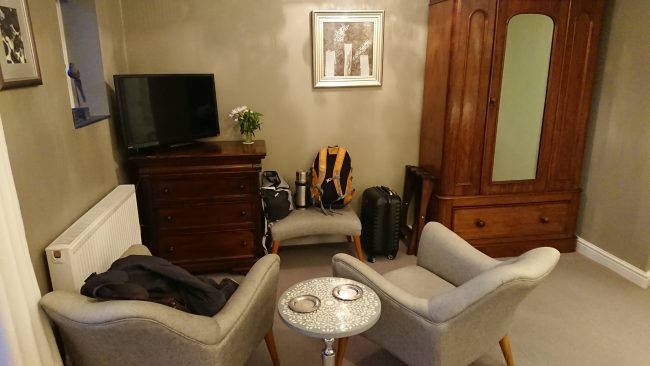 I was given the key for Room Eight where the door opens up in to the large bathroom with the bedroom beyond that. Two double doors in the bedroom open up on to a decking area that has a table and chair and a view of Todd Crag.
Allie came up with the interior decor for the rooms, and it's absolutely beautiful and consistent throughout. She hands me a small DrinkPod flask of fresh milk before heading down stairs and leaving me to it.



I start by running the water in the roll-top bath and pour in a scoop of bath salts that were on a nearby shelf (lemongrass scented and you can buy a jar from The Bath Shop in Ambleside). There's also a large shower and two sinks side-by-side (bamboo hand wash from The Bath Shop).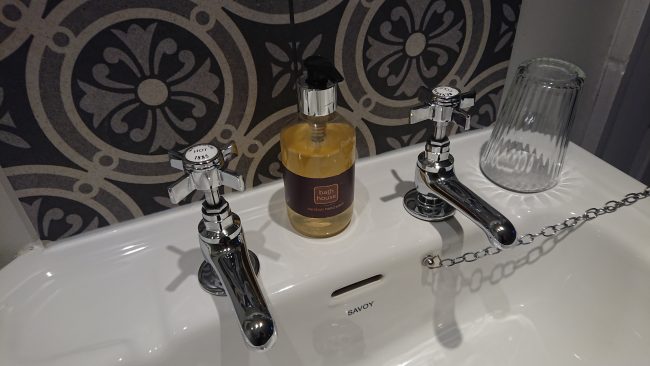 The bedroom has a TV and two armchairs while the tea making area has a proper metal kettle and a large selection of teas, coffees and hot chocolate to choose from. There's even biscuits and a bar of chocolate-covered Kendal mint cake.
The towels are thick and luxurious and I step out of the bath feeling brand new again. I heading Ambleside for dinner and the two keys that Allie gave me lets me get through the front door at any time of night.
Allie & Chris pride themselves on giving you a breakfast you won't forget. I helped myself to a big bowl of yoghurt and fruit, and asked her for the 'full Cumbrian'. Allie asked if I wanted tea or coffee, and seconds later I heard a whirring in the kitchen; she was grinding coffee beans (from Red Bank Coffee in Coniston).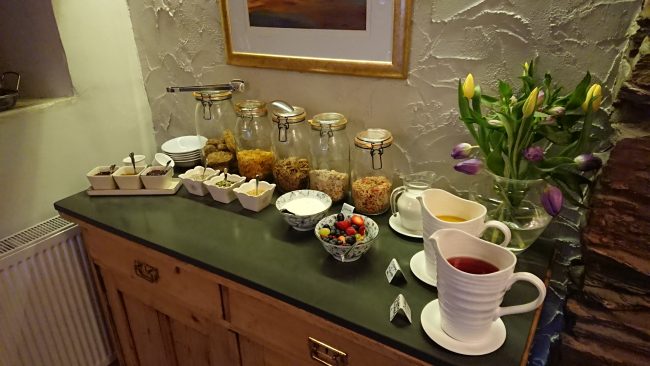 The full Cumbrian was one of the best breakfasts I have ever had – the sausage, bacon and thick slabs of black pudding were from Garsides Butchers in Ambleside. Even the brown bread for my toast was homemade by Allie.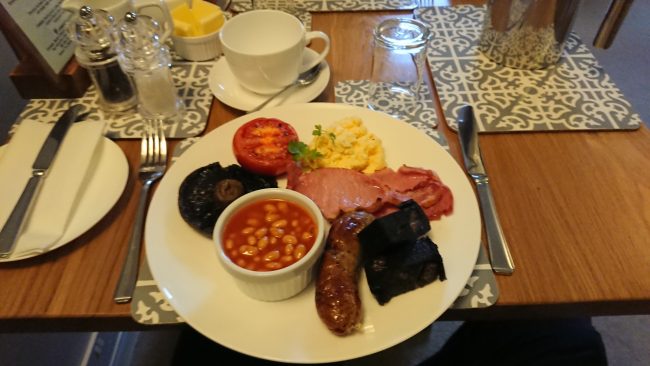 Haven Cottage is open throughout the year except for over Christmas and New Year when Chris & Allie take a much needed break and also carry out further decorating work for the coming season. Prices are very reasonable as well, especially given the high level of service and hospitality you receive from the moment you arrive. And when you've been there once, you'll certainly want to go back again.