I feel lucky to have discovered Ambleside as a young boy. Over the years it's become a happy place for me. A place I can escape to and know that simply being there will make me feel good.
But for a mountain town that I love to visit, I'd never actually stayed overnight in Ambleside before, so it was high time I changed that. I decided to plan a trip during the last weekend of February – strategically so because over the years I have noticed my mood always drops at this time of year – and having something to look forward to is the best way to shrug that off. It'd also be a chance for me to see the Lakes in the winter season for the first time.
Creating an itinerary and deciding on all those things like where to stay/where to park your car/where to hike can be stressful on top of a busy working life, so I've written this so you can go and recreate the exact same trip. Book a Friday off work to give yourself three days.
To get any kind of trip started, you should book your B&B or hotel first then take it from there. Ambleside and the surrounding area has so many options, to suit all kinds of budgets, but if you want to guarantee a great experience then booking up a place that has recently won an award is a good place to start. The winning B&B/Guest house in the Cumbria Tourism Awards last year was Haven Cottage – and it was every bit true to its name.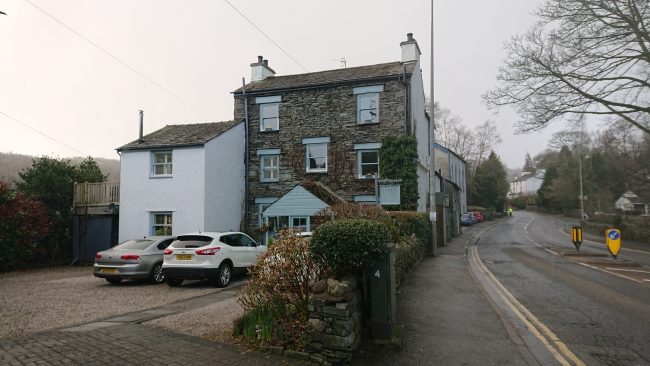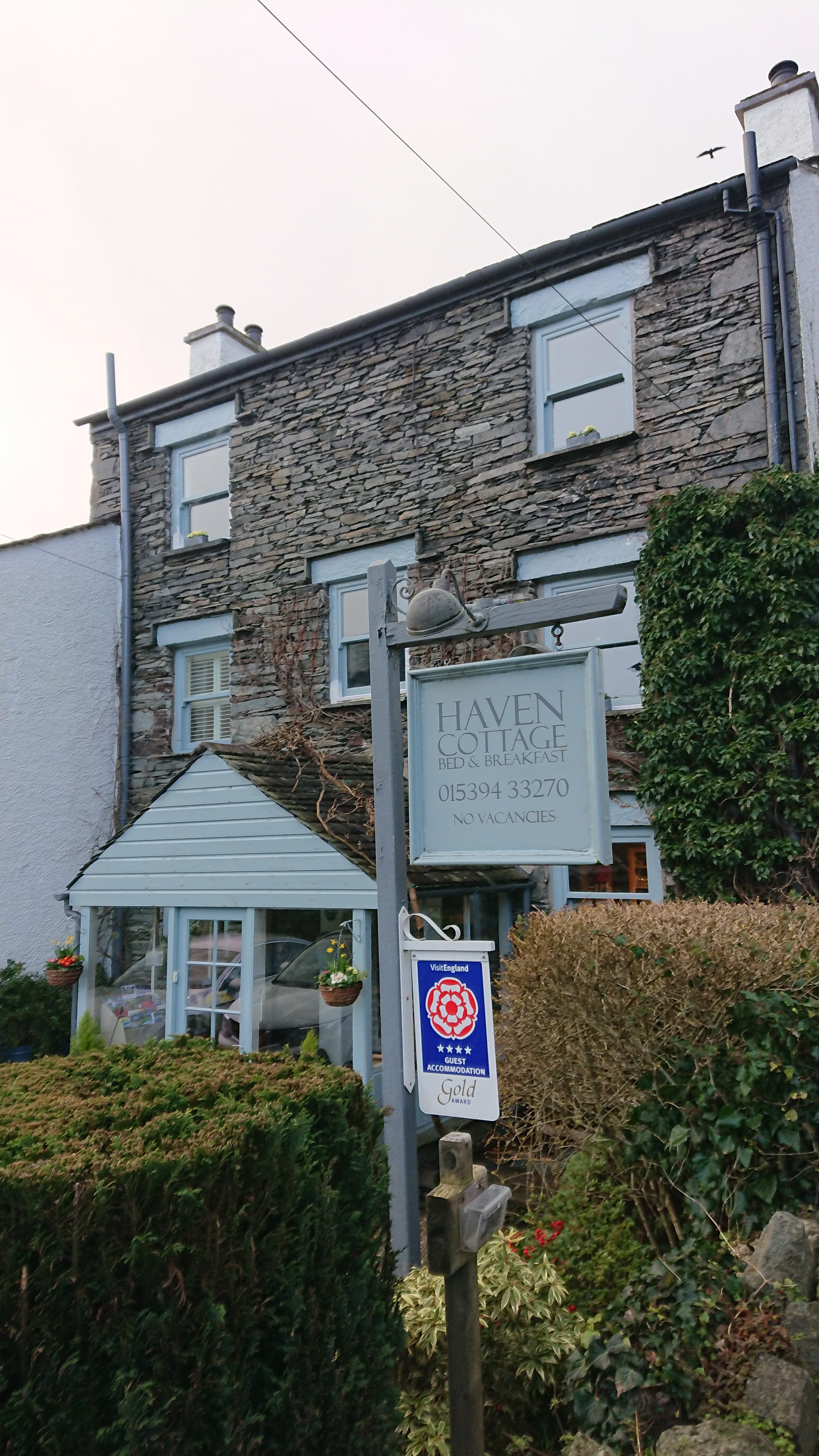 It's run by husband and wife Allie and Chris Hodgson, who will give you one of the warmest welcomes you've ever have. They previously had ski chalets in France, so they really know what people want from their stay. Haven Cottage is located on the main road out of town.
My plan was to drive three hours down from home, park up in the Rydal Road car park, do a local walk up the fells nearby and be back down to check in at Haven Cottage at 4pm. After a long drive to the Lake District, doing a simple walk is a great way to stretch the legs and get fresh air to start off your time away.
There are so many walking routes out of the town, but I chose to go up Nook Lane and took the footpath over Lower Sweden Bridge and up to Low Pike and High Pike. This is part of the famous Fairfield Horseshoe walk and while I wouldn't be able to get all the way around in just a few hours, going up to High Pike rewards with wonderful views back over Ambleside and Lake Windermere for minimal effort.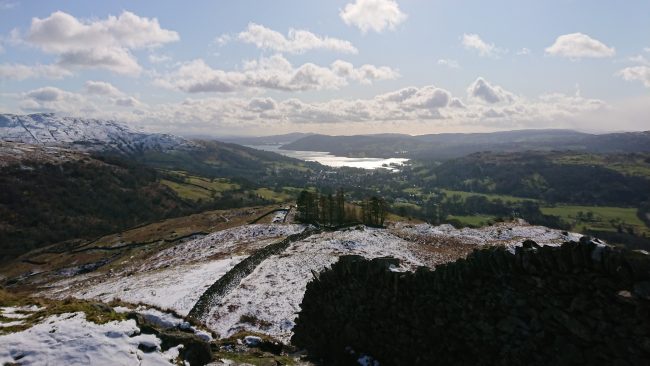 The hike was made even more beautiful as they'd been some recent snow on the tops and against blue skies and with the sunshine, the Lakes really was looking at its best. There's a stone wall all the way up to High Pike, so navigating is easy plus you can choose to go up one side of the wall and down the other to get different perspective on the way down. Take your time and soak it all up.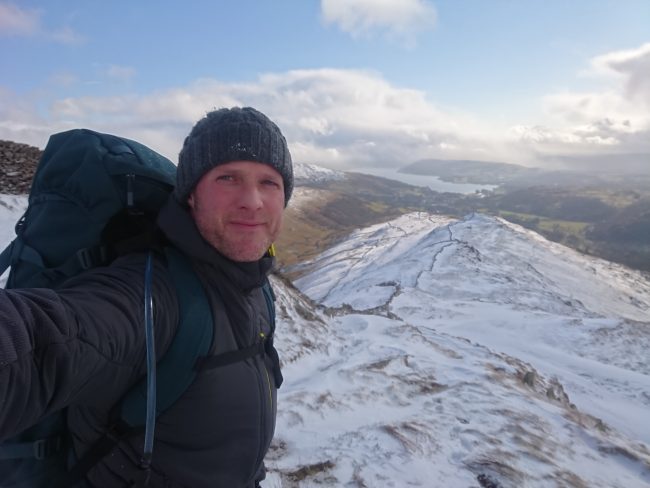 HAVEN COTTAGE
Don't fret about turning up to Haven Cottage soaked through and with muddy boats. There's a porch area with slate floors, so you can de-kit before going in to the beautiful living room. Allie and Chris met me with beaming smiles and I was greeted by a roaring woodburner fire, twinkling candlelight, fresh flowers, some gentle music playing and instantly felt at home after an afternoon in the wind and the cold.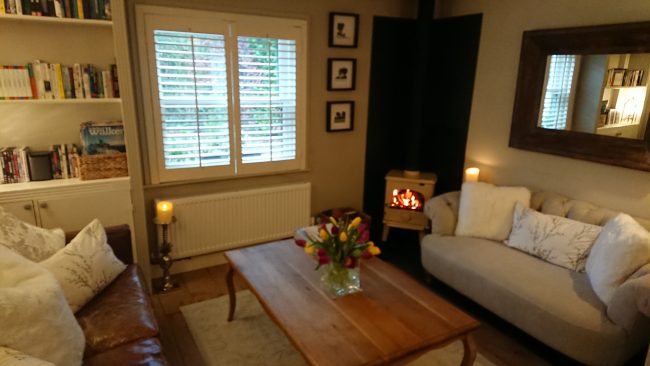 Tea and homemade ginger cake were in my hands within minutes of coming through the door and Allie and Chris sat down to find out what I'd been doing that day and my plans for the next few days. Giving advice on walks and where to go is part of the service here (free of charge) and while I've been here many times, there's always something new to learn and Chris told me about a local walk up Todd Crag that I could see from the window of 'Room Eight' and I hoped to try and squeeze it in.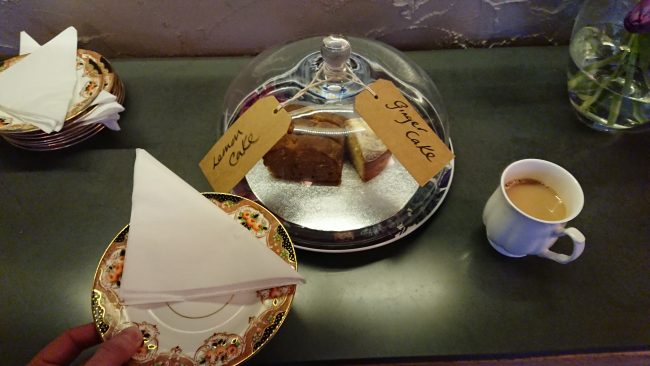 Chris says: "We get a lot of walkers staying here, the majority do Grasmere and Loughrigg and some the Wansfell Loop to Troutbeck. These are what I call half-day walks that have a café or a pub along the way or at the end. But then we also get some serious walkers, who want a full day, so they can do walks like the Fairfield Horseshoe, right from the front door. A large part of what we do is help them plan their day."
You can read more about Haven Cottage in an upcoming 'Rustic Retreat' feature on Adventure 52, but there are five rooms in total; three of these are 'compact and cosy' and then there are two large ones that have free standing baths in them. One even has a lounge. After many cups of tea Chris suggests I go get changed. "Come back down for 7pm and we'll go to the Golden Rule pub for a pint."
Up in room eight, the prospect of a soak in that freestanding bath beat the shower option, so I got the water running and poured in a scoop of bath salts that were on a nearby shelf (lemongrass scented and you can buy a jar from The Bath Shop in Ambleside). Laying down in a hot bath after a day on the hills in one of life's most simple pleasures and this one in Haven Cottage was a memorable one.




Ambleside has many restaurants and pubs, but Chris wanted to show me the Golden Rule pub, a place where many of the locals go to. The night sky was clear with a few twinkling stars and we chatted a lot about fitness and adventure on the way there. Chris is in to a lot of different sports, having cycled and completed triathlons, but he's a fell runner and part of the friendly running community up here. I said that I'd recently watched the film about Paul Tierney running all of the Wainwrights in 6 days and 6 hours and Chris says he knows him (I actually saw Paul on the Saturday afternoon running in to town with a group of fell runners). Watch the film here and you'll really get a flavour for what the Lake District is about…
Over a pint of Cumbria Ale, Chris told more about life in the Lakes and we talked about past adventures and ones we wanted to do in the future. He said he was doing a short trail run up to Rydal Water with his friend Ben in the morning and asked if I'd like to join them, and my answer was a definite yes. Chris left me to find somewhere dinner, so I dropped into a newly opened place called Lily's that regularly has live music. I went for a chicken, ham and leek pie with potatoes and veg, which totally exceeded expectations and I wandered back down to Haven Cottage with a full belly and a happy heart.
BEST B&B BREAKFAST
I woke up to a very poor forecast and decided that I wouldn't be venturing up in the fells. Instead I'd take a boat cruise down to Bowness and have a wander around. The trail run with Chris and Ben along to Rydal water was fantastic, 7.5km in total, and I discovered an old quarry cave and some lovely trails through ancient woodland.




After working up an appetite I was pretty excited about breakfast after seeing the menu the night before. Allie sources everything locally and I helped myself to a big bowl of yoghurt and fruit, and asked her for the 'full Cumbrian'. Allie asked if I wanted tea or coffee, and seconds later I heard a whirring in the kitchen; she was grinding coffee beans (from Red Bank Coffee in Coniston) – I've not heard that in any place I've stayed in before. I make no apology for writing this much about food, but when Allie placed the plate in front of me it was a work of art. The sausage, bacon and thick slabs of black pudding were from Garsides Butchers in Ambleside. The brown bread for my toast was homemade by Allie. Before now, one of the best breakfasts I've ever had was at the Royal Crescent Hotel in Bath, but this one cooked by Allie even surpassed that.




FREEDOM OF THE LAKE
I said my goodbye to Allie and Chris and parked my car in town. I'd be staying in the refurbished Ambleside Inn for my second night. One of the great things about the town is that even if the weather does do its worst there are other things to do. There are even two cinemas, so you can while away a few hours with a movie. On my way through the town to Waterhead for the boat trip, I stumbled across a unique shop that only sells and specialises in outdoor clothing for kids. It's called 'Little Walkers' and is owned by Chris Falshaw. "People who come in here are amazed by what we stock," he says. "In particular the range of footwear for kids from leading brands like Scarpa and Salomon. While you can buy clothing on the internet, parents looking for footwear their children would rather they come in and try the boots on." It's a great little shop, ideal if you're a family that's into the outdoors and fitting out your children in clothing that keeps them dry, warm and comfortable will help them enjoy hillwalking for life, so I left the shop feeling quite buoyed that Chris was passionate about making the outdoors accessible to all by running a shop like this.
I carried on down Waterhead which is right on the northern edge of Lake Windermere. Even on a gloomy day, there is a beauty to the greyness here. I head to see Windermere Lake Cruises at Ambleside Pier and get myself a 'Freedom of The Lake' ticket which lets you take any of the cruises that operate during a 24 hour period (£16.30) or a 48 hour period (19.50). You'll need to have a careful think about timings so you can get yourself back to where you started, particularly in the winter. I jumped on the 12.15 down to Bowness (the boat's name was Miss Cumbria IV) with an idea in my head that I'd have a mooch around there, and walk up into Windermere town itself, as I'd heard good things about the Homeground Coffee + kitchen there.




You can choose to sit down inside the boat and have views out of panoramic windows or you can sit on the top deck in the open air. I went up to grab a few photos, but the wind and rain soon had me heading back down for the warmth and shelter below. At the back, a mini snack bar opened up and you can buy a tea, coffee or even a wine or beer. I poured myself some tea from a flask I'd brought with me and watched the world go by. It was nice to just sit and watch for half an hour.
Even a walk of the loop of shops and cafés in Windermere is enjoyable on a rainy day. When I stepped in through the door of Homeground Coffee + kitchen I had some amusing smiles looking back at me as I was dripping with water from head to toe. I ordered an Americano with hot milk and took a seat by the steamed-up window and felt myself dry up. The cakes in there looked so good, but I was still full from breakfast (thanks Allie). It was approaching 2pm and I checked the timetable and decided I could make the 2:45pm sailing back up to Ambleside and then check in to the Ambleside Inn. As I boarded the boat, the same guy who had seen me earlier offered me some hot water for my flask which was very kind of him – just another example of the hospitality you get when you come here.
THE AMBLESIDE INN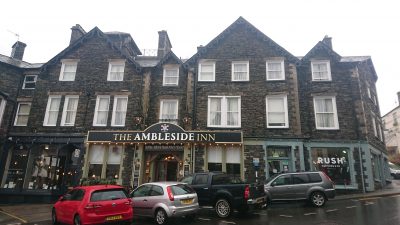 I collected my suitcase from the car and headed to check in to the recently refurbished 'The Ambleside Inn'. This is the old Queens Hotel and is now owned by the Inn Collection who has hotels all over the UK and they've spent £3.1 million on bringing the place up to date. Located right in the centre of Ambleside, it makes a great base and winter offers for £89.90 per person including breakfast is a very attractive deal.
I was given room 210, that overlooks the main street. I opened up the door to the warm glow of the two bedside lamps, a fresh smell of new carpet and a  little bag on the bed with some eye masks and ear plugs inside. The street outside can get a little noisy, but that's what comes with staying so central. I had a hot shower, got in to dry clothes and had a nap. I decided to brave the rain again and browsed the outdoor shops.




There are so many places to get a new piece of gear or clothing, and from independently owned shops that stock items and colours that you might not get from other places. You won't go hungry here either; try Zeffirellis, Lucy's or even the Old Stamp House that has a Michelin Star. I booked a table at the hotel, opting for a cheeseburger, thick cut chips, a side of vegetables and then a much-needed early night.
ELECTRIC BOAT HIRE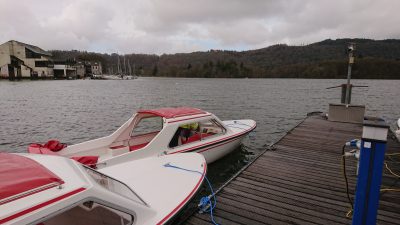 Storm Jorge dominated all of the weather reports that morning, however XC weather did show a bit of sunshine up until about 1200. This precluded a long walk in the hills, so I drove down to Bowness hired one of the small electric boats from Windermere Lake Cruises. You can chose how long you want to be out on the water for. I asked the staff what was doable before the weather closed in and they said an hour and a half should be enough to sail up to the top of the lake and back again.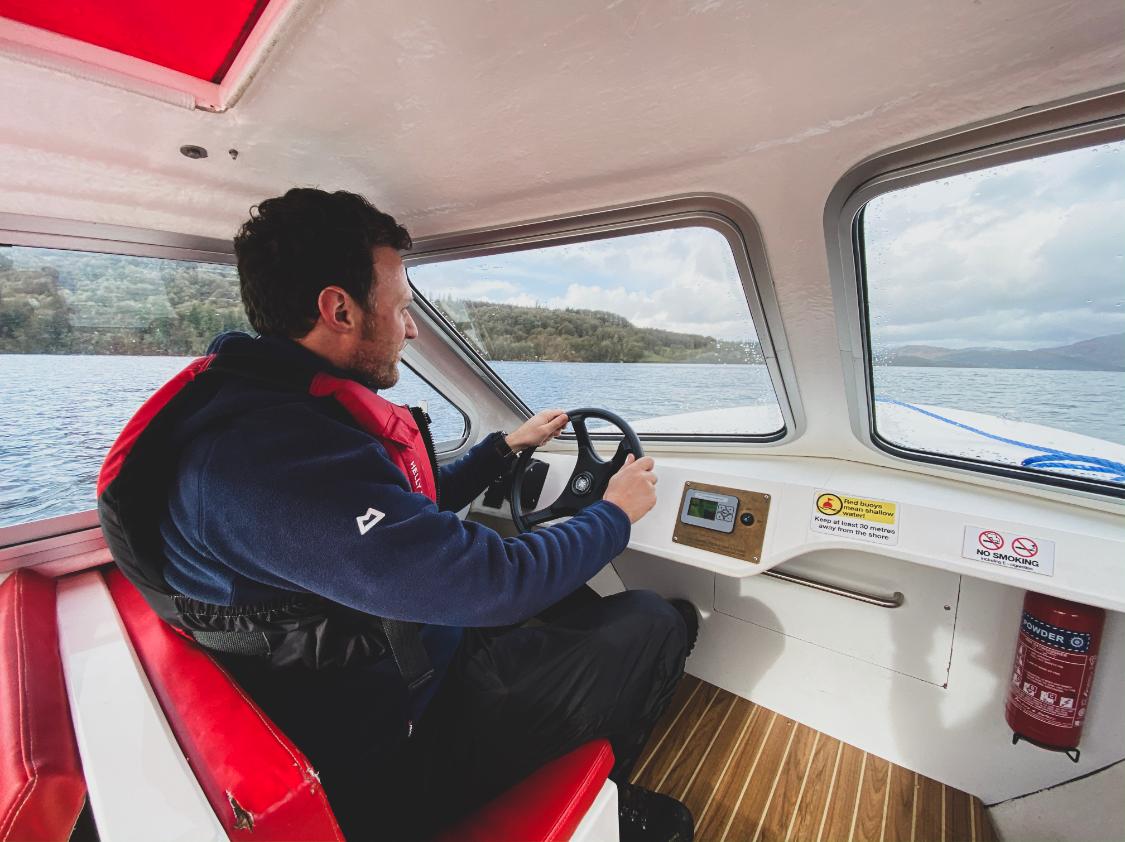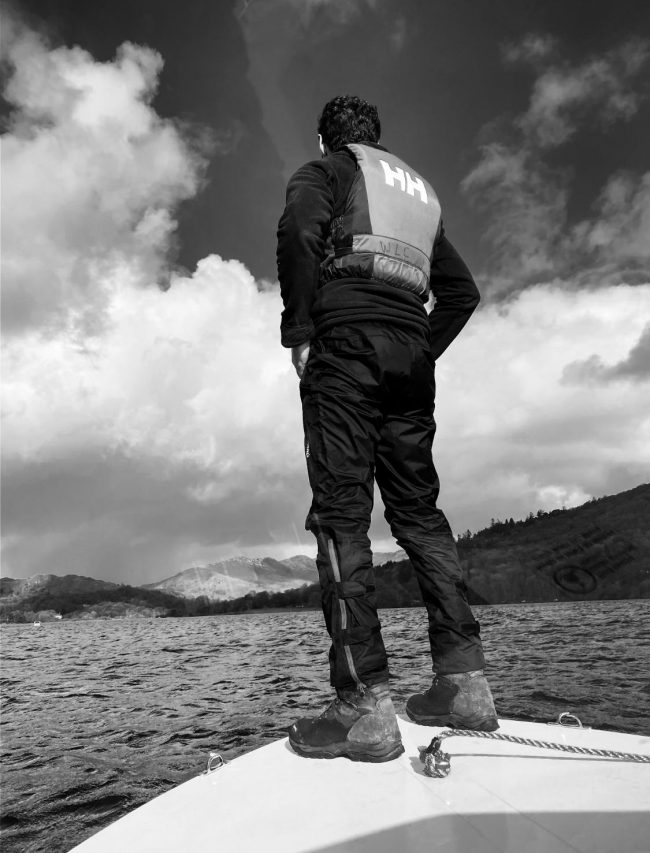 I was handed a small piece of paper with a map on it and emergency phone number and told to keep 30m clear of the red buoys, the shore and other boats. I pretty much had the lake to myself though. Was no one else mad enough to head out, I joked to myself.
On the water you get an entirely different perspective of the hills. The changing weather and strong wind meant it went from bright blue skies to heavy hail showers numerous times, adding to the fun.
You can steer wherever you want on the lake and I used the OS Maps app on my phone to help pinpoint where I was and work out the sights around me. I could see distant hills like the Langdale pikes covered in snow and also High Pike where I'd walked the day before.
You're under cover so even in a cold wind you can keep warm. It's a fun and memorable way to spend time and I'll definitely come back to do this again.
TODD CRAG SURPRISE
Storm Jorge wasn't moving as fast as predicted, so I drove back up to Ambleside and decided to do one of Chris' recommendations for a short hike up Todd Crag which is the small peak that overlooks Lake Windermere. Very few people seem to go up it (instead people are drawn to Loughrigg Fell). Chris had given me some written instructions on how to get there the day before and in under an hour I was standing with a breath-taking three hundred and sixty degree vista of Ambleside, Lake Windermere, the Langdales and Fairfield. It'd be a perfect place for a picnic and for a longer stay in the summer.
It began to cloud over and get windier as I made my way down, perfect timing to get back in to Ambleside and the first bit of rain started just as I was going in to the famous Apple Pie bakery for a pasty, sausage roll and frangipane cake. Mum and dad used to buy us treats from here too and we'd sit on the benches outside The Climbers Shop, which is exactly what I did, but this time some thirty years on. I still had time for a final pint (of coke) before setting off home, so I headed to The Royal Oak that has a great selection of beers and old-school climbing memorabilia on the walls. It was buzzing inside, with a mix of those who had braved the weather on the fells and those looking to start a fun Saturday night of drinking. I thought the interior looked familiar then saw a chalkboard saying it has a sister pub in Keswick called the Dog and Gun that I'd visited back in May during the Keswick Mountain Festival. I felt sad to leave the warmth of the pub, in fact I was feeling sad to be leaving Ambleside.
In the dark, I made my way along the winding A591 to Keswick and on to the M6 to head back home. The rain was torrential by this point and had turned to sleet and snow. I hoped that the fells around Ambleside might be getting a fresh layer so that the coming week's visitors might also see the same sights I was lucky enough to see. Get there quickly before the winter turns to spring and you won't be disappointed.