The Kata Rocks resort in Thailand is offering an exciting 'Stay and Sail' package.
You get three nights in a 'Sky Villa' followed by three nights on board the 200ft super yacht Lamima.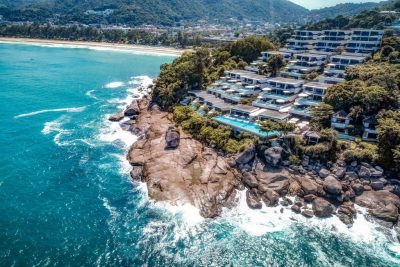 The Kata Rocks resort in Phuket has 34 luxury Sky Villas dotted along the hillside that overlook the Andaman sea.
Each villa has floor-to-ceiling glass doors that open up on to a private infinity pool.
It combines a fabulous location, beautifully designed one to four bedroom private pool villas and signature Sky Villas, innovative gourmet dining
with one of Asia's most acclaimed resort spas.
The 5-star luxury resort's oceanfront location is minutes away from many of Phuket's
most popular attractions.
You'll spend your first three nights in the villa and then go on a three-day sailing trip yacht on Lamima.
Lamima accommodates 14 guests in seven luxury suites and the cost of the trip includes all water sports activities, spa, gourmet meals and drinks.
You'll sail around the Andaman Islands and sleep/dine on board one of the world's most extraordinary super yachts.
Kata Rocks – The Stay & Sail Package includes luxury 3 night stay in a 3-bedroom Sky Pool Villa followed by 3 nights on board Lamima, from £7,084.12/ US $10,725 per night.