The Soul & Surf hotel is dedicated to, well you've probably guessed, surfing and soulful pursuits like yoga.
It's the idea of a British couple Ed Templeton and Sofie Radecki. They discovered amazing waves on the Keralan coast on their travels but couldn't believe it when they saw that no one was surfing them. The pair introduced surfing to the area and have run a low key operation for a few years, but now they've expanded to offer 15 rooms, a new Soul Food Café and India's first and only surfing school with ISA qualified instructors. There is a daily yoga programme too.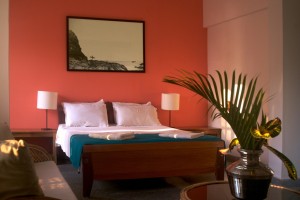 The Soul & Surf hotel is a heritage Keralan house (pictured below along with an example room). A week's stay includes two daily surf trips to nearby beaches  –  everybody groups together at breakfast to discuss their plans for the day so that all abilities are catered for. The hotel's garden is on a cliff-top overlooking Golden Beach and there are steps down to the sand so you can watch the surf conditions and take a break back to your room at any time of the day. The yoga takes place at sunrise or sunset on a rooftop platform overlooking the sea. Most guests surf in the early morning and take a yoga session in the evening.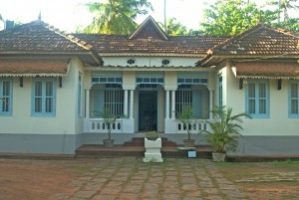 Ed and Sofie were previously DJ and dance promoters in their previous lives, so expect to hear specially produced Soul & Surf mixes from a selection of favourite DJ's from around the world while you're there. It's one hour drive from Trivandrum Airport and transfers are available from £15. Another option is to fly to Cochin International airport which is about 4 hours to the hotel.
Prices are available from £185 per week per person and include accommodation, breakfast, daily surf guiding, mineral water and the use of yoga mats. Daily yoga and surf lessons are available from £130 per person per week or can be booked on a daily basis.
That's a week of surfing, yoga and adventure for just £185. Incredible.