THE BAF is back. Yippee!
Today the organiser (Heason Events) has announced the programme of speakers and films for the weekend – and it's looking incredibly likely that Buxton Adventure Festival 2014 is going to be an absolute cracker.
It takes place in the Pavilion Arts Centre, which is part of Buxton Opera House in the heart of the Peak District.
Be warned – there's so much going on it'll be difficult to decide exactly what to watch and listen and take part in.
Mark your diary for Saturday 11th to Sunday 12th October and start planning now for how you're getting up there and where you're going to stay.
It's the speakers and films that make the event so good  – and these have just been announced as being: Emma O'Reilly – Lance Armstrong's personal masseur who blew the whistle on the 7-times Tour de France winner; top climbers Tim Emmett and Shauna Coxsey; record-breaking fell runner Steve Birkinshaw; and Paralympic Silver Medalist and ground-breaking adventurer Karen Darke.
One of the highlights taking place at 8pm on the Saturday night will be the screening of the brand new Brit Rock Film Tour. It consists of some of the best British adventure sports films. There will also be a special Cyclists Question Time including British Cycling/Team Sky's physiotherapist Phil Burt and nutritionist Nigel Mitchell and top performance coach Andrew Gillott.
Other highlights include a photography talk and workshop with Peak District pro Lukasz Warzecha (who we interviewed here a few years ago); the Beeline Britain team on the first ever straight line journey from Lands End to John O'Groats; Peak District fell runner Nicky Spinks will introduce Scottish mountain marathon legend Charlie Ramsay; and Wild Running authors Jen & Sim Benson.
The weekend kicks off with a Young Adventurers triple bill including Danny Butler's Extreme Mountain Bike Show; theMeek Family talking about their year of 100 outdoor adventures plus family-friendly films.  There's also the Adventure Bites film loop running all weekend in the Studio Theatre.
There will also be free, family-friendly activities with the YHA, Derbyshire Village Games and High Peak Tri Club running a children's Aquathlon in Buxton Pool and Pavilion Gardens.
This year the event is supported by the University of Derby, who is encouraging youngsters in personal development through adventure and Rab Outdoor Gear, who have their factory in Derbyshire. In association with BAF, the University of Derby will be running an Open Day for prospective students in the Devonshire Dome with free adventure activities open to the public including a Dry Tooling climbing competition; Slack-lining; 20m free-hanging ladder climb to the Dome roof; and an alpine skills workshop.
There's also a chance to nominate the next generation of speakers in the University of Derby Young Adventurer of the Year competition.  The three top winners will each win an iPad.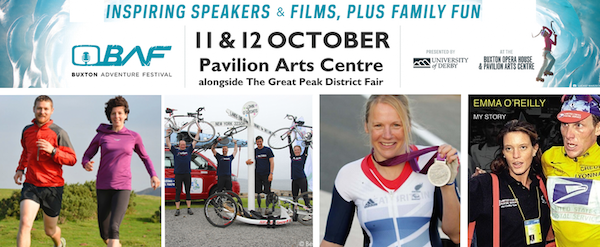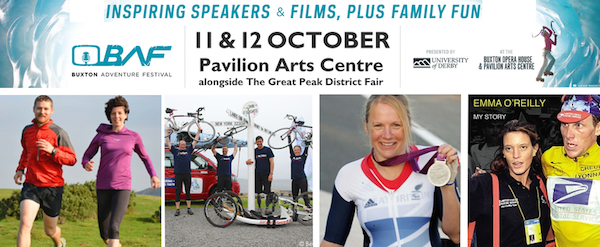 And in case you're need extra persuasion, here's the video from last year's BAF.
Main photo: Adventurer Dave Cornthwaite speaking at the Buxton Adventure Festival 2013, taken by Richard J Richards, University of Derby