IT'S  the 4×4 we've been waiting years to see and here it is, the new Defender, on sale in 2020. 
We won't get in to whether you like or dislike how it looks; every one will have a different viewpoint, so take it for what it is, and in our eyes that is a modern-day take on the original, but with oodles more comfort and from what we can see in the videos and read in the technical information, the best off road performance of any Land Rover, ever.
The car was unveiled today at the Frankfurt Motor Show after having been driven all the way from Kazakhstan by adventurer Kenton Cool on it's maiden trip called 'Expedition 001', hinting that perhaps Land Rover has plans for more Defender overlanding in the future…and some of the photos from that trip are featured right here.
If you were one of the thousands that tuned in to watch the live world premiere on YouTube, you will have seen how they cleverly matched up a video of Kenton Cool driving the Defender with him actually being live on stage in the same clothing climbing up a wall and then driving down a slope on stage right at the same time the film showed him going down a mountain in Kazakstan.
There's so much to find out about the new Defender and Land Rover has made some excellent videos telling you exactly what's new in this Defender that we'll embed below. But to set you up, here's the things you need to know. It was interesting to hear Land Rover's CEO, Dr Ralf Speth talk about what this new model means for the company and he said at the unveiling: "Our new Defender isn't just one vehicle, our new Defender is a family too. It is our corporate purpose to provide exciting products and the best in British design. Four years ago I had to make the difficult decision to stop the production of the old iconic Defender. Today, I give you back the new Defender. The best ever."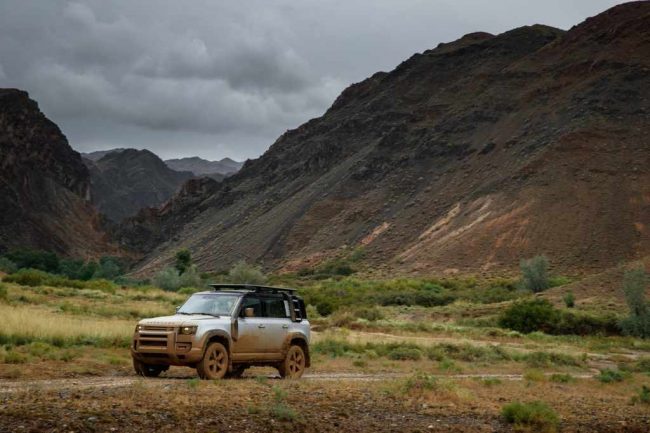 As before, there are Defender 90 and a Defender 110 models, but to spice things up there are four accessory packs that allow you to spec the car up to the kind of lifestyle you live. There's an 'Explorer', 'Adventure', 'Urban' and 'Country' pack. Each fits out your Defender with items like side boxes, roof racks or tailgate ladder.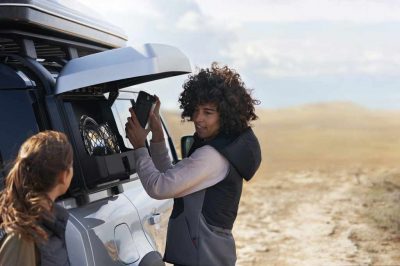 The eagle-eyed will spot that there is a square patch on the rear windows and that's actually a spot to place a side-mounted 'Gear Carrier'. This lockable pod has been aerodynamically tested to minimise wind noise and withstand extreme conditions and its 24-litre capacity can take 17kg of kit – perfect for chucking your dirty hiking boots or a soaking wet wetsuit in to. If the Gear Carrier isn't fitted, you can fit a Deployable Roof Ladder, which folds down from a locked position.
There's also Aqua Sports Carriers, Roof Rails and Roof Racks to buy as extras. The roof itself can take an impressive 168kg maximum dynamic roof load and while static it can take 300kg and this means you use the Rooftop Tent.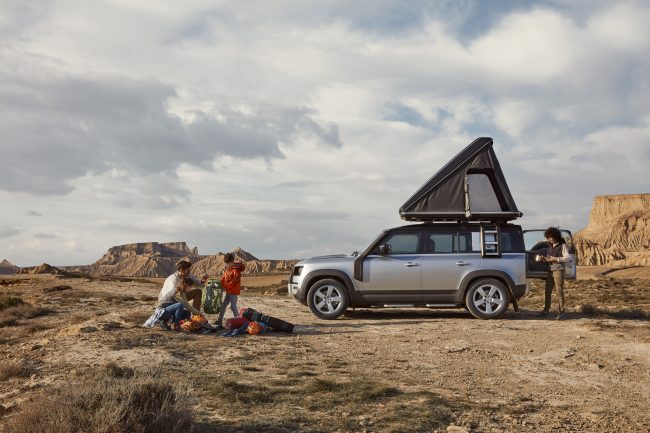 Explorer Pack
The Explorer packs gives a Raised Air Intake, lightweight 26kg Expedition Roof Rack and an Exterior Side-mounted Gear Carrier, Front and Rear Classic Mud Flaps, Wheel Arch Protection and a Spare Wheel Cover. There's a Matte Black bonnet decal, featuring 90 or 110 cut-out detailing. The Explorer Pack can also be upgraded with Fixed Side Steps and a Deployable Roof Ladder and a Front Expedition Protection System adds a Front Undershield and 'A'-Frame Protection Bar with raised corners to improve the front approach angle.
Adventure Pack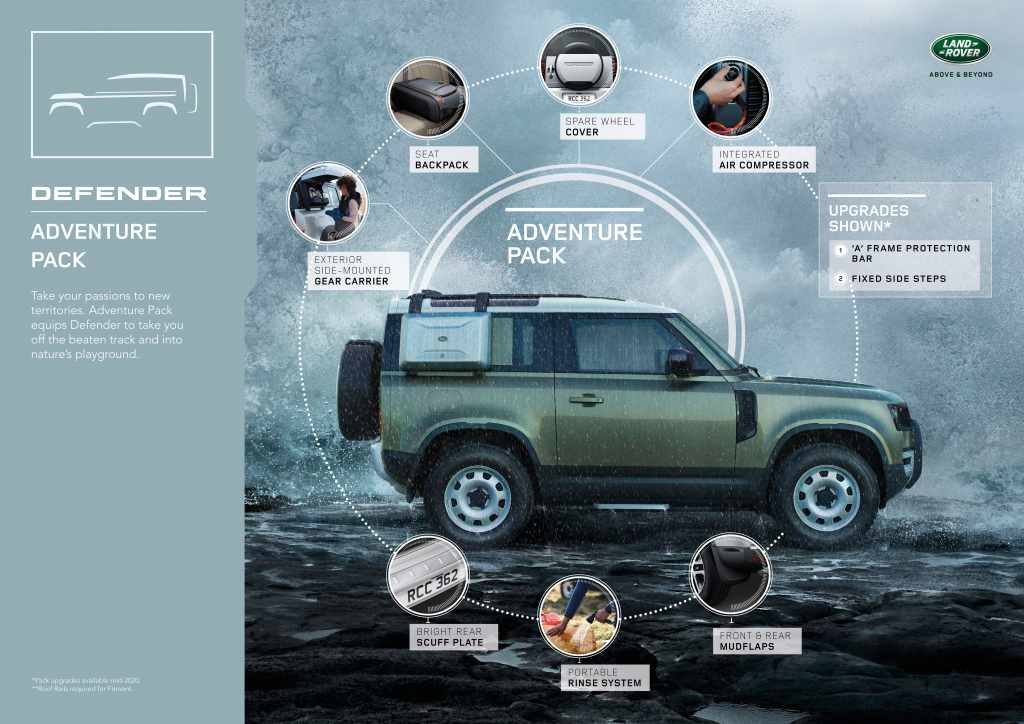 A Portable Rinse System (shower) with a 6.5-litre pressurised water reservoir, boot-mounted Integrated Air Compressor and Exterior Side-mounted Gear Carrier equip new Defender for time spent in the wilds. Protection is enhanced by Front and Rear Mud Flaps, a Spare Wheel Cover and a Bright Rear Scuff Plate, to guard the rear bumper against scrapes and scratches when loading and unloading, while a practical 20-litre Seat Backpack, which you can take with you when you leave the vehicle, completes the interior.
Country Pack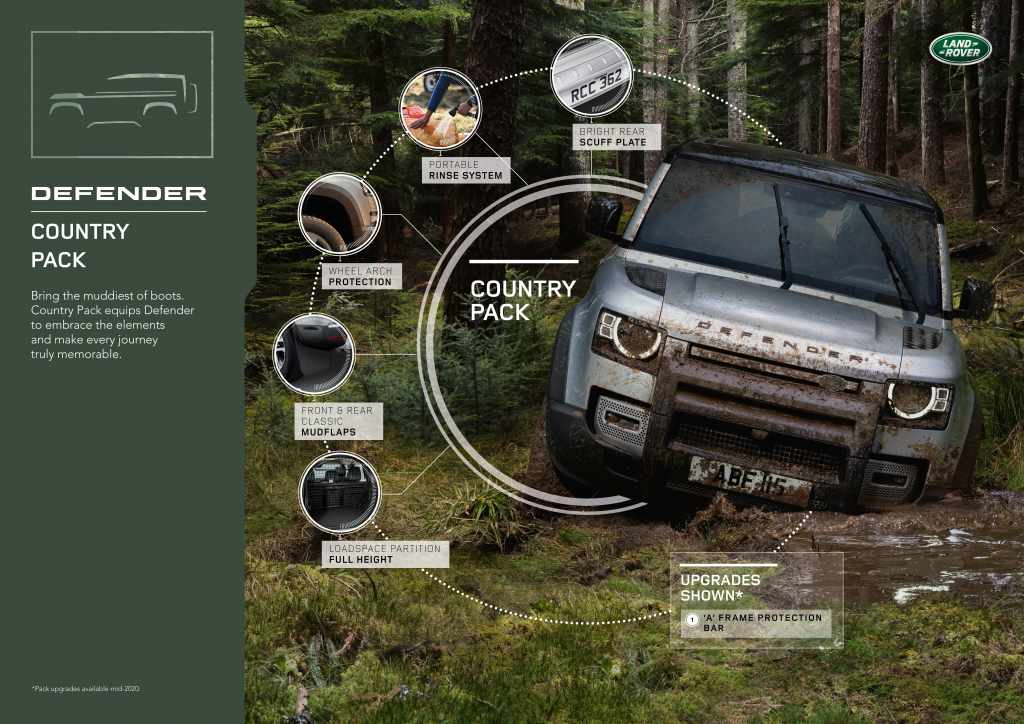 Designed for time spent off the beaten track, the Country Pack features rugged Wheel Arch Protection, a Bright Rear Scuff Plate to protect the top of the rear bumper and Front and Rear Classic Mud Flaps. A Portable Rinse System and Full-Height Loadspace Partition equip the interior for everyday adventures.
Urban Pack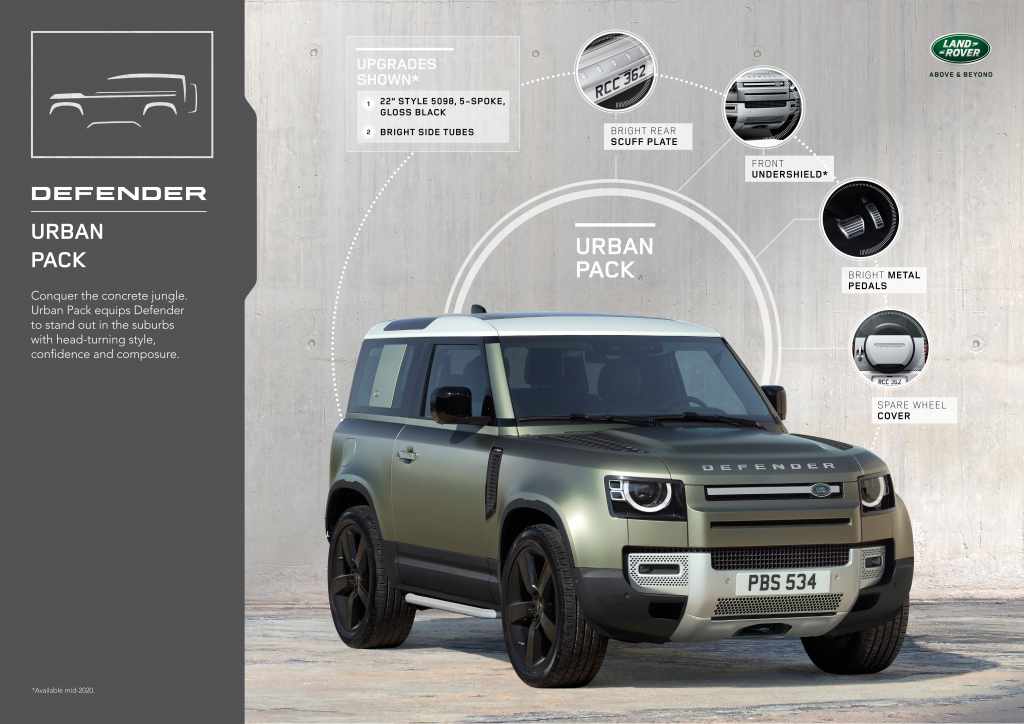 To stand out in the concrete jungle, the Urban Pack adds a Bright Rear Scuff Plate, Spare Wheel Cover and Bright Metal Pedals add to the robust interior. Customers can then opt for a range of alloy wheel upgrades including a distinctive 22-inch five-spoke design. A selection of Side Tubes and both Fixed or Deployable Side Steps are available across all four Accessory Packs alongside a full range of durable deep-sided rubber mats to protect the interior.
In the UK, the new Defender will be available in Standard, S, SE, HSE and X trim lines.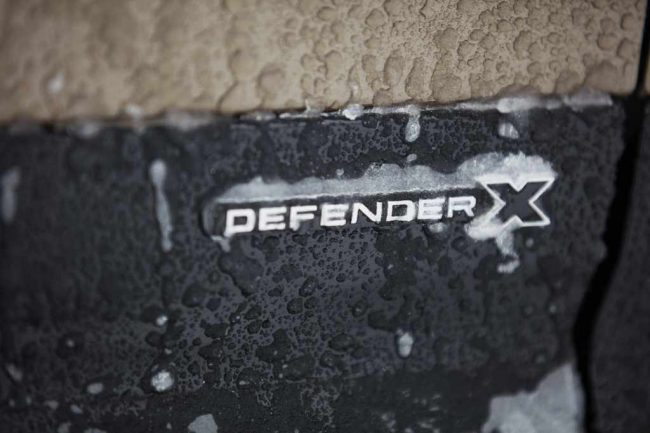 Prices are yet to be confirmed, but the Defender 90 will start from around £40,000 and the Defender 110 starts from £45,240 on the road and is available to order immediately. Defender 90 can be ordered soon after.
We're excited to see the round headlights make an appearance as we said in our news story here. They're not completely round, but it's a nice compromise of the old meeting the new.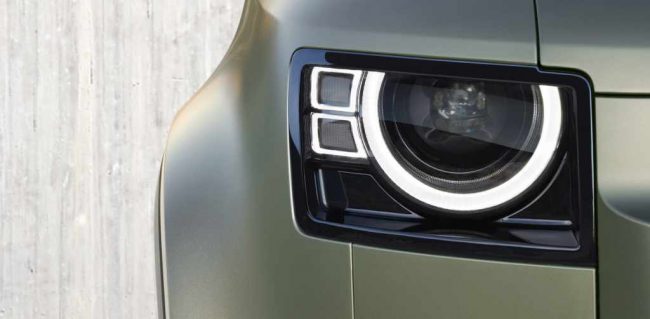 The rear lights may cause some discussion as they're very unique. You can see some of the old Defender in the rear, but the larger square red lights bringing something new. We like!
Inside, the new Defender has a hint of the same shape and layout as before, but is a million times more modern and comfortable. You can almost see a bit of the Range Rover Classic in the design too, which we love. There's also an exciting option in the Defender 90 to have three seats across the front with the centre seat folding down forwards to give an armrest.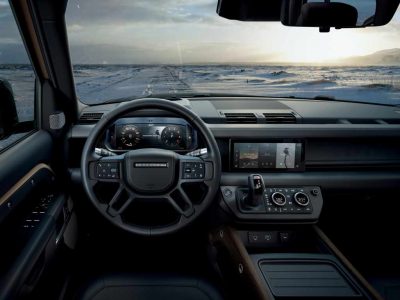 It's a tough old beast too; Land Rover says the body structure on this new Defender is the stiffest that it has ever produced. The car went through more than 62,000 tests to get engineering sign-off and prototype models covered more than 1.2 million kilometres across some of the harshest environments on earth, ranging from the 50-degree heat of the desert, the sub 40-degree cold of the Arctic and altitudes of 10,000ft in the Rocky Mountains in Colorado.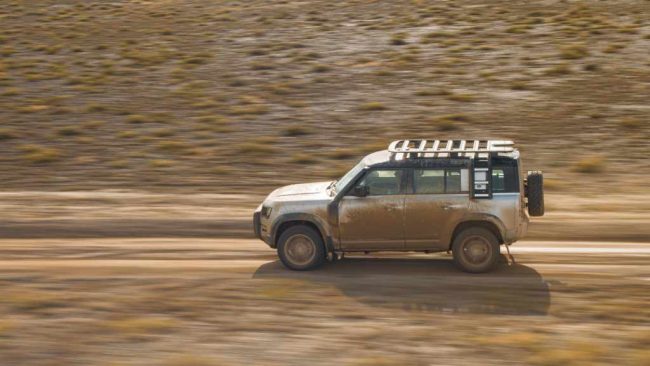 Configurable Terrain Response debuts, allowing experienced off-roaders to fine-tune individual vehicle settings to perfectly suit the conditions, while inexperienced drivers can let the system detect the most appropriate vehicle settings for the terrain, using the intelligent Auto function.
The new body architecture provides ground clearance of 291mm and world-class off-road geometry, giving the 110 approach, breakover and departure angles of 38, 28 and 40 degrees (off road height) respectively. Its maximum wading depth of 900mm is supported by a new Wade programme in the Terrain Response 2 system, which ensures drivers can ford deep water with complete confidence (as shown below).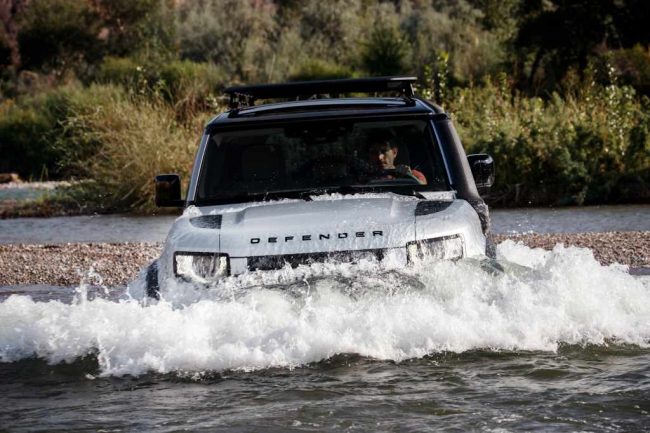 Then there's Land Rover's extremely clever ClearSight technology that helps drivers take full advantage of Defender's capability by showing the area usually hidden by the bonnet, directly ahead of the front wheels, on the central touchscreen (below).
There's a choice of two petrol and two diesel engines. Next year a Plug-in Hybrid Electric Vehicle (PHEV) will join the range (however one of the petrol engines, the P400, has a hybrid electric system added to it).
The petrol line-up comprises the four-cylinder P300 engine and the six-cylinder P400 (featuring Mild Hybrid Electric Vehicle technology).
Alternatively, there's a pair of four-cylinder diesel engines – the D200 and D240 – both of which deliver fuel economy of 37.2mpg (7.6 l/100km) and CO2 emissions of 199g/km (NEDC equivalent).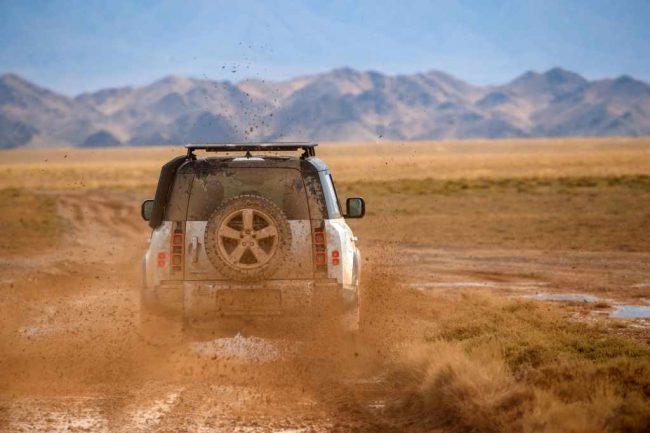 So there we have the basics of the new Defender. As you read more and more about how this has been developed and built, we think you'll fall more in love with it.
Take a look at YouTube videos here on the official Land Rover UK channel and decide for yourself.