Even if you don't follow trends in outdoor clothing, it's likely that you've heard of or now seen The North Face's new FUTURELIGHT™ fabric.
In fact, The North Face says that the launch of FUTURELIGHT is one of largest investments they've made in a brand campaign to date and when you think of the amount of marketing that they've done before, then it's a big deal.
It's such a big thing, that The North Face says the new fabric is going to create endless opportunities for its designers across all of its product categories over the next 10 years. Which is why you'll see they made a film of their athlete team making a first ever ski descent down Lhotse mountain, right next door to Mount Everest in the Himalayas. You can watch that film below.
The premise of FUTURELIGHT is simple; it's a futuristic and light fabric that feels soft to the touch, can stretch, just how a normal fabric feels, yet it is extremely waterproof and breathable. So how have they made something like this?
It all comes down to what's called nanotechnology. The 'nano' scale of measurement means 0.000000001 of a metre, or one billionth of a metre, and The North Face has come up with a way to spin a fabric that has tiny gaps between them of this size. What that means is water vapour can breath out through the holes, but they're too small to let bigger beads of water come in from the outside. This 'nanospinning' is the secret behind FUTURELIGHT and will now allow clothing designers the ability to adjust the weight, stretch, breathability, durability, construction, and texture of any fabric for the varied needs of different sports and conditions.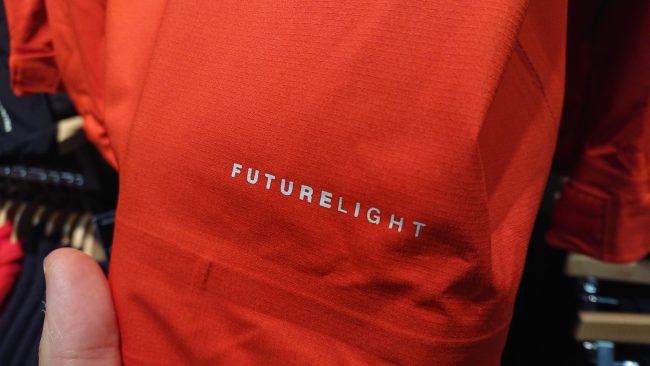 The North Face explains: "A waterproof fabric no longer needs to be crunchy, muggy and stiff. We created breathable-waterproof apparel that is, for the first time ever, light and comfortable with a quiet hand feel and stretch, while still providing the waterproofness and protection needed in the harshest environments. With FUTURELIGHT™, we can theoretically use the technology to make anything both breathable and waterproof, and for the first time, comfortable. Imagine a waterproof t-shirt, sweater or even denim that you actually want to wear. Today we start with jackets and tents, but the possibilities are endless."


This autumn, FUTURELIGHT™ is appearing in 37 pieces across The North Face's Summit Series, Steep Series and Flight Series collections. And in the Spring of 2020, they will introducing FUTURELIGHT™ into even more apparel, footwear and equipment including a tent.
If you now go in to an outdoor shop and get the chance to feel FUTURELIGHT you'd be forgiven for wondering if it does in fact protect you from the wind and the rain becuase it feels so light and soft to the touch. The North Face says that FUTURELIGHT has been tested extensively for more than 400 continuous days by 15 members of its global athlete team on seven separate expeditions. The list of athletes includes Hilaree Nelson, Jim Morrison, Andres Marin, Nate Rowland, Mike Arnold, Dylan Bowman, Mike Foote, Paddy O'Leary, Rob Krar, Angel Collinson, Griffin Post, Jake Blauvelt, David Goettler and Samuel Anthamatten.
On top of this, The North Face asked Underwriter Labs (UL) to test FUTURELIGHT. UL predominately tests waterproofing for the National Fire Protection Association, as well as first responder gear for firefighters, EMS and hazmat responders. The test methods they used were 50 percent more stringent than the current standard for the Outdoor Industry and the UL liquid integrity test for FUTURELIGHT™ was even more extreme compared to the NFPA testing that UL conducts.
Items to look out for in the shops or online include the Summit L5 Jacket and Bib, the Brigandine Jacket and Bib, the A-CAD Jacket and Bib, and Purist Jacket and Bib.
Scott Mellin, Global General Manager of Mountain Sports at The North Face adds: "Product innovation, pushing the boundaries and having the courage to disrupt have been a part of The North Face DNA since our company was founded over 50 years ago. For far too long, we have been forced to adapt to our clothing and environment. With the introduction of FUTURELIGHT™, we are finally offering clothing that adapts to our needs. The introduction of this fabric is a pivotal moment for our brand, for the future of the apparel industry, and for consumers who will no longer need to sacrifice comfort or air permeability for waterproof protection."
See more at www.thenorthface.co.uk