British yoga wear and fitness wear brand Manuka Life has launched their beautiful new AW16 collection.
'The Midas Collection' was shot in Northern Ibiza and has a touch of romanticism, Japanese symbolism and fleks of gold.
The autumnal colours of powder rose and antique gold work beautifully against ocean steel blues.
In many of the items you can see a 'Asa No Ha' star symbol. This is traditionally used in Japanese textiles and believed to bring good fortune to the wearer. Triangle shapes further denote protection while an aggregate of triangles is said to enhance strength and beauty.
There really is something for everyone this season, whether you require cutting edge seamless technology, designed for movement or super-soft sophisticated loungewear.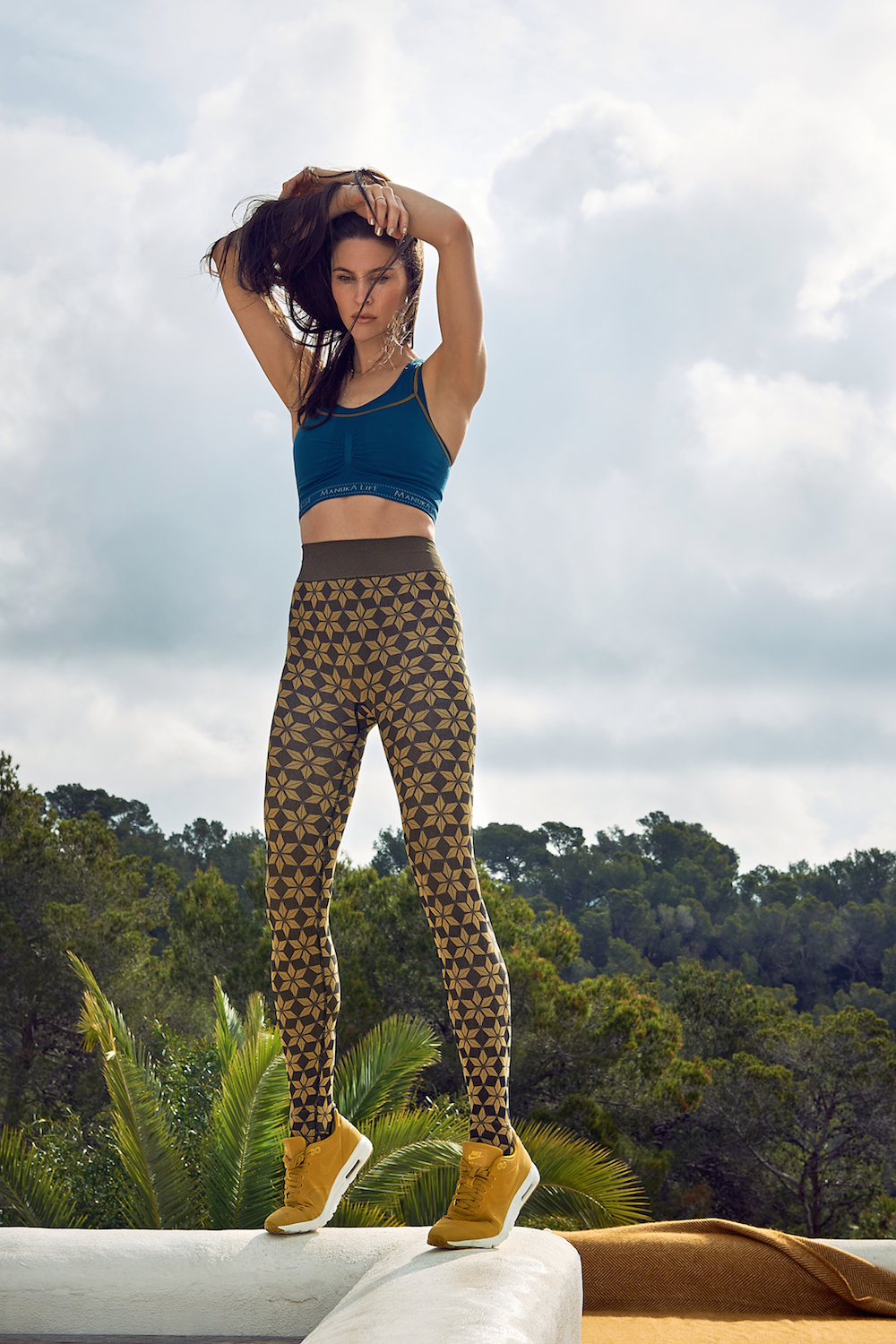 Must have pieces include the Star Stirrup Legging and coordinating Double Layer Bra, engineered in seamless knit (pictured right).
The Creative Director of Manuka Life, Sarah MacDonnel comments: 'We believe that in this thriving, competitive industry you have to constantly strive to push yourself as a brand and connect with the consumer.
"After over 10 years in the industry, Manuka Life is way ahead of the curve and continues to be one of the industry leaders. We are proud to release The Midas Collection for Autumn / Winter '16, a collection designed to stand out.
"We have worked so hard to ensure our product is technically superior, comfortable but still is beautiful and trend-led for the winter season. We believe the shoot backdrop for this collection was perfect.
"The Northern Ibiza setting, beautiful shoot locations and spectacular sunsets really gave this collection that extra dimension. The calming and peaceful backdrop really did compliment the range perfectly.
"We look forward to seeing lots of lovely ladies enjoying and wearing our Manuka Life Midas Collection for the AW season."
The brand's founder, Leonie, has pioneered a unique and holistic fitness program infused with an eastern approach to total health and well-being. As the business grew, Leonie realised that women were looking for comfortable, high quality active-wear that also looked and felt great – and in 2000 Manuka Life was born.
The brand name was inspired by the Manuka indigenous tree in New Zealand. in memory of Leonie's grandmother, Rana, who protected the tree from developers many years ago. Rana was a fierce conservationist and fighter for women's rights and freedom and the tree's famous powerful healing properties merge perfectly with the Manuka Life message of health and healing.
Over the past 14-years, Manuka Life has attracted an ever growing and loyal customer base from the public, press and celebrities alike. Their fast expanding company and dynamic team has allowed them to react to the growing demands and popularity of the yoga, pilates and fitness industry in the UK.
All products and prices can be found at www.mlifelondon.com and in John Lewis stores.
Manuka Life apparel prices start from £30, Manuka Life accessory prices and yoga mats start from £20.