"What's all that bloody noisy shouting behind me?" I think to myself as I pass the 7km marker sign of the Geneva 10km race.
I soon find out. It's the 45-minute pacer with a huge blue flag sprouting from his backpack. "Bugger, I better stay with him if I want to make the 10K in under 45 minutes…"
It's already been a pretty full on day so far – starting with a yoga session this morning at the Bain de Pacquis followed by an hour of Stand Up Paddleboarding (SUP) on Lake Geneva and then a ride up the cable car to the top of Mont Salève and down again. During the marathon weekend, Geneva puts on a 10km race at 8pm on the Saturday evening. It's been a hot day, so it's nice to run in cool evening air, but because I've been so busy during the day, I realise I haven't drunk way enough water. At the point I catch my first glimpse of the lake, the most beautiful finish of any 10km race I have ever run anywhere, I start to have double vision, my head is pounding and I start to think that I might actually pass out. As I run alongside the yachts and the tents of the race village there are hundreds of people lining the railings and shouting "Allez allez" and "Bravo". I'd like to smile back and wave at them but I'm struggling to keep upright. I cross the line at 46:21, thankful I haven't fallen over and kissed the Mont Blanc bridge in front of everyone…
FRIDAY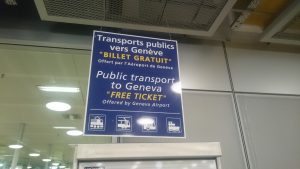 Geneva is a gateway to all kinds of adventure. But I wanted to find out if you're able to fly in to the city for a weekend and seek out some adventurous activities without travelling too much further afield beyond the city boundary. Geneva Tourism assured me I could and assisted with a jam-packed itinerary during the same weekend that the marathon was on. My plan was to run the 10km on Saturday night then on the Sunday I'd be free to take myself to Mont Salève to try out one of the trail runs from the base up to the summit.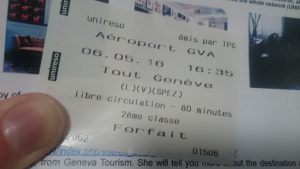 There's always a worry whenever you go to a new city or weekend break about finding your way around. At Geneva Airport in the baggage reclaim area there's a machine that prints you a free ticket to take any form of transport into the city within an 80 minute time period. Within 20 minutes I was at the main station (Gare Cordavin) and walking across to the Warwick Hotel. The receptionist there couldn't have been more helpful, giving me maps for the trains and buses and the city. She also gave me a free travel ticket; anyone staying in a hotel in Geneva gets a ticket entitling them to free travel on public transport! While hotel costs are high, you soon start to get value from both the food on offer and the incredible service. It really does feel like you're treating yourself. That Friday evening I strolled down to the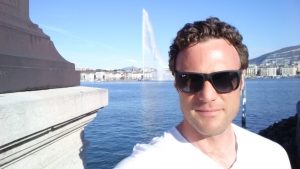 lake, stopped for a beer at La Terrasse and enjoyed the sun on my face and some people watching. That evening I meet some other journalists covering the marathon and we have dinner at the Cottage Café, a log cabin near the lake serving tapas and frothy Swiss beer. At dinner the conversation revolves about running – 5ks, 10ks, marathons, ultra runs and adventure running. I try and get to the essence of why people come here – and the answer is pretty clear – you can do pretty much every kind of adventure sport on offer.
Even if you don't want to take yourself off on an epic adventure, there's no shortage of running routes around the perimeter of Lake Geneva or along the Rhone River. It's as easy as putting your trainers on, stepping out of your hotel and following the lakeside path.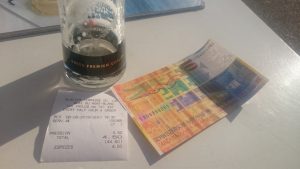 One of the things that maybe puts people off about Geneva (and Switzerland in general) is the cost. At dinner in the evening I ask Loan from Geneva Tourism about this and the frankness of her reply surprises me. "Sure, this is part and parcel of a visit here. The quality of life here in Geneva is one of the best in the world. Everything is clean and green. The quality and the service you receive here justifies the price."
She adds that you can do Geneva on a budget and the many hostels here aren't like what we consider to be hostel standards back in the UK  in fact they are very high end and with some clever searching online you can find some affordable rooms.
SATURDAY 
I start the day with a beautiful view of the sun rising from my hotel room and I'm overwhelmed by the choice of food on offer at breakfast. Knowing that in an hour's time I'll be having an invigorating yoga session doesn't stop me from tucking in to a full fry up and a huge bowl of bircher muesli. I meet some other journalists at the Hotel Rotary Geneva reception and we walk along to the Bains des Pâquis (city beach) opposite the Jet d'Eau (the big fountain on the lake).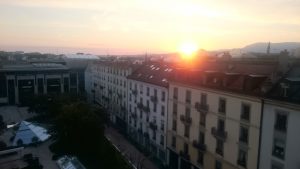 In the winter, you can have a Hammam or Turkish bath here and enjoy the view across the snow-capped mountains. Fondue lovers also meet to admire the sparkling lights on the Geneva skyline and eat themselves happy. In the summer you can swim or jump off the diving board or simply sunbathe – already this morning we've seen people doing both. Our yoga session is with Mr Mironel De Wilde. With his 10 years of experience he now teaches various styles of yoga in the city's Harmony Fitness Clubs (Harmony sponsors the marathon). Mironel is passionate about helping individuals reach their highest potential and is dedicated in attaining and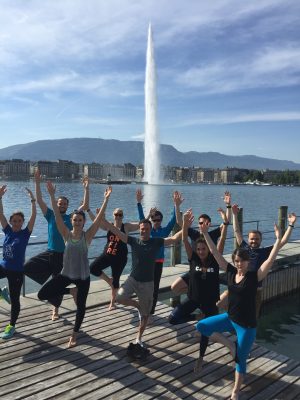 maintaining fulfillment and happiness in every aspect of life. I find myself really enjoying the yoga with the sun on my face and the blue/green water surrounding me. Halfway through I feel my heart rate is up and I'm sweating. I hadn't expected yoga to get my heart rate up like that. After the hour-long session though, I felt relaxed and ready for the day ahead.
We then take a walk for a water taxi. These are included in the free travel card. This takes us quickly across the lake right past the famous fountain. We then have a very short walk along to Tropical Corner – a café/watersports centre. Stand Up Paddleboarding (SUP) is all the rage here (and in other places) at the moment. Whether you want to achieve a full body workout, enjoy a unique view of Geneva's bay, or both, SUP offers a fun and unique way to enjoy the lake (particularly if you've already worn your legs out running). Regardless of your level, they have a SUP session for you or you can rent some their top-of-the-range equipment out. Again, I'd never tried SUP before, but if you can snowboard or have surfed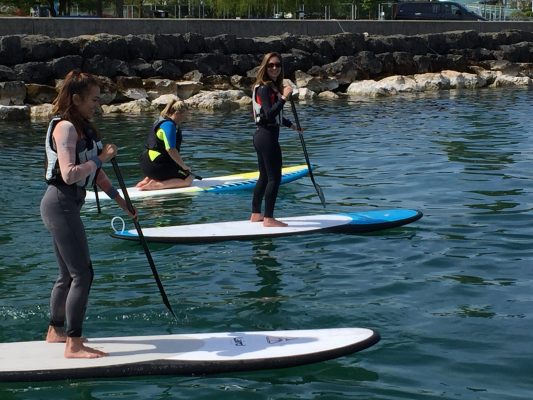 or kayaked then you'll have no problem. When I first set off I loved being able to look down through Geneva's deep clear water – and then suddenly saw the appeal of doing this to explore a coastline. We headed out further on to the lake and this is where I found that it takes a bit of balancing with feet to keep in a straight line when you're pulling the paddle down one side. It was a little frustrating to start off with but after about 30 minutes I started to get a feel for how to keep straight. I saw quite a few couples head out together, with a rucsac strapped down on top of their boards, clearly heading out to explore, go for a swim and find a nice lakeside spot for a picnic. Towards the end of the session, it's really getting warm and I decide to dive in the lake off the board for a quick swim to cool off. It's easy to pull myself back on the board.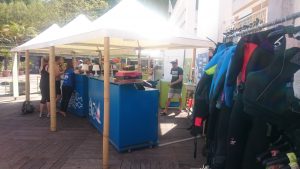 There are changing rooms with hot showers on site and I get back into shorts and a T-shirt. As well as all the sports kit here, Tropical Corner has a brilliant bar serving drinks and food. During our lunch, the Event Manager for the marathon, Benjamin Chandelier finds time in his busy schedule to stop by and tell us a bit more about the Geneva Marathon. He looks calm and relaxed. Maybe it's because the weather is so warm and sunny?
"Two years ago it was windy and last year it rained," he tells me. "So this year we are back on track with this weather," he jokes. "It's the 12th edition and every year we listen to the feedback from volunteers, partners and participants to make the event even better."
He tells me he is proud of what the Geneva marathon now offers: : "We have plenty of water, supplied locally by Eau Geneva, we have more masseurs at the end of the course than we have ever had before, we put transport on to get people to the start line and I think we have one of the highest quality race T-shirts given out by a marathon, provided by Compressport. All of this is down to the hard work of 70 people on the organising committee and a thousand volunteers."
And what is the feedback like from those who run the marathon, I ask. He replies: "97 percent of participants told us they'd recommend doing the marathon to relatives and friends," he says. "The quality of the organisation and the service you get while you are here is very high."
The IAAF agrees and this year awarded the marathon its prestigious Bronze Label making it the first and only running event in Switzerland to receive the award.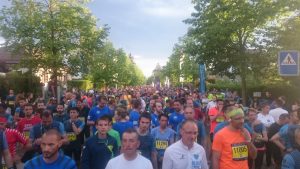 While the London and Paris marathons are well established, the Geneva Marathon is increasingly becoming a "must run". You've got the choice of a 10km, a 6km for women and a half or a full marathon. The organisers talk about 'races for all' and the weekend of the Geneva marathon is now more a festival of running as Ben Thompson from Geneva Tourism explains: "We want people from other countries to come and be part of that. We have a lot of Swiss and French runners, but this year we had entrants from 127 different countries – it's a true international marathon now."
And while city marathons can often underwhelm in the scenery stakes, the majority of the Geneva marathon course takes place in the surrounding countryside with mountain peaks and quaint Swiss villages. Ben adds: "Within the first mile you'll be wondering how this can actually be a city marathon. It might be a major European city yet within five miles outside of the city is the most beautiful countryside – and you get to run through it."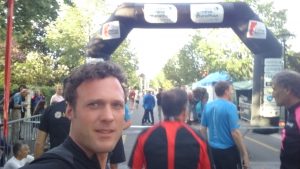 The organisers put a 10km race on the eve of the main event, allowing even more abilities and ages to participate. "The 10km race is great because it happens at sunset," Ben enthuses. "It's a real party atmosphere with live music, food stands and entertainers in the race village near the Mont Blanc bridge and the finish line."
VENTURING UP MONT SALEVE
After lunch we take a bus to the base of Mont Saleve which is just at the edge of the Geneva. Rising up to 1379m, this is the nearest hill/mountain to Geneva and has a cable car that can take you quickly up and down for incredible views over Geneva one side and panoramic views of the Alps to the other side.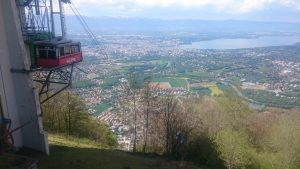 For me, I needed to pay attention to how to use the bus because while some of the other journalists are running the marathon I'll be making my way to Mont Salève to try out the trail run up. Turns out it's surprising easy, I just need to take bus route number 8 to Veyrier-Doaune (take your passport as you'll cross the border in to France – this was unmanned when I went and I just walked straight through).
Today we take the cable car up (using the Geneva Pass) and I see paraglider pilots with their wings in rucsac as well as mountain-bikers who use the cable car to go up and then race back down. They repeat this as many times as they want during the day – what a way to spend a Saturday.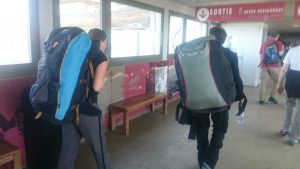 At the cable car I pick up a map and the trail run is marked out and. I discover there's a signposted trail from the base of the cable-car (green squares with yellow arrows) that's 5.5km in length to the summit (1379m). Tomorrow Ill decide whether I run back down or take the cable car as I want to be at the finish line to watch the marathon and also make sure I get to the airport for 2pm.
EVENING 10KM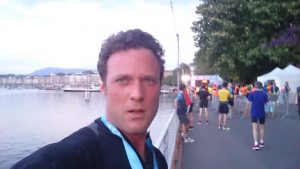 We take the bus back into Geneva and then head to the marathon village where it is buzzing with activity and live music as families and participants prep and sign in for the 10km. I take the chance to change in to my running gear and have some food. Later I'm whisked to the start line of the 10km by motorcycle and make it 10 minutes before the start; just enough time to warm up and stretch. Ben Thompson had said on the Friday night that I'd be running through beautiful countryside and he wasn't wrong. Families have come out of their farmhouses to ring bells, shout "allez, allez" and cheer the runners on. Drones buzz overhead filming us and I soak up the views of the sun rays hitting the clouds and the mountains; it's completely different to anything I expected from a city 10km. At the halfway point, some of the other journalists are there for dinner and they cheer me on as I pass. I hastily gulp down two cups of water. But it isn't enough as I discover in the last kilometre and I'm badly dehydrated. Still doing a 10K in 46 minutes isn't too bad and I hope that I will have enough in my legs for the trail run tomorrow. I head back to the hotel, run myself a quick bath, set my alarm for 5:30am and drift off quickly into a deep sleep.
SUNDAY MORNING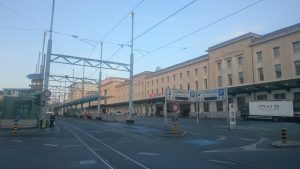 While the rest of the city was preparing for the marathon I was on the number 8 bus to Veyrier-Doaude with my trail pack, a belly full of pancakes and a very basic tourist map of the trail run up Mont Salève. Rising up to 1379m, this is the nearest hill/mountain to Geneva and has a cable car (called the télépherique) that can take you quickly up or down to a restaurant and viewing area. The trail run up is only 5.5km (but feels a lot longer) and is marked from the base of the télépherique with signposts with green squares and yellow arrows on them. I cross over the French border at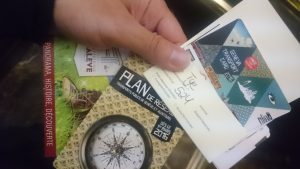 about 7:30am in the morning (there's no one there to check my passport) and walk towards the télépherique base area. I set off down one of the roads in the hope that I'll spot one of the signposts – and sure enough I find one. Often the hard part of trying anything new is the uncertainty of finding your way around, but if you tell yourself to embrace and accept this as part of the adventure then you'll never feel this kind of nervousness again. I reach the treeline and realise that the steep part of this run is going to happen right at the start. Sure enough, there's an endless zig-zag of hard-packed mud trails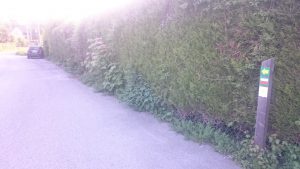 strewn with rocks in it, but I enjoy the tight switchbacks up, seeing the sunlight pour through the green leaves and the amazing view that's already starting to appear. It's barely 8am and I am pouring with sweat. Occasionally there are stone steps and hand railings to help me on my way and there's one particular long stretch of steps I enjoy leaping over that leads up to a village with a beautiful church. Not far after this I spot a gap in the trees and walk to the edge and enjoy an incredible vista over the city of Geneva; I start to think about those thousands of people lined up on the start line of the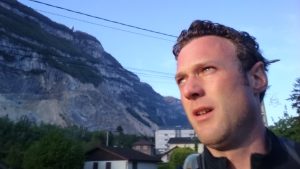 marathon feeling the nerves and here I am with a mountain all to myself. I'm sure they're all going to have a wonderful run but I can't help but feel I'm the lucky one being up here. I set off again, I reckon I must be about halfway by now and there's a steady gradient all the way up. I eventually reach the paragliding launch area and it's here where I really am rewarded with an amazing view out across Geneva and its surrounding (snowcapped) mountains. I can even see the fountain on the lake. I enjoy the coolness at this height and crack on further to the summit, passing the Restaurant L'observatoire (www.lobservatoire.fr) which says 'GOOD FOOD & COCKTAILS' on the side of it in huge lettering – if it wasn't so early I might be tempted to go in to find out if it's true…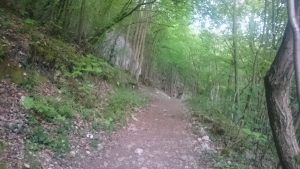 I haven't go that much further to go – but now I have panoramic views of the Alps to my left (I can see Mont Blanc) and Geneva to my right. The terrain is less steep and I run over luscious green grass; I'm the only person here, the sky is blue, the air is clear and I have wonderful views either side of me, life can't get much better at this point. At the top I guzzle some water, eat a Nakd bar and soak up the sunshine and the views for 10 minutes before making my way down to the top of the télépherique. I find myself running down a very steep section, thinking it will lead me to the télépherique, until I realise that I'm actually heading down the Grande Gorge, a super steep route up and down. I have to backtrack, annoyed that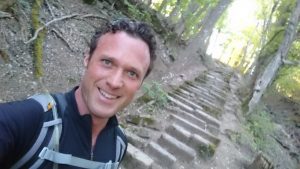 I've put extra strain on my already-tired-legs. When the top of the télépherique and the restaurant comes in to sight, I ask myself whether it is too early for a beer…I'm not usually one to booze, but I really feel a sense of achievement and I opt for a bottle of locally brewed Brasserie du Mont Blanc over my usual tipple of coffee. And boy does it taste good, even at 10am in the morning…
I have options now; take the same route back down or jump on the cable-car. I opt for the cable-car, keen to 1) rest my legs as they're sore after last night's 10km and this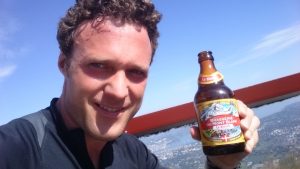 morning's run and 2) I want to get to the marathon finish line to watch the finishers. When I get to the finish line on the Mont Blanc bridge I can't but help feel the same sense of satisfaction that I can see on the finishers' faces, partly from knowing that I've been up and down the mountain I can see in the distance – and all before lunchtime too.
With thanks to Geneva Tourism www.geneve.com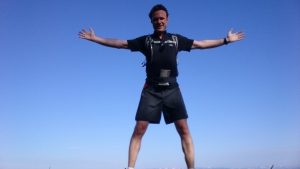 Clothing worn:
North Face Flight Series T-shirt
North Face Flight Series Vent Shorts 
Saucony Excursion TR9 GTX trainers
Thorlos LRMXM running socks men mini-crew
Casio G-SHOCK classic watch
Jack Wolfskin Rock Surfer 18.5 bike rucsac
Photos taken with Sony Xperia Z5 compact