MANY of us would be content with completing one big adventure in our lives but Dave Cornthwaite wants to do 25 of them.
Each one of these 25 will be a thousand miles in length – and he won't be using motorised transport for any of them.
Dave's already completed two of the 25 adventures; the first was a 3,621-mile-long skateboard across Australia in 2006 and the second was a 1,540-mile kayak along the Murray River.
But it's his announcement of Expedition 1000, reflecting the thousand miles he'll do in each trip, which is an unprecedented commitment to adventuring. In doing so, Dave is ensuring that the next five years of his life have complete focus.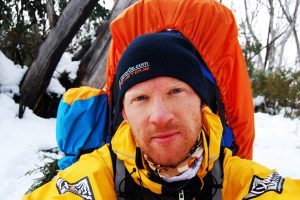 "It's crazily ambitious," he says. "But the reaction to it has been highly positive and I can break it down into achievable tasks."
Completing five adventures a year should see him reach his goal. He says the beauty of planning multiple trips is that you prevent the uncertainty over where the next adventure is coming from.
"After the river kayak I guess I lost focus," he admits. "But with Expedition 1000 instead of being a wandering vagrant, I really feel like I've got a plan."
Coming up with 23 different methods of how to travel 1000 miles has been fun in itself so far.
"People have said why didn't you just choose 10, you idiot," Dave says laughing. "But 25 is a lovely round number and at the end it makes up 25,000 miles which is equal to once around the world at the Equator."
A further cool aspect about Expedition 1000, is that Dave is asking people to come up with ideas for how he should travel. An overwhelming majority has suggested he completes 1,000 miles by pogo stick. His response?
"There's a fine line between doing something adventurous and doing something idiotic," he jokes. "I have to pick ways which will be successful so I don't think I'll be doing a pogo stick, a Space Hopper or a Swan pedalo. Keep the suggestions coming though."
Dave is considering most forms of transport and an unexpected outcome of Expedition 1000 so far is that he is bringing attention to some never-before-seen forms of transport. These include a Freecross, an Aquaskipper, a Champiot (a four wheeled cart that also works on water), a Kickbike, a StringBike (uses string instead of a chain) and Chariot Skates (uses big bike wheels on each foot). Dave says one of the most fun things he's ridden so far is the Freecross. "It's genius," he says. "It's basically a cross trainer from a gym but with wheels. It's really good for the whole body and it feels like slalom skiing when you ride it. It's fast and you can lean right over on it."
The next expedition in the list has been finalised and in April he will start a Tandem Bicycle ride from Vancouver to Vegas starting in April with colleague Sebastian Terry. Flying straight in to Vegas seemed too easy, so Dave and Seb booked flights to Vancouver, Canada, with the intention of riding 1,350 miles in two weeks, reaching Las Vegas just in time to give a talk.
"The thing is we've never ridden a tandem," Dave casually mentions. "We'll need to cover 100 miles a day so it will be real jeopardy to see if we make it on time. We'll write the talk and film as we go along."
Later on this year he plans a Stand Up Paddleboard along the Mississippi River. In 2012 he'll then jump on the FreeCross to ride 1,000 miles in Europe before then doing another 1,000 miles in a Velomobile. The plan then is to finish off 2012 by cycling 1,000 miles in North America.
In 2013 he'll paraglide 1,000 miles across the Himalayas. Paragliding is another sport he's had no experience in, but Dave is just back from learning how to fly with SkySchool in Nepal and said it was one of the most thrilling things he's ever done. He's already made excellent video diaries showing how he's learnt and progressed. Other adventures include riding 1,000 miles by horseback in Mongolia and skiing 1,000 miles to the South Pole.
These plans are nowhere set in stone but it shows how Dave is thinking ahead. In some cases an adventure planned for say 2016 will need extra training squeezed in around his other adventures. But a commitment like this cannot happen without support and Dave is now looking for volunteers who want to lend a hand. He's even put a request out for unsigned bands to donate their music to use on some of the adventure videos he'll be making.
"I've now got 12 great people on board helping me out and I'm walking on air," he says. "I've got over the stubborn youthful phase and realised that I can't do all of the organising alone. If there is anyone out there looking to develop their adventure skills then I'd love to hear from them."
Dave is also very clear about where the money he raises goes. All of his expedition costs are funded by sponsors (and by himself) and every penny he raises for charity goes to charity (and not to fund the adventure). By doing Expedition 1000 he hopes to raise a million pounds for the AV Foundation and CoppaFeel. The AV foundation works in East African schools and communities developing water system infrastructure to ensure the availability of electricity and safe, potable water for all. CoppaFeel is a charity with the goal of reducing the incidence of late detection or misdiagnosed breast cancer. Anyone can choose the cause they'd prefer to donate to. More than raising money, Dave also hopes his journeys by non-motorised transport will encourage people to start thinking about keeping healthier and caring for the planet.
Some people have likened Expedition 1000 to a bucket-list and although Dave takes slight umbrage at the term bucket-list (because it implies you're going to die), he does agree with the concept adding, "If you actually sit down and make a list of the things you want to achieve, it certainly does make you more aware of exactly what it is you want to do with your life."
And there's no doubt that Dave's life is certainly going to be full of adventure for the next five years.
"Thank God I'm single," he jokes. "There's absolutely no period of rest for this. It's going to be full on."
Read more about Dave and Expedition 1000 at his website