LEKI, the famous maker of skiing and hiking poles, has just updated its logo for the first time in 33 years.
The neater, modern logo is much more in keeping with the amazing design and technology that goes in to its products. Many more of us are using LEKI products with the brand saying its seen growth in sales around the world.
There are products for skiing, trail running and hiking. All have come a long way since LEKI was founded in 1948 years ago by Karl Lenhart in Germany. Today the HQ remains in Germany but all of the products are manufactured in the Czech Republic.
Incredibly, the brand has 1,000 brand ambassadors worldwide, giving them a unique pool of product development experts from athletes, mountain guides and alpine climbers. Many of them have helped to develop the new LEKI ski poles for this season. 

Innovations for 2022
While this feature focuses on LEKI ski poles, later this summer LEKI has three new core innovations coming out. The first is called Aergon Air for trekking, following on from the original Aergon. Next is Trail Shark, which is the first grip and strap system specifically for trail running. Finally, with sustainability in mind, LEKI has a new patented folding pole replacement system known as FX, which will allow customers to replace sections easily and quickly themselves. Take a look at some of LEKI's existing innovations here. All will be launched on March 1st.
LEKI ski poles for 2022
It can be quite bewildering deciding which ski pole to go for, so here's a look at some of the new products. First up, if you're after an 'all-mountain' pole, then check out the Neolite Airfoil. It has a great price point of £62.99, a teardrop shape (fat at the front and thin at the back, like the cross section of an airplane wing to reduce drag). The hand grip is a 'Pro G PAS', shaped to give you a really great feel in the palm of your hand. 
Jet-like performance from this one
Next is the Airfoil 3D, something for those who want more performance (priced at £104.99). This has the Trigger 3D system with a quick release button for easy click in and out, a hook for maximum release range and it supports natural movement, protecting the wrist. The pole cross-section has a teardrop-shape like the Neolite Airfoil. Made from high quality HTS 6.5 aluminium so very resistant to even the hardest stress.
One for beginners
The Bold Lite S is a good option for safety-conscious beginners (£84.99). It has a Trigger S system (click in and out) that releases upwards in the event of a fall, helping to prevent injury. The Trigger S Slalom grip has four finger grooves and an additional support area to help you hold the pole effortlessly all day long. The grip is compatible with all LEKI Trigger straps and gloves.
One for the ladies
The Stella S is built for especially for a woman's slender hand (£82.99). It's made from high-strength aluminium and is one of the lightest alpine ski poles made by LEKI. The grip and soft pole strap are made from a thermal material to help keep fingers warm. Even the strap has a handwritten-style Leki logo stitched in to it.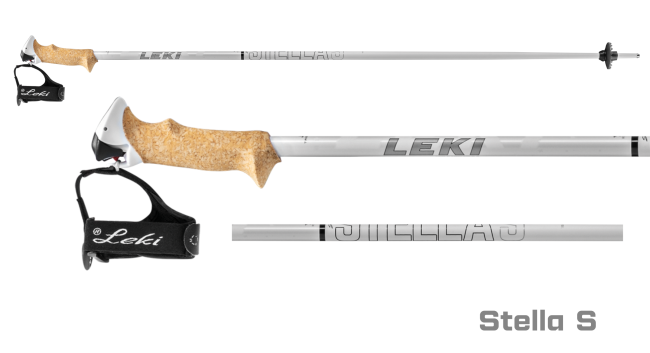 A carbon-fibre beauty
The Carbon 14 3D is a high-end ski pole, made from 100% carbon fibre and priced at £134.99. It has LEKI's Trigger 3D Slalom Grip, with four non-slip finger grooves and an additional support area for maximum comfort and grip. This has become a firm favourite with more advanced skiers. 
One that holds a drink (yes really)
Finally, the best left to last, which is a pole that can actually carry a drink inside it! The Hot Shot S (£124.99) holds 138 to 200 ml of your favourite beverage inside the anodised pole shaft. Simply unscrew the grip, take a drink and screw it back in place. Other technical features include the Trigger S Slalom Grip and Trigger Vario Strap. It offers easy click in and out of the pole with the Trigger Loop. Made from high strength aluminium.
See more at www.leki.com/uk/