Inky black water slowly changes colour to dark cobalt then lighter blue as we finish loading the fishing boat with our supplies.
Motoring gently out of the harbour in San Sebastián de La Gomera, we pass again the 35 rowing boats, silently waiting for their crews, ready to take on the Atlantic Ocean. Out of the harbour, salt spray and thick sweet coffee bring us fully awake and out of that pre-dawn zombie state the existence somewhere between full sleep and wide awake.
Leaning our backs against the hull and bracing against the swell, we soak up the heat. Bird calls break our reverie. We search the cliff faces to our right, hoping a glimpse of tiny forms diving in search of fish.
Rounding our first headland we come across an oasis, nestled in a small cove and bursting with colours of chartreuse green, sunburst yellow and damask rose. A stark contrast to the grey, black and sandy hues of the surrounding landscape.
All too soon this unexpected gem is hidden once more behind another fold in the cliffs. Luck is with us, for the next headland falls away to reveal another spectacle. On this deserted rocky beach, is a wilderness bar, seemingly constructed in a Robinson Crusoe fashion.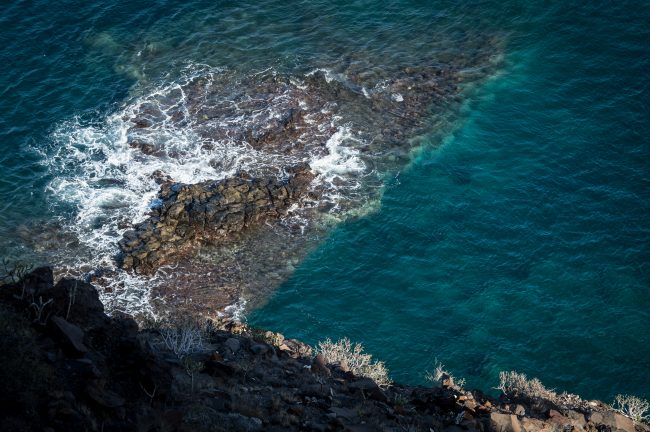 Looking like its bones of wood and stone have been bleached pale from years of tropical sun. This feeling of a long and organic construction are a beautiful artifice. Within days, this bar and wild food experience will be removed from the landscape, leaving nothing behind but memories. For now, we have the interesting challenge of landing on the shore. A floating pontoon rises and falls, pulsing with the waves.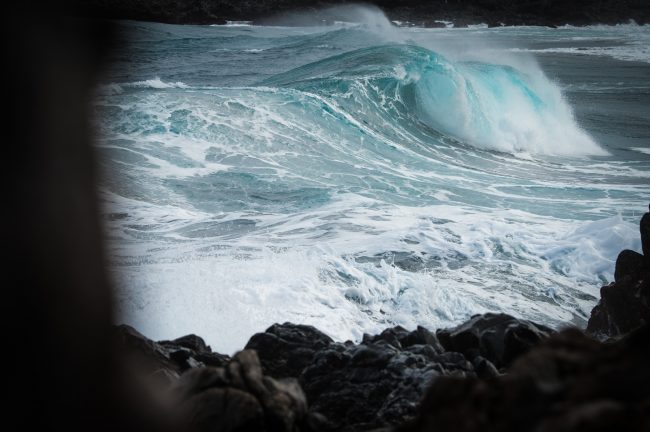 Timing our moves, we step lightly onto the pontoon. A few steps later we're greeted with a signature cocktail, created from wild edibles and Talisker Whisky. Notes of salt, citrus and spice give the drink an unexpected depth. The salt taste marries perfectly with fresh oyster served unadorned. Simple, rustic and elegant.


A shift in the wind direction carries sounds of revelry. A second bar, seating area and a fire table are thronged with a medley of people. Athletes and adventures, writers and sailors. All on this remote beach to enjoy tales of challenge and exploration. We're here to celebrate and toast the forthcoming start of an epic and daunting journey – The Talisker Whisky Atlantic Challenge.
More than one hundred brave souls will soon drop below our horizon, heading west in search of a finishing line over five thousand kilometres away in Antigua.
For now, it's time to sample various iterations of Talisker Whisky used as an integral element for cocktails and wild cooking.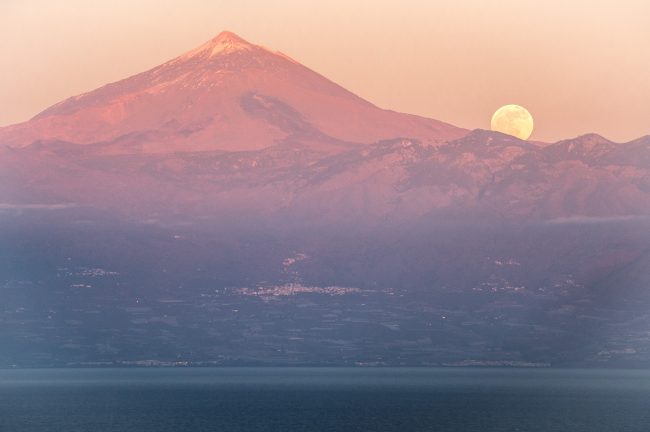 Replete and relaxed we're joined together, flooded with light and laughter. Good food, drink and company together in a home or restaurant can bring us together. The same experience, enjoyed in the wild adds a much deeper element. Connecting us to shared ancestral memories; that of communities joined as one, sharing adventures, hopes and fears, risk and reward.
And most importantly pulling together as a team as we venture towards the horizon and into the unknown.
---
Recipe: Slow cooked goat tacos with orange, lime, chili and Talisker whisky
Serves 2
Ingredients:
200g diced goat shoulder, or for a quicker dish use lamb loin
50ml Talisker 10 whisky
Juice and zest 3 oranges
Juice and zest 2 limes
1 tsp coriander seed
Salt and pepper
1 red chilli, deseeded and sliced
1 tsp dried seaweed
1 spring onion, sliced
Blue corn tortillas
To serve:
Black lava salt – regular sea salt will suffice
A few rings of chilli
Fresh coriander leaf, chopped
Method: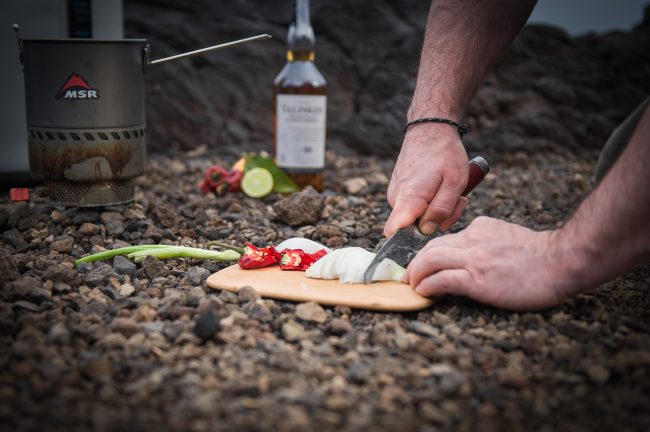 1. Season the goat with salt and pepper.
2. Bring a saucepan to a medium heat.
3. Add the lime and orange juice, Talisker whisky, half the zest, coriander seed, seaweed, chilli and spring onion.
4. Bring to a simmer, add the goat and cook slowly for 30 minutes.
5. Taste and season if necessary.
6. Continue cooking until most of the liquid has evaporated and the meat/juice mix has turned sticky.
7. Shred the meat with forks.
8. Toast the corn tortillas over an open flame or in a dry pan if you prefer.
To serve:
Spoon the goat meat onto two tacos at a time – so the tacos don't get soggy.
Season with a little coriander leaf, chilli, zest, and black lava salt.
Eat and repeat.
---
For more wild-cooking inspiration follow @kierancreevy or visit www.kierancreevy.com
Photos by @lisapaarviophotography  and her website at www.lisapaarvio-photography.com