Have you always wanted to do more in the outdoors, but find your mental health holds you back and stops you from living the life you imagine?
If so, this book from 24-year-old Alex Staniforth might help you make those first steps to living a more adventurous life and learn coping mechanisms to get by. Alex has suffered with epilepsy, stammering, bullying, depression and eating disorders, yet has been able to get himself through endurance challenges and take part in expeditions.
In the book's introduction Alex explains where he thinks the problems began; "I think it all started at school. I was terrified of fitting in and sought out approval in different ways. Childhood epilepsy got in the way of the sort of care-free lifestyle a 10-year-old normally enjoys, while going to high school with a humiliating stammer stood me out a mile more. The relentless bullying I suffered didn't exactly acclimatise me either. I believed I was born to fail."
Throughout school Alex focused on an ambition to summit Mount Everest as a way to cope with depression, an eating disorder and being bullied.
His first attempt to climb Everest in 2014 ended in disaster with an avalanche that tragically killed sixteen people and cancelled the expedition. In 2015 he returned but the team he was with were stuck on Everest after a huge earthquake hit Nepal. This brings us to the title of the book, 'Another Peak', hinting at the possibility that you don't have to pin all your hopes on one mountain to live a happier life.
Instead, Alex discovers a new purpose and plans to become the fastest and youngest person to climb all 100 UK county tops in 72 days, getting to them either by foot, bicycle or kayak (the challenge was called 'Climb The UK'). As you might expect, his mental health isn't the best during it all and in the book Alex speaks very openly about his mindset and feelings throughout.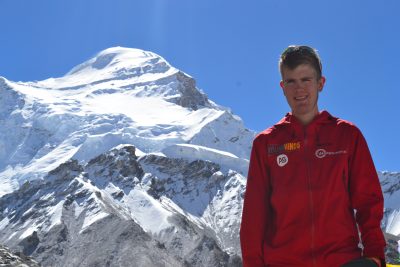 At the front of the book Alex writes that this book is for "everyone fighting the mountains in their own minds. No matter how steep the slope gets, the view on the top is worth the climb. Keep going". There's also a lovely foreword by Elise Downing where she says: "If spending time in the great outdoors is a tool that can make just one person suffer a little less, then that's a story worth telling."
The aim of the book is to educate others and inspire hope that mental illness is no barrier to achievement; particularly for males suffering with mental health issues.
Alex says: "Another Peak shares my honest experiences with the peaks and troughs of mental illness, told through the literal peaks and troughs of outdoor challenges, not only to promote the well-being benefits of being outdoors but to create hope of what can be achieved regardless of our personal challenges. Another Peak will be much more than just an adventure book and appeal not only to outdoors and fitness enthusiasts, but anyone looking for inspiration; particularly other men afraid to open up due to the current stigma around mental health."
This book has been published by Trigger Publishing, a mental health and wellbeing publisher, who shares uplifting and inspirational mental health stories and self-help books, to aid people in their own recovery. All Trigger titles use the expertise and endorsement of highly qualified clinicians. All profits from the sale of Trigger books go to a sister charity, The Shaw Mind Foundation.
Another Peak is on sale now in paperback (9781789560770) and priced at £9.99. Buy from here.