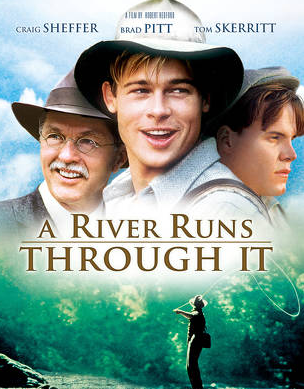 Do you remember the book (and film) called A River Runs Through It? 
The book was written by Norman Maclean in 1976 and then developed in to a film in 1992. The basic premise was the shared love of fly fishing between two brothers, despite them leading very different lives.
The film is a visual treat, showing fishing, adventure and being in nature in the beautiful state of Montana, and now on 1st June, comes a new book called Home Waters which has been written by Norman's son, John Maclean.
It's a memoir, where John reflects on fly fishing and life along Montana's Blackfoot River, and he says you don't need to have read his father's book to follow this one.
He says: I don't think you must read the one to "get" the other, but it doesn't hurt either. I did not set out to write a companion book to A River Runs through It. So, when an early reader remarked, "It's the backstory for A River Runs through It!" I was surprised and a little shocked. I've come to prefer the milder term "companion" book."
John says the event that triggered him to write Home Waters was a battle with a giant rainbow trout on the Blackfoot River at a place his dad made famous A River Runs Through It. John adds: "He used to tell me the story when I was a little kid, about a big rainbow he caught there. I asked to go fish there, of course, but he said he'd lost touch with the rancher who'd given him access. Eventually a friend of mine from Chicago bought a ranch bordering the hole and I could fish there at last. My rainbow was the biggest one I've ever seen on the Blackfoot River. And I sat there afterwards and said to myself, "I've been thinking about this hole my entire life, and I've been trying for a fish like this my whole life." And eventually that thought became a book."
Publishing just ahead of Father's Day, this handsomely designed book will make the perfect gift and readers will find something to relate to – from the importance of family – to a love of the natural world.
He also uses the adventure of fly fishing as a metaphor for life. "Fly fishing is about more than catching fish," says John. "Fishing attaches you to something unseen, or seen just in flashes. There is a mystical or spiritual dimension to it. While the fish isn't as powerful as you are, it's a master of its environment and can match or overmatch you. Fish are beautiful, sleek and highly coloured with liquid eyes, and they tend to live in clean, wild places, so it qualifies too as an artistic experience. Now that I mostly release fish, that adds a different aspect to the relationship as you carefully help them recover from the battle, release them, and watch them reclaim freedom."
Home Waters features twelve original wood engravings by master printer Wesley W. Bates, specially commissioned to illustrate the text. It also includes a map of the Blackfoot River region and a 16-page colour photo insert with stunning photographs of the Montana setting depicted in the book.
HOME WATERS: A Chronicle of Family and a River
Custom House | On Sale: 6/1/2021
Hardcover | ISBN: 9780062944597| $25.99
16-page colour photo insert and 12 original wood engravings
Also available in E-Book and Digital Audio
E-book ISBN: 9780062944610 | Audio ISBN: 9780062944627