The La Sportiva Cyklon is certainly one of the most exciting trail running designs to come along in recent times, thanks to its BOA lacing system.
We previewed their release back in April and have been trying a pair out on runs in Scotland.
If you're a cyclist you will have possibly seen the BOA system in cycling shoes. It's a hardwearing plastic dial that you press in and then twist to tighten up the laces. To undo, you simply pull the dial up with a 'pop' and the tension is loosened off. The dial lets you quickly tighten or loosen the laces depending on the type of terrain you're running on, saving you time. (Note you'll see BOA's marketing phrases are 'DIALED IN' along with 'FIT TO GO FURTHER', cleverly linking the dial you twist and the great fit the system gives).
I was sent a UK size 10 (EU 44.5) and they have a 8 mm drop and 315 gram weight per shoe. I've heard that for La Sportiva you should go up a half or full-size and I'd say a EU 45 or EU 45.5 might have been a better choice just to give my toes a bit more room.
Please keep in mind that the Cyklon have been designed especially for sky racers and runners on technical terrain for short to medium distances. I have to say right from the outset that this is exactly the kind of running you should buy these for; if you're looking for a pair of trainers you can slip on and do local trail runs then these won't be for you. For long distance you might want to look at others in the La Sportiva range too.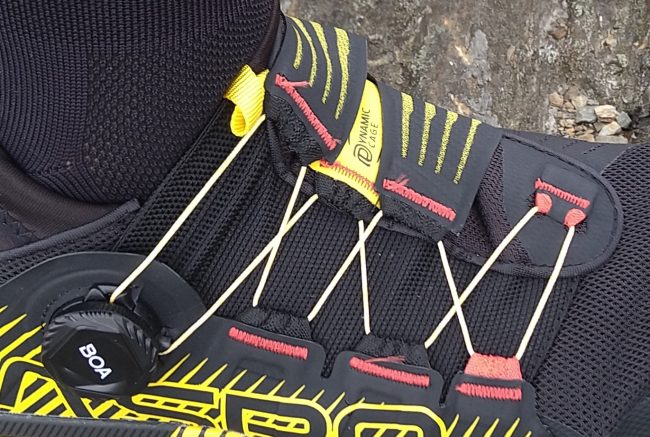 So why go for a pair of trail runners with this kind of lacing system? Well, BOA Technology Inc, the company behind it, say the system gives a 3% to 9% improvement in agility and speed when compared to standard shoe laces. Up until now most footwear research has focused on the outsole and the midsole, but very little research has gone in to how the upper affects performance. You'll see that the upper on the Cyklon is made from three panels, something they call a BOA Tri Panel. They've experimented with other upper designs too, such as a BOA Y Wrap and a standard BOA Lace Replacement too, but it's the tri panel that has given the best results. The video below gives a clearer introduction in to how it works.
The biggest surprise for me taking these out of the box was the wetsuit-like fabric used for the heel collar around the ankle. It's like you're putting your foot into a pair of socks. The aim of that fabric is to keep dirt and dust out. Putting them on for the first time, they have a similar feel to slipping into a cycling shoe, except there's a lot more comfort and support around the ankle.
It was fun tightening up the BOA system for the first time and seeing the 'Dynamic Cage' tighten over the mid-foot. Instead of pulling two sides of fabric together from the middle (like a normal shoe), it actually pulls the upper from one side to the other, a bit like pulling a duvet cover over yourself. By pressing down on different parts of the lace you can twist the dial to then get the tension where you want it. I found it very easy to make a micro adjustments by twisting the dial, so if I felt a tight or loose spot, I could easily sort it. 
My heel felt nicely supported and that Dynamic Cage gives a really close snug fit that I haven't experienced in other trail running shoes before. It's the heel cup that really came in to its own on technical terrain though. It's this kind of terrain where ankle rolls can occur, but you really do feel well supported, almost the same feeling you get from a hiking boot. Having broken my ankle last November, these certainly felt good on my feet and gave me confidence. There's a protective TPU toe guard that works well, and the mesh fabric over the top of the toes is very breathable. 
The feeling under the foot isn't bouncy or soft, so if that's what you're used to then these might feel a little hard. Overall it's a very stable and protected ride. There is a degree of cushioning thanks to the Ortholite insoles. Those 7mm lugs on the outsole give great grip in mud and the FriXion rubber on the outsole felt great over rocks. 


The Yellow/Black colour you see here won't be available in the UK. The male version comes in Neon/Goji (see above) and the female version in Hibiscus/Malibu Blue. The men's version is on sale now and the women's will be available in September. Price expected to be £140.
VERDICT
"The BOA fit certainly changes how a trail shoe performs and the Cyklon certainly feel unique to wear. These aren't the kind of trail running shoes you can wear day-to-day; they're made for a specific purpose and that purpose is to give you support on steep terrain. The Cyklon's are light and supportive but it's the BOA fit and the Dynamic Cage upper that really give them a great fit and style."