Canyon has teamed up with World Bicycle Relief to raffle this limited edition, hand-painted e-bike.
It's a Canyon Commuter:ON – Penfold Edition which is based on the much loved Commuter:ON 7, powered by Fazua, an incredibly versatile city e-bike.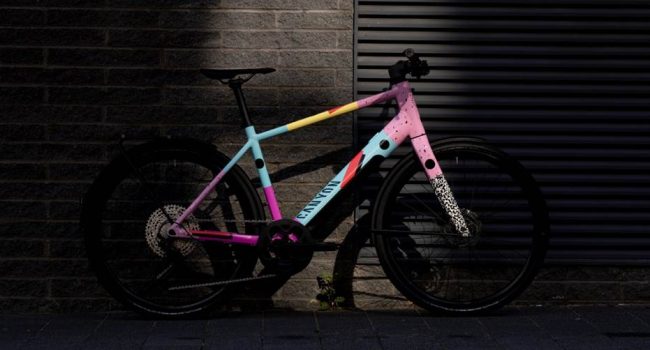 The one-of-a-kind bike was designed at The Cycle Show in London by renowned artist Tim Gresham, also know as Mr Penfold.
Tim meticulously hand painted the frame live throughout the show.
Now the bike has been built it's just a raffle ticket away from someone winning it.
Speaking at The Cycle Show, Tim said: "I'm painting something fun, colourful, bold, maybe a bit different to what you see on other bikes. I'm taking my style and putting it on a different canvas. It's simple, fun and jazzy. I guess when painting this I wanted to reflect good vibes and positive energy. I wanted it to be something that you could ride or hang on a wall, its like a piece of art. As the bike being raffled for World Bicycle Relief, I really like the idea that someone is going to donate to the charity, make a difference and receive something amazing in return''.


World Bicycle Relief is a non-profit organisation that specialises in bicycle distribution programs to aid poverty relief.
Aaron Budd, Head of Sales and Marketing for Canyon UK says: "This was a rare opportunity to take one of our staple commuting bikes and rip up the rule book in terms of its aesthetic design. My team and I immediately fell in love with the design and work of Tim (Mr Penfold) and it was an incredible experience working with the artist to see the project go from a design brief, to a live working project, and then a finished e-bike- all for an amazing, charitable cause."


The raffle will go live on Crowdfunder on the 10th June worldwide here https://canyon.live/penfold-wbr
Canyon UK will have the e-bike on show at the Tour of Cambridgeshire too as the raffle goes live.