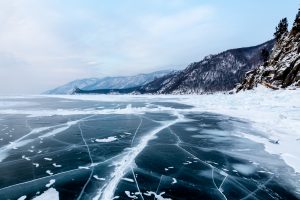 Regular readers will remember our story on Karolis Mieliauskas who rode a motorcycle across Lake Baikal in Siberia, but here's one about a pair who have walked across it. 
British adventurers, Ash Routen and Phil Sturgeon, in partnership with Sub Zero and SIGG, successfully completed the expedition on the 18th March. The successful crossing makes Ash the youngest Briton to have walked Lake Baikal entirely on foot.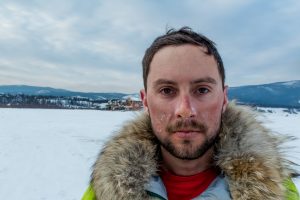 Ash (31) lives in Leicester and is an academic at Loughborough University with a PhD in Physical Activity and Public Health. He has been on two previous polar expeditions (in Arctic Norway), as well as cycling the length of France, and is a regular hill walker.
Phil (50) lives in Southwell near Nottingham and is a self-employed plumber. He has been on a previous expedition with Ash before and has completed one of the world's toughest endurance races – the Spine Race. Phil is also a regular hill walker and rock climber.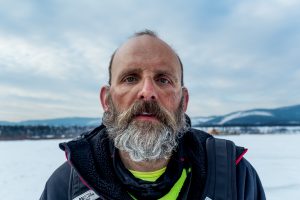 The pair started from the southern shores of Lake Baikal at Listvyanka, and then walked along the western coast of the lake, then walking via Olkhon Island and finishing in Severobaikalsk at the top of the lake.
From there they took a two day train journey across Siberia back to the city of Irkutsk and their departure point.
Walking for 8-12 hours per day, Ash and Phil experienced temperatures down to -35 and below with wind chill. They consumed around 5,000 calories per day to maintain the necessary strength to pull the two sledges each, which contained around 80 kg of supplies to complete the journey – and judging from the two brilliant portrait photos above, you can see they've certainly pushed themselves.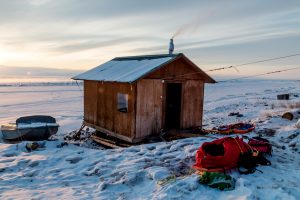 They walked across large areas of uncovered ice (no snow cover) and small sections of open water, as well as ice rubble formed by colliding sheets of ice.
The pair stayed in a tent or remote huts; on one occasion they saw a bear that was scared off with gunfire by a local ranger.
Now that they are back in the UK, Ash is going to set out on a series of talks about the expedition and no doubt has some plans for another. He tells us: "If I can raise funding and find the time in future around work, there are some other large frozen lakes that either haven't been crossed by Brits, or haven't been crossed at all. It's quite important to me that future trips aren't just following the same old path that others have taken."
We couldn't agree more Ash.
Supporting partners for the Lake Baikal expedition were: Meteo Gib, Grangers, Blackfriars, Follow my Challenge and Fuelling your Adventures; and supplier partners Land Rover, Expedition Foods and Nordisk Outdoor; and Baikal based logistics partner Eugene Kaplunenko of A-B tours.