For 2020, Visit Wales has identified five of the top outdoor trends emerging across the world – and all five of these are being developed in Wales in new and innovative ways.
The full report called 'Let the Outdoors In: Global Outdoor Travel Trends 2020' has been developed in collaboration with a number of key names in adventure, namely Benjamin Clifford who runs an adaptive surf school in South Wales, former Welsh rugby international and adventurer Richard Parks, and self-confessed 'wild woman' – award winning adventure writer and journalist, Phoebe Smith, and Sian Tucker from the Fforest outdoor hotel.
From their expert analysis, real life experiences and an insight into Wales' outdoor originators, the report explores a global trends in adventure and points out places in Wales where you can make the most of each one. Here's a brief look at the five trends with examples of trips, places and companies to book with.
TREND 1 – Women in the outdoors
The report says the outdoors hasn't always been enjoyed to its full advantage by women. But this is changing as we head into 2020, with more women embracing the benefits and dispelling stereotypical images of outdoor adventure activities.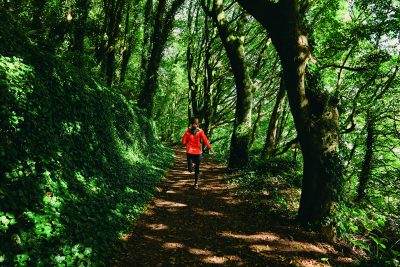 Sian Sykes has travelled the world seeking outdoor adventures, and now teaches stand-up paddleboarding on the beautiful island of Anglesey. She says: "Facing up to the elements and feeling invigorated by the water is like nothing else. But I've met women who have felt anxious about the outdoors – whether it's because they've hit their teenage years and lost confidence, are affected by cultural stereotypes, or simply have less leisure time. This is shifting, and I'm seeing more and more women seeking a connection to the outdoors to challenge themselves mentally and physically – and above all, to give it a go."
Mental wellbeing is an important reason why women are seeking out creative ways to immerse themselves in the great outdoors. Sarah Mullis is from the Bluetits chill swimmers, which started in Pembrokeshire and is growing in popularity in Wales and beyond. She says: "I used to associate the outdoors with cycling, running and competitive men in lycra, but chill s  wimming changed that for me. The women we swim with – because although we do welcome men, and love it when they come along, the group is predominantly women – have all sorts of things going on in their lives: cancer treatment, relatives to care for, depression and the menopause to name but a few. But when we all get together and go for a swim, our problems seem that little bit smaller and more manageable."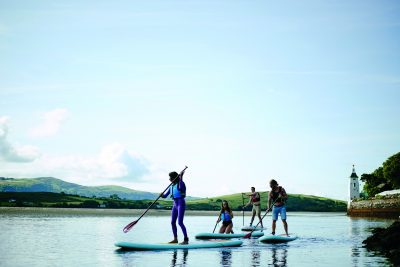 Phoebe Smith is one of the UK's leading adventure writers. Having grown up on the edge of Snowdonia National Park in North Wales, she has been an advocate for outdoor experiences in her own backyard and beyond for the past 14 years. She has made it her mission to encourage other women (and men) to adopt a "push-yourself-out-of- your-comfort-zone" mentality.
She says: "Wales is the ideal place for outdoor adventures. For me, the landscapes don't just provide the scene in which adventures take place. They're like pages in a book, each telling a multitude of stories – of geology, history, folklore, song, culture and human endeavour."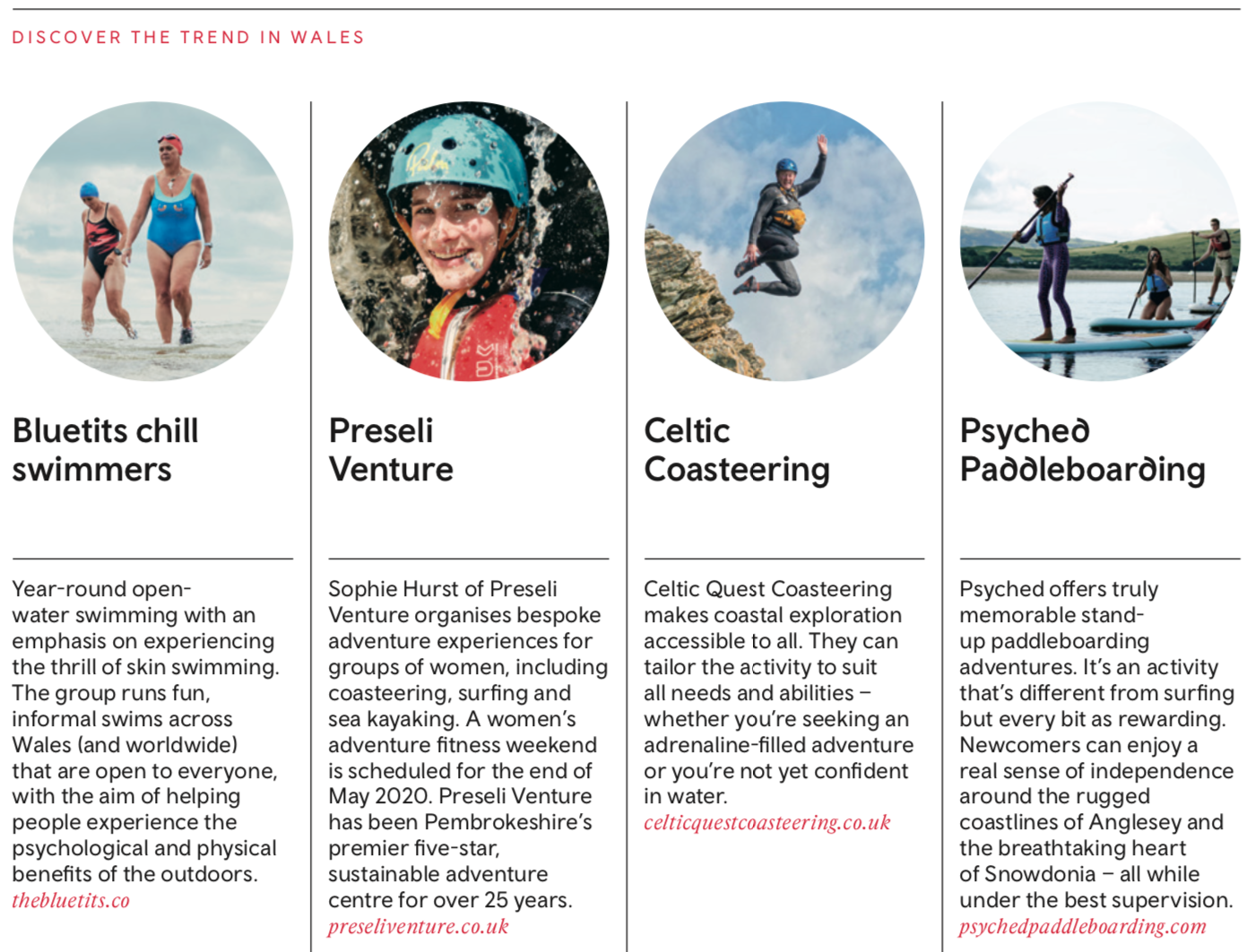 thebluetits.co
preseliventure.co.uk
celticquestcoasteering.com
psychedpaddleboarding.com
TREND 2 – Walking it out
Walking is one of the most popular outdoor activities in Wales, embodied by products such as the Wales Coast Path and Offa's Dyke Path. In conjunction with Ramblers Cymru, the report details how against a backdrop of social media, stress at work and geographical isolation, walking in the outdoors to connect with others and improve human relationships, will be a key trend to watch in 2020.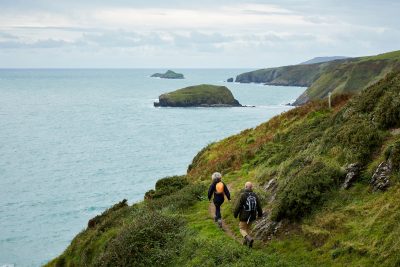 The positive effects of walking on both physical and mental health have long been recognised. But in  2020, a new way of understanding the benefits of walking while travelling and in our everyday lives is unfolding. Stressful lifestyles, hectic work schedules and isolation from friends and family are recognised as factors in causing loneliness and disconnection. As a result, walking in the outdoors to connect with others in a unique way made possible by the outdoor environment and escape from technology, is on the rise.
Jacky Cross of Meirionnydd Ramblers says: "Mental health problems affect one in four of us, yet many people are still afraid to talk about them. Walking together allows us to open up, strengthen existing relationships and create new friendships. It brings laughter, inspiration and adventure, especially for those of us who might be feeling lonely.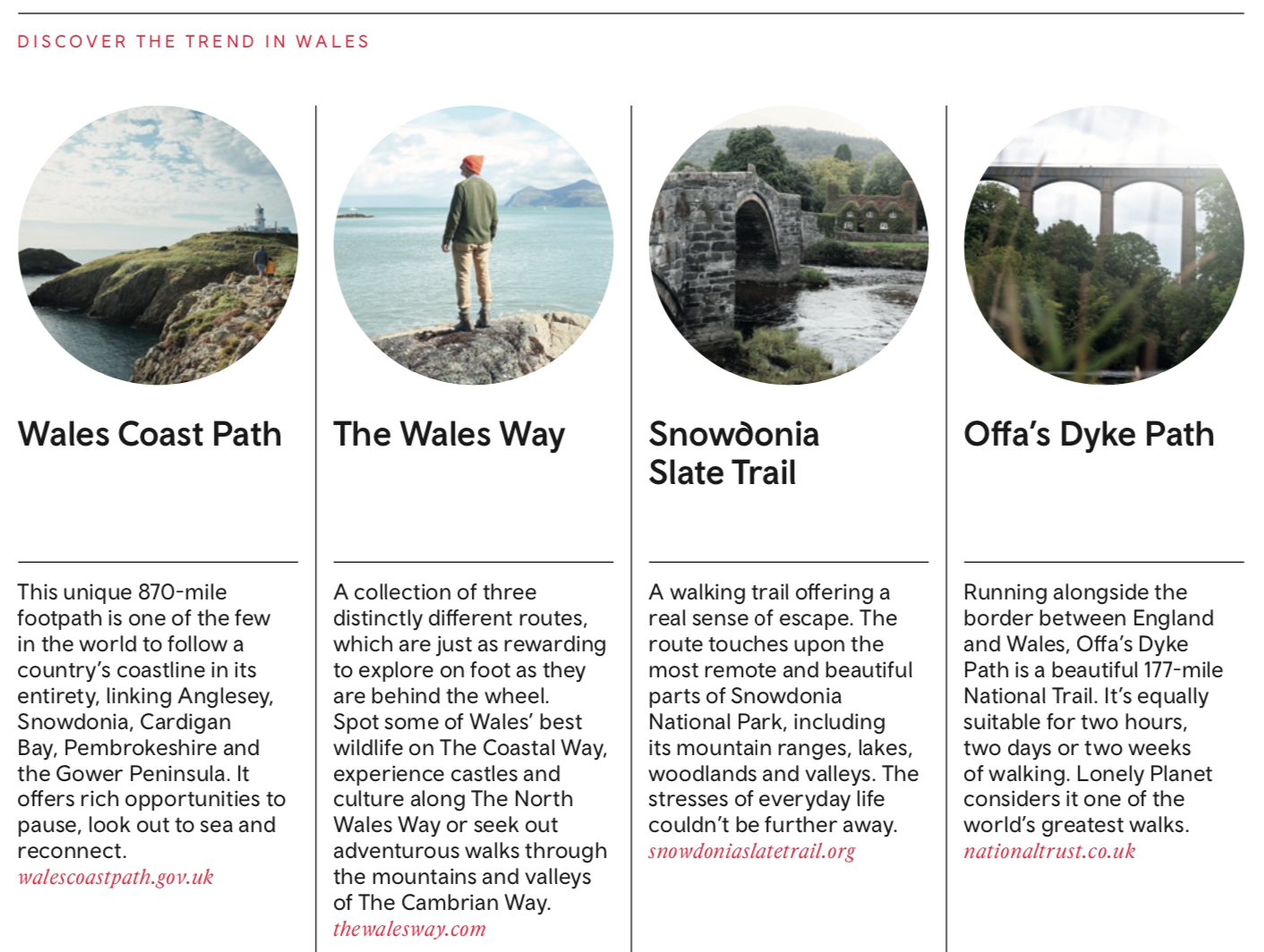 walescoastpath.gov.uk
thewalesway.com
snowdoniaslatetrail.org
nationaltrust.org.uk
TREND 3 – Surfing for the psyche
Surfing demands fearlessness and physical ability but as we head into 2020, experts are starting to better understand its connection to opening up to vulnerability and building resilience which can be taken into everyday life.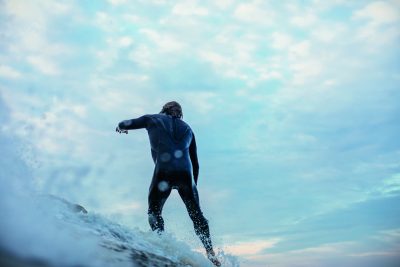 In gaining a sense of control and influence over their emotions and the situation, surfers of all abilities can learn to cope more effectively with difficult situations elsewhere in their lives. A benefit that lower-risk sports are simply unable to offer.
Tim Woodman, professor of performance psychology at Bangor University, comments: "Taking part in outdoor activities that include a perceived physical risk provides significant and long-lasting psychological benefits. Emotions arise that individuals have to control in order to perform the activity. It forces them to deal with a turbulent state of mind, often led by fear.
"Our most recent research shows that it is specifically the risk element in this type of sport that helps people develop their self-esteem, because they learn to adapt to an ever-changing environment. As such, it is a great training ground for life."
Benjamin Clifford, founder of Surfability UK, adds: "Each wave is different and the sea is always in motion – much like life – so people have to practice the skill of being in the moment and connected with their bodies in order to surf."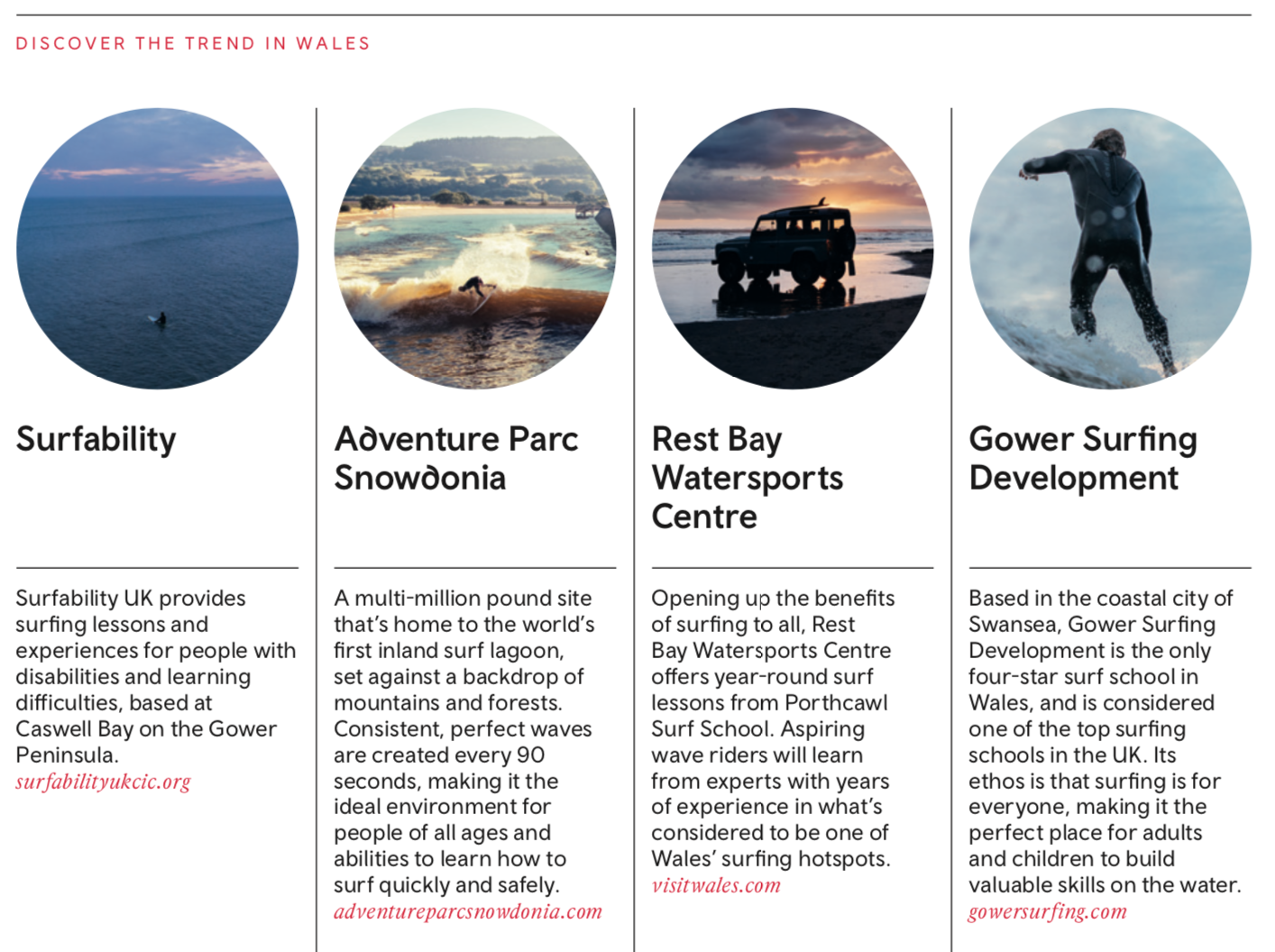 surfabilityukcic.org
adventureparcsnowdonia.com
visitwales.com
gowersurfing.com
TREND 4 – Adventure for the senses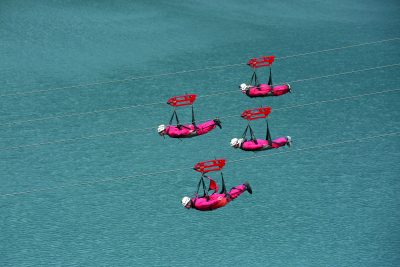 In the face of increased working hours and higher stress levels, more and more visitors want their time outdoors to provide them with a new type of challenge and a greater sense of fulfilment. 2020 is set to see more travellers moving away from routine outdoor breaks, and opting instead for adrenaline-fuelled adventures. This has produced a new generation of daredevil explorers, keen to reassess what they can take from the outdoors to create a sense of balance in their busy lives.
Andrew Hudson from Zip World, home to the longest zip line in Europe and the fastest in the world, says: "Often, those people who come to Zip World for the first time underestimate the real impact it will have on them. Zip lining is one of the most accessible adrenaline activities – everyone from children to grandparents can take part. But when they do, they slide into a totally new perspective on life and achieve a true escape from the daily grind."
Richard Parks is a world-leading extreme environment athlete, who has led socially motivated expeditions as far afield as Antarctica and as close to home as Abereiddy. He is the first person to climb the highest mountain on each of the world's seven continents and stand on the North and South Pole in the same calendar year, and the first Welshman to ski solo and unsupported to the South Pole. A former Welsh rugby international, he is an executive coach, a BAFTA-nominated television presenter and the award-winning author of Beyond the Horizon: Extreme Adventures at the End of the World. He says: "In Wales, you're never far away from feeling completely immersed in nature and connected to our world. I love exploring my limits. When the challenge demands my entire concentration, it forces me to be present in that moment.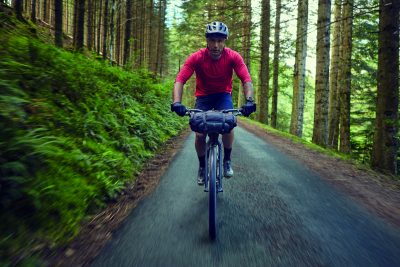 "From single-track mountain biking to abseiling into a coasteering route, personal growth comes from exploring our limits safely in nature. I love the solo projects, but shared adventures, family adventures and empowering others to find their adventures is the best.
"Every summit and record of mine has been rooted in thousands of hours and miles of fine- tuning my systems, my equipment and myself in Wales' outdoor cathedral.
"There's something to challenge all of us here in Wales, from outdoor experts to novices. From the groundbreaking Adventure Parc Snowdonia and the wilderness of the Cambrian Mountains to some of the world's toughest adventure races, around every ridge line and waterfall there's a life-changing experience if you're up for it. I'll see you guys out there!"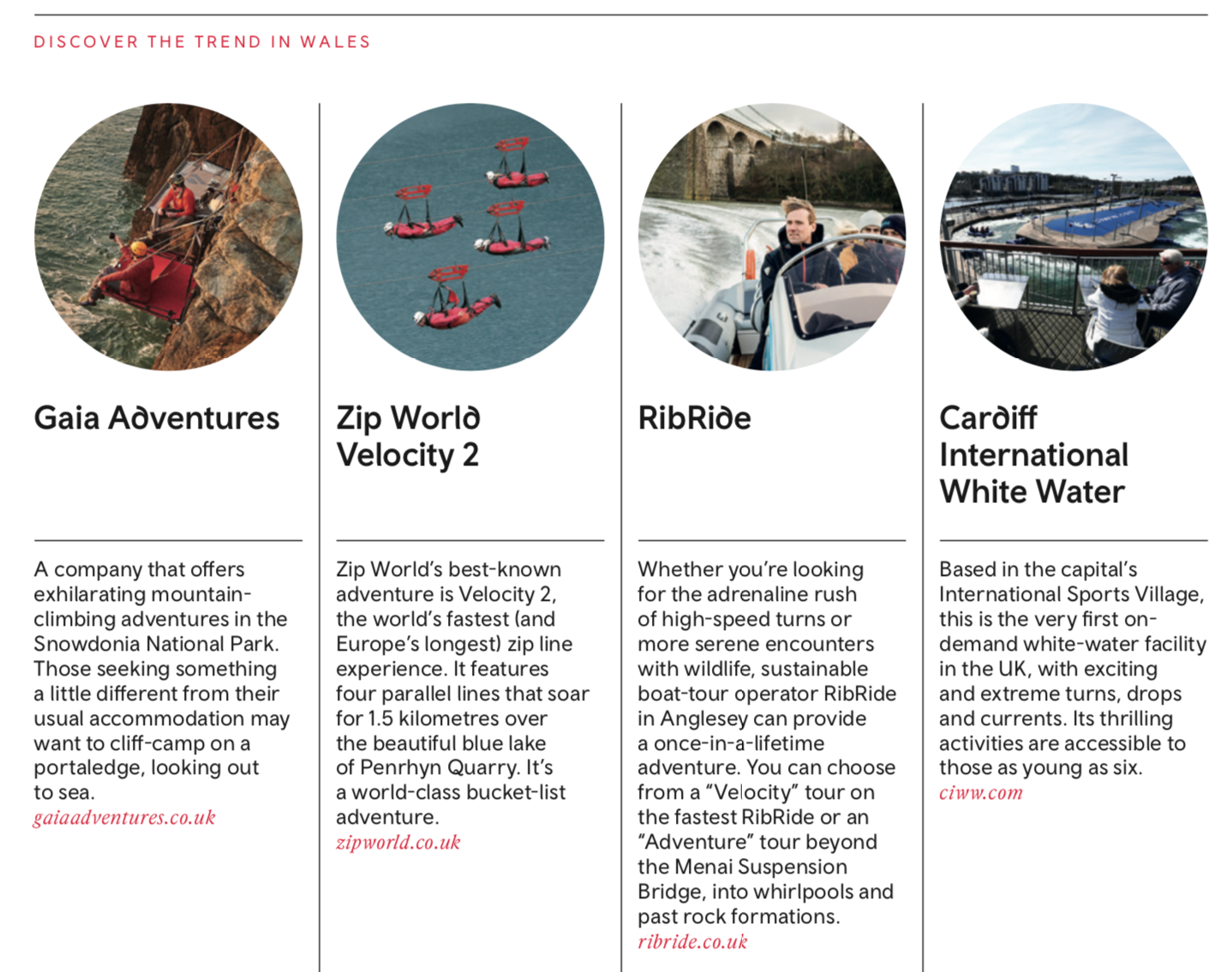 gaiaadventures.co.uk
zipworld.co.uk
ribride.co.uk
ciww.com
TREND 5 – Eating natural
In 2020, "field to fork" is an ideology that will have more of an influence over food tourism than ever before. Knowing where ingredients come from is  becoming more of a priority for an increasing number of 'food tourists' who want to link what they eat to the outdoors, where it begins its journey to our plate.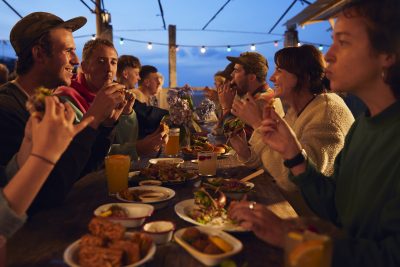 Now the connection between food and the outdoors is being taken to a new level. Where hyper-local sourcing and foraging may once have been the preserve of experts, visitors can now literally take matters into their own hands by taking part in foraging breaks. Not only are food fanatics seeking holidays where they can eat and source food from the outdoors, they are finding unique and beautiful locations to eat in the elements, furthering their connection to the land where their food came from.
Sian Tucker from Fforest outdoor hotel, said: "Growing and eating your own food is a great pleasure, as well as foraging and gathering food in the outdoors. We encourage people to learn how to identify edible plants, and forage for wild and natural food: mushrooms, herbs, shellfish, seaweed, and lots of pure fresh air on the side."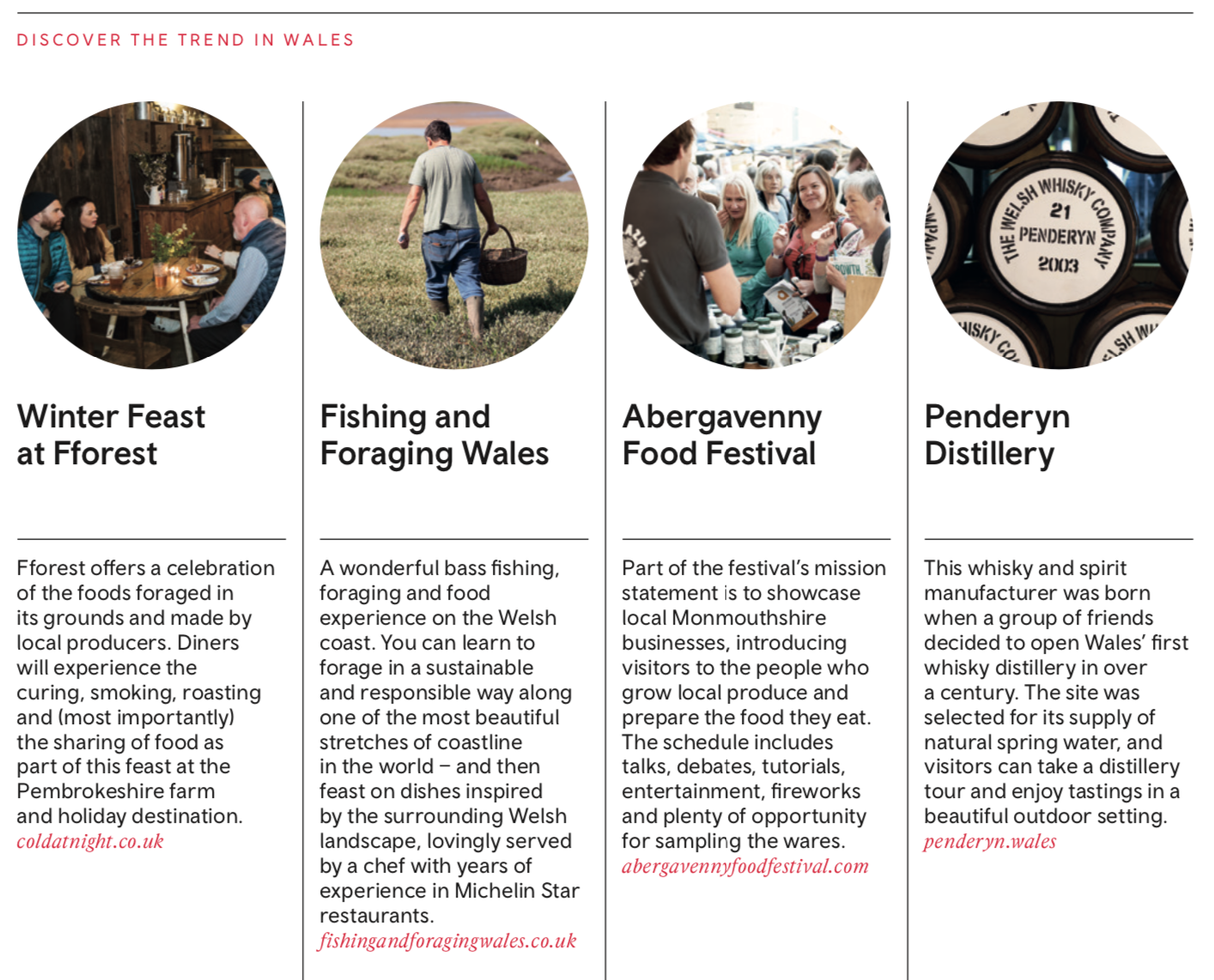 coldatnight.co.uk
fishingandforagingwales.co.uk
abergavennyfoodfestival.com
penderyn.wales
SEE MORE AT VISITWALES.COM