After decades of making outdoor hiking kit, Rab has come up with the Cinder (CNDR) collection for off-road biking adventures.
It will be Rab's first-ever foray into specifically making kit for cycling (although I've used my Rab stuff for cycling for years already).
Cinder includes 31 styles for men and women and features advanced technologies as well as refined designs. Tim Fish, Equip Product Director, explains: "Off road cycling adventures require immense versatility. Dealing with terrain, pace, and fickle weather. We have over 40 years of knowledge and experience crafting clothing and equipment to manage these conditions. This season we're introducing a new cycling collection, combining that experience with a finely tuned fit to enable adventure and exploration."
Rab Cinder Phantom Jackets
The Cinder Phantom Jacket for men and women is the ultimate ultralight waterproof jacket for cyclists. Weighing in at less than 100g, it's an exceptionally packable layer with a silicone grip drop hem. We particularly like the frame attachable stuff sack. The ultralight Pertex® Shield 2.5 layer fabric offers stretch, weather protection and breathability.
Rab Cinder Kinetic
The Cinder Kinetic Jacket is a stretch waterproof biking jacket, offering put-on, keep-on protection. It's made from ultra-soft Proflex™ 3-layer fabric for breathable, lightweight protection. A unique Rab innovation, Proflex™ is made by sandwiching a bespoke PU hydrophilic membrane between two high gauge knit fabrics. Its construction allows Rab to make softshell jackets with the waterproof protection of a traditional hardshell.
Rab Cinder Bibs, Cargo shorts and Liner Shorts
For optimum freedom over any distance, the new Cinder Bibs, Cargo and Liner Shorts use an Elastic Interface® chamois. After extensive field trials and lab research, this chamois was chosen as it suited the needs of a wide demographic of users offering consistent and enduring comfort over distance, days, and all terrain. Lightweight, breathable, and secure, it is built with a mixed cell structure for unmatched elastic recovery. Thanks to Elastic Interface® and their world-wide standard for quality and innovation, this chamois is built to last whatever the distance.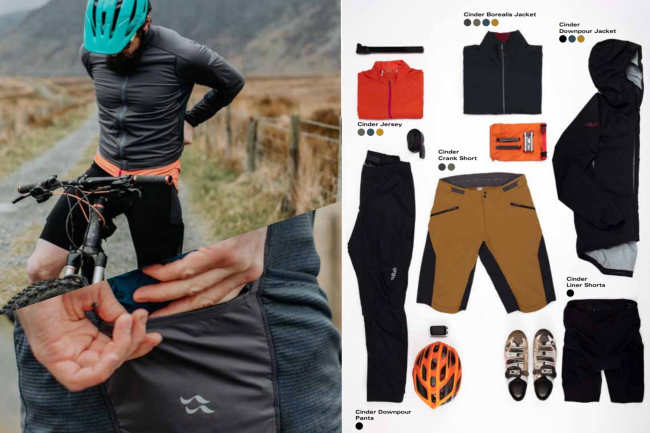 See more on the CNDR range here.