Last night, The North Face streamed a live discussion on climate change from its Glasgow store and talked about how we can all make our voices heard going forward.
The campaign has the tagline 'Take Action, Give Hope' and this special edition of the 'Speaker Series' marks the start of COP26 and was hosted admirably by Julian Lings the Senior Sustainability Manager at The North Face.
For 45 minutes Julian posed questions to three others in the panel – TNF athlete Xavier de le Rue, along with Raquel Martinez who heads up social media for ACE (Action for the Climate Emergency) and Lauren McCallum from the Protect Our Winters organisation (POW).
The talk will be posted on The North Face's YouTube channel in due course, and we'll embed that in this piece when it comes out, but right now, for me, there were some key takeaways from each speaker that have either opened up my eyes wider or backed up what I already thought to be true.
What is true is that action is needed immediately, not further down the line, and there was sound agreement between the speakers that the use of fossil fuels has to be reduced, if not completely stopped. All three also encouraged us to follow ACE and POW, and similar organisations or campaigns so we can educate ourselves further on the key issues.
Campaign video for #TakeActionGiveHope
Before the talk began I had a brief conversation with Julian Lings who leads on The North Face's innovation to become more sustainable and environmentally friendly. I hope to do a bigger interview with Julian soon, but in the short time I spoke to him, I could see how excited he was about the work he's doing and how big outdoor brands that use materials and energy to create products are all going to have to look at new ways of producing and selling in store. He told me that The North Face has very clear targets of what they want to achieve, namely it wants all of its products to be made with recycled, regenerative or responsibly-sourced renewable fabrics. It also wants to develop circular systems to recycle previously-owned gear and reuse the raw materials (this means they are kept out of waste streams) and the first of these products should appear in 2022. Finally, it also wants to eliminate single-use plastic packaging by 2025. Julian had to dash on stage but before he went, he mentioned he was working on a regenerative cotton project and this is something we hope to find more about when we get time with him again.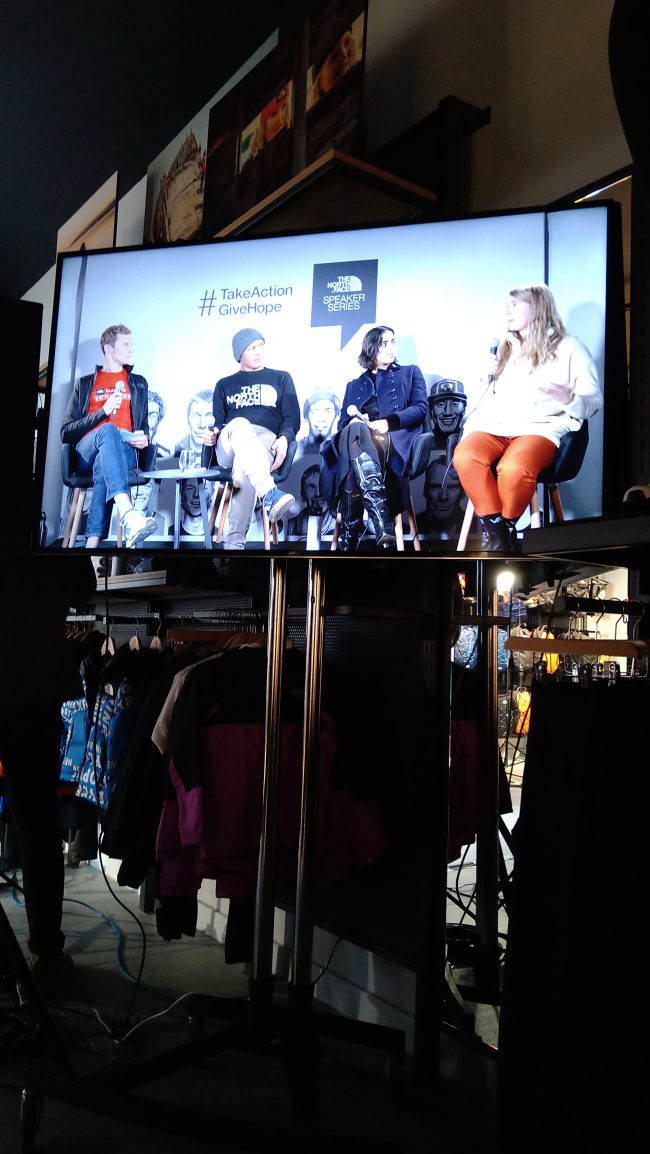 Xavier De Le Rue was extremely humble and you could clearly see that he was aware of his impact, saying how the glaciers he skied as a child are now rapidly changing, to the point where it's noticeable from one season to the next. He said he'd always wanted to talk about climate change but felt guilty to do so because of his travelling and being used as a "tool of promotion for consumption", a nod to his sponsorship from The North Face. "I had a lack of knowledge too and so much information online is conflicting," he said. Things changed for Xavier when he was asked to be involved in a project promoting eco-skiing and snowboarding in Verbier and it was working alongside climate change scientists there who gave him the bigger picture and understanding of what is actually happening. "I'm really close to nature and the weather and we can all see that it's now much more extreme. It's no longer just an impression, it's a fact," he adds.
On to the panelist Raquel Martinez and I had never heard of ACE until now, but it's focused on giving young people around the world "everything they need to understand the science and advocate for solutions to the climate emergency". Raquel was extremely eloquent and knowledgable, saying that growing up in Miami it's impossible to not see that sea levels are rising, the increased King tide events and flooding after storms. She started thinking about turning her activism into a career while at college and she now heads up the social media for ACE, which is their main method of connecting with young people around the globe. ACE now has a Creator Collective made up of 3,700 young people who create a steady stream of climate change stories on their social media profiles, all of them 'great at tying in the science to their storytelling' says Raquel. When asked what she wants to see as a result of COP26, she replied: "I hope I emerge feeling more optimism rather than outrage. We need to pivot now and tackle this emergency."
On to Lauren McCallum from POW (Protect Our Winters). This is an organisation I'd heard of before, but didn't fully know much about. Lauren said its aim is to encourage all outdoor people to protect the places and lifestyles they love from climate change. "The outdoor community is starting acknowledge the power they have," she explained. "We need systemic change and to put in progressive climate policies. And we're pushing the government for an end date on fossil fuel extraction." She gave a fantastic analogy of global warming to the human body, in that if we as humans have a 3 degree temperature rise, something that is on the cards for the planet, then we'd be really ill, and so will our planet. "It's easy for politicians to ignore individual environmentalists and scientists but it's a lot harder for them to ignore large groups, especially ones like the outdoor community who are part of POW." Lauren went on to say that a successful COP26 would mean a reduction in fossil fuels and not letting companies get away with practices that are harming the planet.
Xavier gave a great quote right at the end, where he compared the challenge we face with climate change to being in the mountains in bad weather where you have to dig deep into your inner resources and strength to get through it. "I like to think that us humans know how to stick together, and I just hope we don't do it too late," he said.
We'll embed the video once it's live, but in the meantime you can find out more in these links from each of the panellists. And let us know your own thoughts on anything mentioned in this feature via our social media @Adventure52mag on Twitter and @adventure52_ on Instagram.
www.thenorthface.co.uk/cop26.html
PS: Be sure to read about Pau Capell, another TNF athlete, who ran 250km in the Arctic to boost awareness of climate change. That story in this link here.
PPS: The North Face offsets carbon emissions for all of its athletes' expeditions.