Many watch brands like to latch on to the adventure theme, but the Marloe Watch Company is one that has it at the heart of everything it makes. 
The company was founded in 2015 by Oliver Goffe and Gordon Fraser and they set about making hand-wound and automatic mechanical watches that are affordable yet beautiful and celebrate great British endeavour. There are three collections, called the Coniston, Morar and Haskell, with the Coniston having a contemporary look, the Morar a diving watch look and the Haskell a field/adventurers watch look.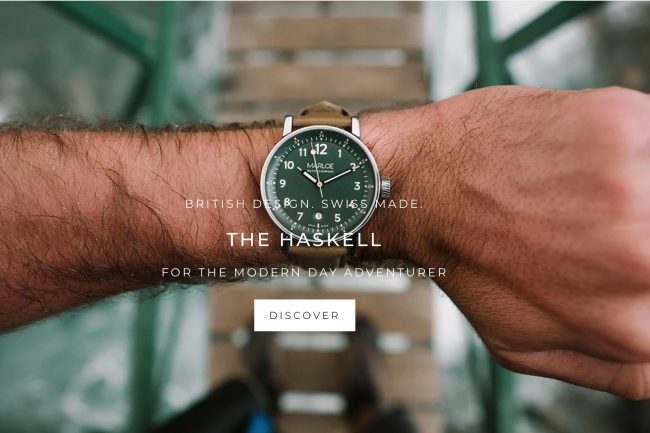 The watches are worn by a number of British adventurers, explorers, athletes and outdoorsmen and on June 4th and June 11th the Marloe Watch Company is running LIVE 'lockdown sessions' on its website allowing people to virtually 'meet' and ask questions to four of its adventure ambassadors.
The four people are Ian Finch, Harrison Ward, Rob Bell and Jenny Wordsworth (née Davis.). All will give inspiration for dealing with the continuing lockdown by drawing on their own personal experiences.
There are two 'Lockdown Sessions' planned, one on Thursday 4th June at 7pm and one on Thursday 11th June at 8pm, both hosted LIVE on https://www.marloewatchcompany.com/pages/lockdown-sessions.
To ask your questions in advance of the sessions, please follow @marloewatchco on Instagram and comment under any Lockdown Session post with the hashtags #marloelockdownsessions and the handle of your preferred interviewee.
Here's the full 'Lockdown sessions' programme:
Thursday 4th June, 7pm 
1/ HARRISON WARD – 'You can come out the other side'
Lockdown Session with outdoorsman, mountain cook and mental health speaker Harrison Ward

Harrison Ward, better known as the 'Fell Foodie' in some circles, is a social media-based outdoor cook and mental health speaker. Harrison completely turned his life around in June 2016. Weighing 22 stone, smoking and drinking heavily on a daily basis, Harrison came to the realisation that he was an alcoholic. A vice that initially was used to sedate his mind from self-loathing and crippling depression had become his poison. He vowed to get sober, to lose the weight and also to battle his mental demons – he threw himself into fitness. Now sober, Harrison is a mental health speaker and was recently awarded the Ordnance Survey #GetOutside Champion 2020.
An introduction to hiking by a close friend, ignited in him a new outdoor addiction for the mountains. He describes his experiences on the fells in Cumbria as something of an awakening and the process of mountain climbing, culminating in the vistas at the top, as a physical manifestation of his struggles with himself. Harrison has since stayed sober, lost seven stone, quit smoking and taken up running. He shares his mountain experiences on social media with his followers and combines it with a love of food and cooking he discovered from his grandmother; "it seems only natural to take cooking into the mountains. To cook as our forefathers did, over an open fire."
Harrison is very open about his ongoing battle with himself and with alcoholism. In cutting him off from the outdoor world, lockdown has brought back old demons and a stronger than ever temptation to drink again. However, the depth of his personal transformation and knowledge that you can come out the other side has kept him from falling back. He hopes his story can provide a similar inspiration for others.
Harrison said:"The changes that have taken place in my life has brought me so much positivity and strength. My mental health has grown during this period and, although I still experience tough days, my coping mechanisms are much healthier and understood. One of the most powerful things I do is to think back to my life before. It is like looking back on a complete stranger."
Send your question to Harrison Ward in advance of his Marloe Watch Company Lockdown Session. Follow @marloewatchco on Instagram and comment under any Lockdown Session post with the following hashtags #marloelockdownsessions @fellfoodie
2/ IAN FINCH – 'Focus on WHY'
Lockdown Session with explorer and former Royal Marine Commando Ian Finch

Ian Finch is an explorer, adventure and outdoor brand photographer, expedition guide and journalist who has been travelling to remote environments for over 8 years. A former Royal Marine Commando, Ian has an insatiable desire to travel and lead expeditions to unfamiliar corners of the globe, to record the incredible traditions and cultural practices of native people. His recent expeditions include, a 1,300-mile journey to retrace the footsteps of the Cherokee removals and a 2,000-mile canoe decent of the Yukon River.
Ian's next expedition in September, working with world-renowned photographer Krystle Wright, will be a unique journey to re-discover, re-walk and record an old aborigine trail on an island off the coast of Australia.
In his lockdown session, Ian hopes to help others find stamina and positivity during lockdown by identifying the 'why' in this experience and using humour as a transformative force.
Ian said: "Focusing on the ultimate 'why' of your scenario is key. If the 'why' is strong enough, even extreme isolation won't take you away from the task in hand. Isolation and lockdown I believe, can be looked at as a positive experience. It's about learning to immerse yourself in your situation and slowing down as a human. When you slow down you'll look more, when you look more you learn more."
"Humour in adversity is also a great tool. Quite a lot of the time on expeditions, weather, tiredness and other factors tend to grind away your soul, so being able to find humour in any given situation can instantly change the energy from negative to positive."
Send your question to Ian Finch in advance of his Marloe Watch Company Lockdown Session. Follow @marloewatchco on Instagram and comment under any Lockdown Session post with the following hashtags #marloelockdownsessions @ianefinch.
Thursday 11th June, 7pm
3/ ROB BELL – 'You can push yourself harder than you think'
Lockdown Session with adventurer, engineer and TV presenter Rob Bell
In January 2015, Rob became one of the very few people to have ever successfully run 7 marathons on 7 continents in 7 days. In the same year, Rob teamed up with James Heptonstall and Noel Carroll to race London's Docklands Light Railway. He has also run the first five World Marathon Majors (Tokyo was recently added as the sixth), all in under 3 hours (personal best: 2h 45.) Rob is the son of a scout leader and has always had a curiosity to explore his surroundings. Thrill seeking has taken him to all corners of the planet; from canoeing the remotest waters of the Yukon, to rallying through the Sahara, trekking in the Arctic on a climate science recce and working as a ski lift operator in the Canadian Coastal Mountains. Rob is also an engineer, actively champions STEM subjects (Science, Engineering, Technology and Maths) and is passionate about raising the profile of Engineering amongst school kids.
Rob's physical challenges have been instrumental in his personal growth – and his understanding that we can push ourselves more than we thought possible. He will be sharing his experiences during the lockdown session and how these have shaped him.
Rob said: "The personal growth I have experienced, as a result of the physical challenges I have put myself through, has been exponential. You really can push yourself much harder than you think. Two major lessons for me have been around resilience and confidence. The reality is that if you want to achieve something that means something to you, then it's going to take bloody hard work to get there and possible knock backs along the way. It is also important to dismiss the naysayers and have confidence in your own ability."
Send your question to Rob Bell in advance of his Marloe Watch Company Lockdown Session. Follow @marloewatchco on Instagram and comment under any Lockdown Session post with the following hashtags #marloelockdownsessions @rob.bell
4/ JENNY WORDSWORTH (Née DAVIS) – 'Building resilience, grit and confidence'
Lockdown Session with ultra-endurance athlete and lawyer Jenny Wordsworth
Jenny Wordsworth is a British ultra-endurance athlete and lawyer. She has competed around the world in multi-day running events and, in recent years, took that experience and determination to the South Pole. She first attempted to ski 700 miles solo, unsupported and unassisted from the coastline of Antarctica to the South Pole in 2018, but her attempt was cut short when she had to be medically evacuated. Jenny returned to Antarctica in November 2019, and this time managed to complete her lifelong skiing solo dream. An advocate for increasing female participation in sport and adventure, Jenny runs an annual women's team who together take part in adventure globally and inspire other women to take on their own outdoor challenges.
In terms of next adventures this year, Jenny is hoping to climb Mount Lobuche in Nepal and will take part in the 1,800km Silk Road Mountain Bike race in Kyrgyzstan – she also has a new book coming out later in the year.
In her lockdown session, Jenny hopes to help others use lockdown as a way to help build grit, resilience and confidence.
Jenny said: "My experiences have been instrumental in helping me build grit, resilience and confidence as well as athletic ability. For me it's about putting myself in the way of something that's hard to achieve and then, having experienced and completed it, I find the process brings about growth and change in ways I never could have anticipated. Whether it's running across the Gobi desert or skiing solo to the South Pole, neither success or failure is absolute and I focus more on the experience and opportunity for growth. I think adventure and exploration are the most profound and instinctive ways that we can achieve that growth of character. I am excited to share some of my personal learnings as a way to inspire others as lockdown continues."
Send your question to Jenny Wordsworth in advance of her Marloe Watch Company Lockdown Session. Follow @marloewatchco on Instagram and comment under any Lockdown Session post with the following hashtags #marloelockdownsessions @jenny.wordsworth