More of us are living active lifestyles, something that Ford has recognised and the reason why it's made the new Ford Focus Active.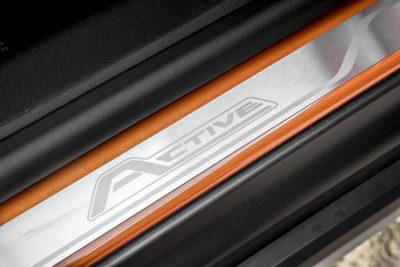 We all recognise the Ford Focus as a car you 'can't-go-wrong-with' and you see so many of them on the road. Its latest refresh is a great one, making the car very nice to look at. While SUVs now account for more than one in five of Ford vehicles sold in Europe, the carmaker has realised not everyone wants an SUV, but they do want a normal-looking car that is able to get them, their family and a load of outdoor kit to their favourite place at the weekends and maybe drive up some pretty rough roads too.
Calling the car 'Active' isn't just a styling exercise though; Ford has raised the ride-height (30 mm higher at the front and 34 mm higher at the rear over the standard Focus) and given it a new chassis configuration. It's also given the car two extra driving modes, one called 'Trail' and one called 'Slippery' so that you can drive over rocky paths or slippery wet grass or sand.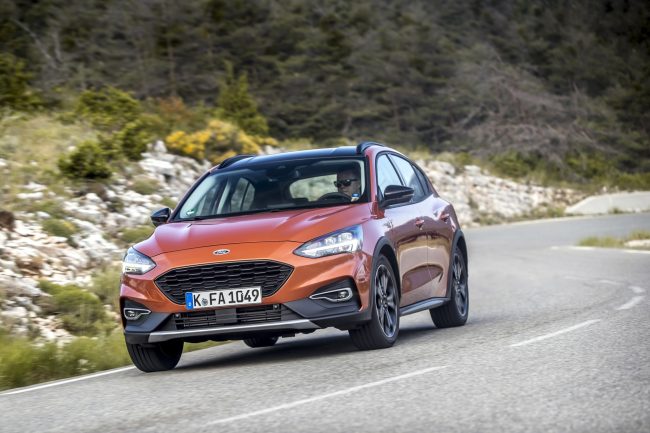 On the outside the roof has built-in rails for carrying a roof box/mountain bikes/skis/canoe. And if you look very closely you can see there is protective cladding that flows from the front bumper, through the wheel arches and down the sides of the car and around the rear, the idea being to cope with those rocks and bushes we're going to meet driving down narrow lanes to our favourite beach or forest picnic spot. It even has front and rear skid plates for further protection from the terrain.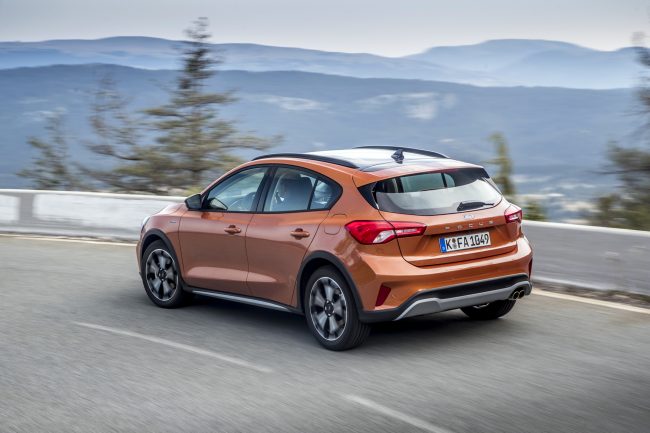 "The all-new Focus Active does more than just look the part – its bespoke chassis and new Selectable Drive Mode options deliver genuine rough-road capability for families who want to explore off the beaten track."  – Roelant de Waard, vice president, Marketing, Sales & Service, Ford of Europe.
The all-new Focus Active is the third car in Ford's new family of Active crossover models, following the introduction of the Fiesta Active and KA+ Active. With the Focus Active, you get to choose between a hatchback or estate body style and I got to drive both during two days in Nice where I took the car to go canoeing, abseiling and electric mountain biking in the hills that overlook the Cote d'Azur.
First up was a drive in the 1.5-litre petrol manual hatchback in the Orange Glow colour. It was an initial 25km drive along the beautiful coastal road past Nice to a little beach area called Plage de l'Ange Gardien for some canoeing. First impressions of the car were great; it's a very comfortable interior with Ford's easy-to-see SYNC satnav system pride of place in the centre.
INSPIRED BY OUTDOOR BRANDS
It turns out that Ford of Europe's Design Manager, Susan Michel, is in to the outdoors and told me she loves to hike and camp, so it's reassuring to find out that the person behind the Active's styling isn't just hopping on to a trend, she knows what outdoorsy people like style-wise and practically what they want from a car. I met Susan at my first stop in Villefranche-sur-mer to do some canoeing. She told me it was a proud moment for her as it was the first time she'd seen the car out on public roads.
"My department is responsible for the moments you experience in the car," she says. "So everything you touch, feel and smell in the car. At Ford we focus on human centric design, so really everything we do is about understanding what people need. Our 'Active' audience are the 'life-lovers', the ones who want to get away, where away is a place where it's not about the money you spend. We as a design team looked at how we could bring that 'active' experience in to the car."
Susan led her design team on a tour of outdoor shops and studies of outdoor brands, coming up with a mood board of outdoor imagery to help them decide how to make this car appeal to adventurers and those she calls the 'life lovers'.
"We picked out the main outdoor products that we could link to the car," Susan explains. "So backpacks have to be comfortable and durable, stay clean and dry fast, just like the seats in the car, so we made the step from fashion and gear into automotive. As soon as you enter the car you see the Active branding, from the Active logo in the footwell, to the blue-coloured 'A' stitched in to the seat. For the Focus ST, the colour is orange, while for the Active we use blue. We wanted the car to be comfortable and agile, something that elevates you beyond the everyday."
RUGGED AND VERSATILE
After canoeing on the sparkling water in the Villefranche bay area, I dried off in the sun, jumped back in the Focus Active, selected MAX AC and set off on a further 25km to Monaco. Above the glitz and glamour of Monaco is a place called the Dog Head (La Tête De Chien) and here you can climb, abseil and explore caves in the rock faces. The drive here really gave me a chance to explore the performance of the car, from motorway driving where I could really open up the throttle and enjoy the acceleration (the 0 to 62mph time is 91 seconds, so sub 10 seconds!) and on to tight, twisty roads where the Focus Active corners very nicely with very little body roll, even with it's raised ride-height.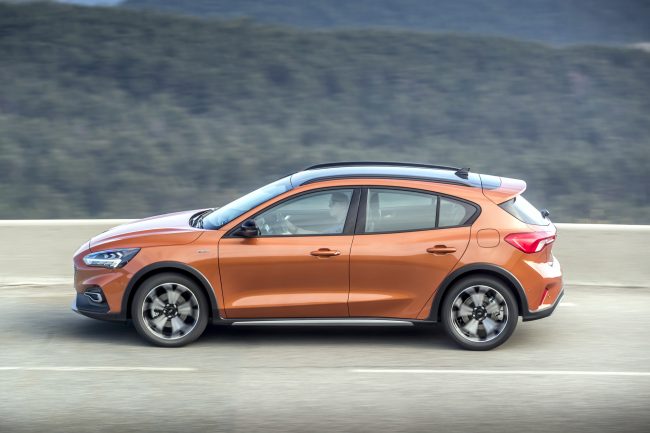 All of this was complimented by the silky sounds of the Bang & Olufsen (B&O) PLAY audio system. Furthermore, there's a neat wireless charging area perfectly sized  for your mobile phone (providing it's capable of being charged this way) and it means we can wave goodbye to a tangle of charging cables in the centre console, and devices can remain connected via Bluetooth to Ford's SYNC 3 while charging. Either way there's a USB slot and 12V plug right next to it, so a nicely designed pocket for holding your phone and bits and bobs. The SYNC 3 touchscreen works nicely, letting you flick between functions and zoom in and out with ease while controlling audio, navigation and climate functions using pinch and swipe gestures on the 8-inch touchscreen or simple voice commands.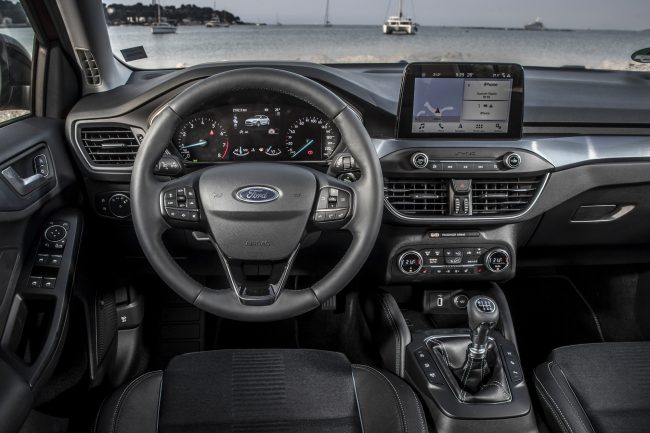 You can also choose to have the 'FordPass Connect' which is a modem that turns the car into a mobile WiFi hotspot with connectivity for up to 10 devices. The 'FordPass Connect' also allows Live Traffic updates. Users can download a FordPass mobile app that lets you locate where you've parked your car (useful for adventurers who park in a remote area), check fuel levels, remotely lock and unlock their car and even start it remotely.
"The chance to build a completely new car from a fresh piece of paper does not come around often. We grabbed it with both hands, to develop the best mid-size family car that money can buy." – Joe Bakaj, vice president, Product Development, Ford of Europe.
At the top of the Dog Head, I met a guide from an outdoors company (Cairn Expe) who would be overseeing the abseiling, however there are pitons that you can anchor your own rope and gear to, and it's a public area so anyone can come and climb here. Funnily enough, the guiding company uses a Ford Ranger pick up and it was great to see this at work in its natural habitat in a matte black paint scheme with climbing gear strewn across its tailgate.
The guide had even tied off the ropes to the back of it for extra abseiling safety. Of course, you can easily fit all kinds of outdoor kit into the Ford Active's boot space and there's also a hole for passing skis through along with a simple switch to pull to fold the rear seats down.  I'd got pretty hot, sweaty and covered in dust so here's where the rugged fabric of the Active comes into its own – you don't feel bad about getting the inside dirty as you know it will easily clean up. Max AC goes on again, as does the B&O to fill the car with tunes as I make the hour and a half drive to my hotel for the night, the 5-star Le Mas de Pierre that we'll cover in a future story on Adventure 52.
DRIVING MODES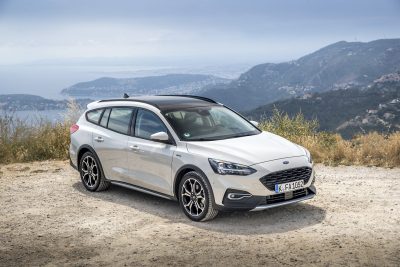 My second day of driving would be in the estate variant of the Focus Active. This one was in the Metropolis White colour and featured an automatic gearbox (8-speed versus yesterday's 6-speed manual) with the petrol 1.5-litre EcoBoost engine (the 182 PS version). This was specced out with the optional Head-Up Display (HUD), the first Ford vehicle in Europe to offer this. It lets you see the speed limit, your speed and upcoming turns just by looking through the windscreen. Another cool thing about the wagon version is you can open the boot with your arms full of camping gear simply by kicking your foot under the rear bumper. The estate's boot space has also been designed to accommodate a large dog crate with a 1653-litre maximum capacity.
Today I'd get a longer drive to a hilltop location for some electric mountain biking and archery. Most exciting of all though was the chance to try out the five different driving modes. On the standard focus you get NORMAL, ECO, SPORT modes, but with the active, you get these three and the addition of TRAIL and SLIPPERY.
To select them you simply press a button next to the gear stick and you can do this as you're moving along too. I got the chance to try the TRAIL mode when we turned off the road up a rocky and dusty track. In this mode, the car configures the traction control to allow a higher wheel spin that cleans sand, snow or mud from the tyres and delivers a more passive throttle response so that you don't give it too much beans and lose grip. Having 17-inch alloy wheels compared to 18-inch ones also makes it easier to drive on rough roads, as do higher-profile 215/55 R17 tyres. Another design feature that makes the Focus Active drive so well over rough ground is that there is an isolated subframe under the car that lets the front wheels react differently to the rear ones as well as bushes that have different stiffness characteristics when stressed in different directions. The Slippery mode adjusts ESC (electronic stability control) and traction control settings for increased confidence on surfaces with reduced grip such as mud, snow and ice letting you pull away without the wheels spinning.
It's worth mentioning some of the other tech in this car. There's Adaptive Cruise Control with Stop & Go, Speed Sign Recognition and Lane-Centring functions. The car can also the direction of the headlights for bends in the road and – for the first time in the industry – road signs too. Active Park Assist 2 can now also choose the right gear to be in and control the acceleration and braking so you can have fully-automated manoeuvres at the push of a button. And finally, there is Evasive Steering Assist, which I actually experienced when coming to slowing cars queuing for a toll gate. This segment-first technology helps you steer around a stopped or slower vehicle to help avoid a collision. It works.
GETTING MORE ACTIVE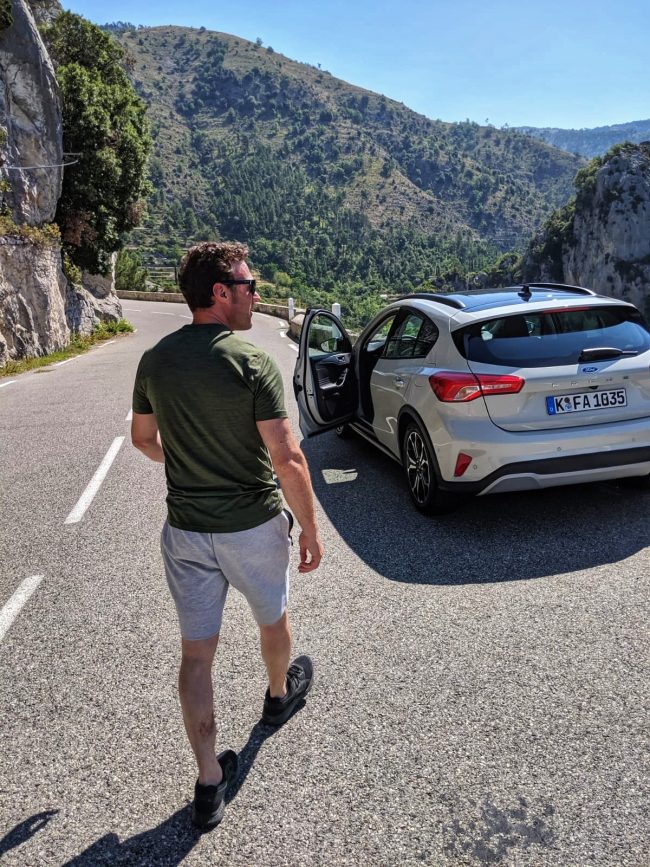 After two days of driving and plenty of outdoor activities, I'd seen most of what the Focus Active had to offer, save for trying out the Slippery mode on wet roads or ice. Other car brands have gone down the route of making a standard car more 'adventurey' before, such as Volvo with its Cross Country variants or Audi with its Allroads, but the Active line-up from Ford really isn't a gimmick. The Ford Focus is the second best selling car in the UK, and this Active version does actually give the car proper practicality. To put this in perspective, when I drove it on those few kilometres of rocky track, it handled just as well as some of the SUVs I've driven in the past, and that's just with its two-wheel-drive. At £21,900, the Focus Active is some £2,250 more than a standard Focus, but it's well worth the extra to get those Active elements. Just having those roof bars already fitted will save you hours of time over the course of the year if you're regularly going cycling. If you want a normal, everyday (but good-looking car) that will get you to work and back during the week and then let you get escape for the weekend, then the new Focus Active is your new adventure buddy.